Nov | Dec 2018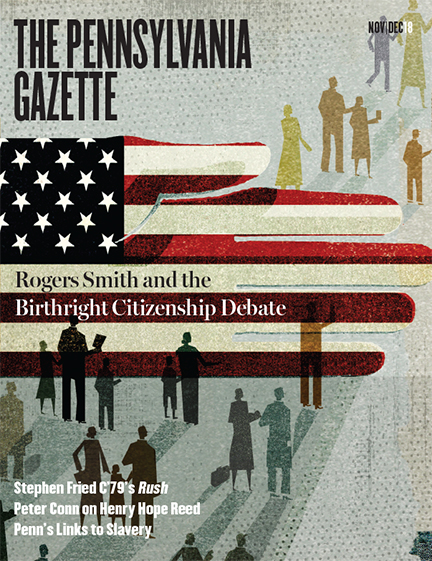 Nov | Dec 2018
Volume 117, No. 2

---
FEATURES
GOP nativists have taken aim at a fundamental principle defining the American republic: birthright citizenship. Their legal rationale has an unlikely source: a liberal professor who totally opposes their aims. And that's just where things start to get interesting with Constitutional law scholar Rogers Smith.
By Trey Popp
Wordsworth's American Champion
Nearly two centuries ago, Penn professor Henry Hope Reed put William Wordsworth on America's cultural map. At a time when most schools barely acknowledged contemporary literature, he also played a role in the University's rebound from its early 19th-century "Low Water" mark.
By Peter Conn
A focus on mental illness was a constant throughout the multi-faceted career of Founding Father and physician Benjamin Rush. In this excerpt from Stephen Fried C'79's new biography, as his own death nears Rush distills a lifetime's worth of experience and insights "to show that the mind and the body are moved by the same causes & Subject to the same laws." Plus: An interview with the author.
By Stephen Fried
---
DEPARTMENTS
From the Editor | Matters of interpretation.
Letters | Praise, corrections, and a couple of arguments.
Views
Notes from the Undergrad | Chasing Arabic.
Alumni Voices | Mirrors and mysteries.
Elsewhere | "That dynamic tension is what I sought."
Expert Opinion | On not getting over it.
Gazetteer
History | New studies detail how Penn benefited from slavery.
Education | LPS online bachelor's degree is first in the Ivy League.
Political Science | Dan Hopkins on The Increasingly United States.
Economics | Wharton study: immigrants boost investment and entrepreneurship.
World Politics | "Competing Visions of the Global Order" at Perry World House.
Convocation | Class of 2022 is one in a thousand.
Leadership | New SP2 dean: Sara "Sally" Bachman.
Heard on Campus | "Democracies don't die like they used to."
Teaching | Jeb Bush is a Presidential Professor of Practice for 2018–19.
Dental Medicine | Baby teeth and nanoparticles spark advances.
Sports | Basketball: new faces, high hopes.
Arts
Design | June 5 Memorial Park honors victims of deadly wall collapse.
Photography | Celebrating the "intrinsic beauty of the imperfect."
Books | Perfect storm, deeply flawed system. Into the Raging Sea.
Books | Writer-in-Residence Carmen Machado's Her Body and Other Parties.
Music | A story of performance, friendship, and survival. Two Pianos.
Alumni
Perry Benson GAr'73 helped document Cape May's historic buildings.
Tyler Bernardini W'12 found basketball redemption in Leicester, England.
John Rossi Gr'65 writes about America and baseball.
Sheryl Cooper C'79 transformed deaf studies at Towson University
Old Penn | After the Armistice.