Making Destiny Together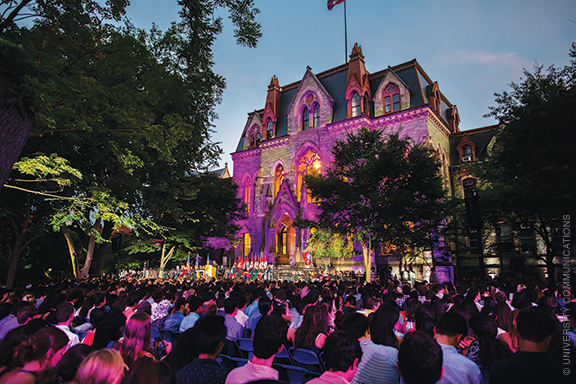 "When you knock down doors, you open them for others."
---
For most Philadelphians, August 27 was just another painfully hot summer day. But for the 2,500-plus freshmen and transfer students gathered on College Green, it will be remembered as the day they forged their Penn destiny during the Convocation ceremony of the University's 279th year.
Superlatives are never in short supply at this annual rite, but in one way at least the Class of 2022 is truly unique. "Never before in Penn's history have so many first-year students been born at the turn of the millennium," said President Amy Gutmann. "We will not see a similar class for another thousand years."
Hailing from 49 states, Washington, DC, Puerto Rico, and 88 countries, this class also includes of the largest number of first-generation students in University history. One in every seven freshmen this year is the first in his or her family to attend college—an increase from just one in 20 in 2005.
"Many of you will vote for the first time in the midterm election this fall," said Gutmann. "The importance of you doing so is impossible to exaggerate. It will be a milestone moment when your generation speaks more powerfully than it has ever done before."
Gutmann challenged the class to 'make destiny.' To do so, she said, they need to work together. "To effect change for the better, no one person goes it alone. We each pursue our own dreams, but we make destiny only together."
To illustrate her point, she told the extraordinary story of Dr. Sadie Tanner Mossell Alexander Ed'18 G'19 Gr'21 L'27 Hon'74, one of the first two African American women to earn a doctorate and the first to graduate from Penn Law. In Alexander's own words: "I never looked for anybody to hold the door open for me. I knew well that the only way I could get that door open was to knock it down: because I knocked all of them down." She later went on to serve on President Harry Truman's Committee on Civil Rights.
Gutmann explained that her story revealed that "making destiny—even for pioneers—is never a solitary pursuit … When you knock down doors, you open them for others."
Claire Lomax C'84, a Penn trustee and Penn Alumni representative, reflected on what it was like to grow up as the daughter of radical black activists in a homogenous white community, knocking down doors of her own when she became her school's first female African American student council president. "So answer the question about who you were when you were little," Lomax encouraged. "Connect the dots to who you are right now, and know that as part of your life's journey, you are meant to be here."
Provost Wendell Pritchett Gr'97 advised the incoming students to embrace a "growth mindset" during their academic careers and beyond. "A growth mindset posits that we are all continual learners and the journey is as important as the goal," he said. "A growth mindset asks that you not focus on one specific thing but that you embrace new and different things while you're here."
He encouraged students to approach success with a growth mindset as well. "It is more than a 4.0 or an undefeated season. It is friendships and relationships; it is being engaged and involved in groups and activities; it's making it to the top of the rock climbing wall. And it's getting a B—or even a B-minus—in a class you never even imagined you might take."
In short, he said, success is not just about pursuing one's passion. It is about growing one's purpose, "cultivating meaning in all the varied opportunities you will have here and then doing what brings you joy."
In the spirit of joy, Gutmann asked the Class of 2022 to pick an official name for themselves. She announced three choices and asked the students to cheer for their favorite one. The first option for class title was Destiny Makers. The second was 22 Together.
"Your third and final choice for class title is the most solemn," Gutmann intoned. "It's timeless. And it's in no way a reference to Drake's No. 1 Billboard-topping song or the viral Internet craze it inspired … it's Class Kiki," she announced to rumbles of laughter.
While there was considerable cheering for Destiny Makers, and even a smattering for Class Kiki, the biggest roar came for 22 Together.
"May it grace your hashtags, inspire your actions, and adorn your T-shirts at Spring Fling," Guttman chuckled.
As the sun went down and the ceremony drew to a close, the lights on College Hall changed from a static purple to a roving red and blue during a hearty round of "The Red and the Blue," led by the Quaker Notes, Penn Glee Club, and Penn Band.
"Tonight's ceremony embodies what lies ahead," said Gutmann. "We will work together, we will discover together, we will have fun together. But most of all … we will make destiny together." —NP