Title Defense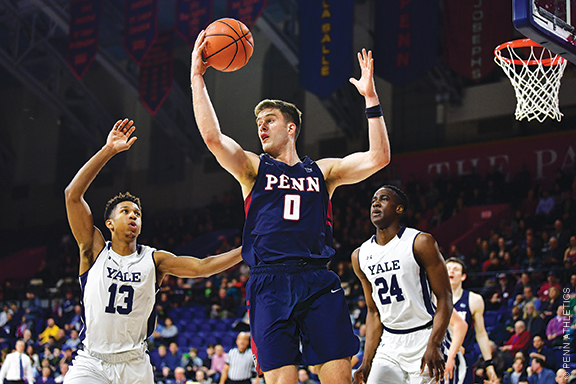 Penn hoops faces a "seriously upgraded" non-conference schedule as it seeks to return to March Madness.
---
BY DAVE ZEITLIN
Max Rothschild had to do a double-take when, while walking outside the Palestra in late September, he heard a pre-teen kid yell his name.
Wearing a jersey of Philadelphia 76ers star Ben Simmons, the young fan had come to watch a Sixers scrimmage (which ended up being cancelled at the last minute due to weather). But at that moment, it sounded like he was just as excited to see Rothschild, a senior forward on the Penn basketball team, as any NBA star.
"That's important," Rothschild later reflected. "You don't really realize the effect you have on the community around here until something like that happens."
The buzz surrounding Penn Basketball has certainly grown since the Quakers ended an 11-year drought to capture the Ivy League championship last March and make the NCAA Tournament, where they put a first-half scare into top-seeded Kansas in the opening round.
"You see more T-shirts, you see more championship stuff," said head coach Steve Donahue, entering his fourth year at the Quakers' helm. "You get a lot more people coming up to you in airports and seeing you on campus and congratulating you and being excited. And this place has always loved basketball; I think it's our front porch [to the University]. And now I think it's the excitement of getting back to the top and renewing that vigor on campus."
Donahue has enjoyed success keeping his teams on top, leading Cornell to three straight Ivy championships, capped by the Big Red's magical run to the Sweet 16 in 2010, just as Penn's drought began. But he also knows the difficulties of doing so in the increasingly competitive Ivy League.
One of Penn's biggest challenges this season will be replacing the leadership of Darnell Foreman C'18, who emerged as the unlikely star of the Quakers' title run, and the shooting touch of Caleb Wood C'18. To do so, Penn will lean on a strong senior class led by returning starters Rothschild and Antonio Woods as well as Jake Silpe and Jackson Donahue, a pair of hardworking guards who have seen large fluctuations in their playing time over the course of their careers.
"There's not a higher level of character in college basketball than those guys," Donahue said. "What they've been through in terms of where the team was when they came here and the variation of their roles and their ability to keep driving us forward and not worrying about their personal situation—I think that's what made us good last year. And if we're going to be good this year, it's going to [take] that type of mentality that we're all in this together."
Donahue is also fortunate to have two more returning starters in juniors AJ Brodeur, a dominant post player, and Ryan Betley, a dynamic long-range shooter. Penn's top two scorers from last season—and two of Donahue's first recruits—the classmates still have room to take "huge steps in their games," the coach said, adding that he hopes to see them both add consistency and the ability to carry the entire team when necessary.
Having that kind of certainty from his veterans would allow Donahue to figure out what exactly he has from his underclassmen when Penn's season opens at George Mason on November 6, with the home opener versus Rice (complete with a championship banner unveiling) coming three days later at the Palestra.
The Penn coach believes promising freshmen Bryce Washington, Alex Imegwu, and Michael Wang, a 6-foot-10 "elite shooter," will contribute right away. But the sophomore class took a big hit when Jelani Williams, who Rothschild believes is good enough to be a "legend" at Penn, tore his ACL over the summer, forcing him to miss an entire season for a second straight year.
"It's horrible," Donahue said. "It's a crusher for the kid, in particular because we got a look at him [during a team trip to Italy in May] and he was terrific."
Williams' absence has raised questions about the backcourt, but Donahue still believes the Quakers can make a big jump offensively. Whether or not Penn can maintain or improve upon a defense that ranked second in the nation in three-point field goal defense remains to be seen. But they'll likely find out before their Ivy title defense begins, thanks to a seriously upgraded non-conference schedule that includes, among other stiff challenges, home games against Miami and defending NCAA champion Villanova over the span of a single week in early December.
"Our schedule's incredible," Donahue said. "That's the way it's going to be from now on. This is Penn. This is what we do. We're trying to challenge nationally."
That includes returning to the national stage of March Madness—and putting more than just a scare into the big boys of college basketball when they get there.
"Once I experienced that taste of success, it motivated me to get more of it," Rothschild said. "The moment we lost to Kansas, I knew I had to get better, I needed to expand my role, I needed the team to get better. That was my motivation the whole summer, this whole year. Now that this is what people expect of us, I can't let anyone slip up. I can't let myself slip up."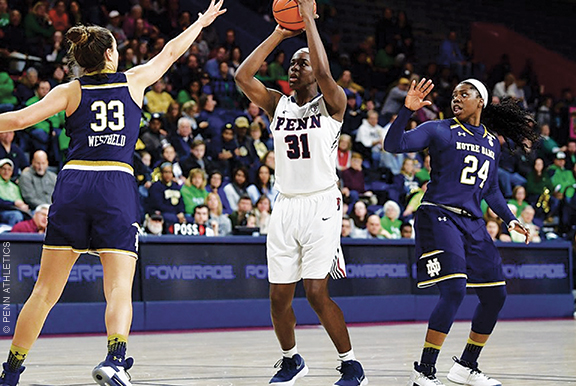 Rebuilding Year for Women's Hoops?
Running to hail a taxi to get from the Louvre to the Eiffel Tower is quite different, of course, than running through a screen to get an open shot. But for Penn women's basketball coach Mike McLaughlin, the teamwork and competitive spirit his players showed during an "Amazing Race"-style competition in Paris this past August had him feeling good about the upcoming season.
"People had maps, they had train schedules, they had to really work together," said McLaughlin about the team's "incredible" 11-day foreign tour to Spain and France. "This stuff is important off the court because it grows your camaraderie on the court."
The trip also included a few games against European opponents, giving McLaughlin an early glimpse at his new squad, which last May graduated program stalwarts Michelle Nwokedi C'18, Anna Ross C'18, Lauren Whitlatch C'18, and Beth Brzozowski W'18. That quartet had been front and center for much of the program's recent run of success, which included three Ivy League titles in five years.
Now it's time for a new core of players to emerge, led by sophomore center Eleah Parker, perhaps the most coveted recruit in program history. Playing alongside Nwokedi in the post, Parker had a solid freshman season, averaging 11.5 points and 7.9 rebounds per game. But McLaughlin is eager to see her play more minutes and develop a harder edge.
"This team needs her to take a big step," the Penn coach said. "I think we all expect it to happen. She wants it to happen. … I just think she can't be afraid to be great."
The Quakers have other returning contributors, including seniors Ashley Russell and Princess Aghayere and sophomore Katie Kinum, as well as a few intriguing newcomers. But until the season begins at Siena on November 10, McLaughlin admits he isn't sure how the puzzle pieces will come together and if the Quakers can compete with nemesis Princeton, the defending Ivy champ.
"This is such a new group," he said. "We have to figure out who we are before we start saying where we fit in."
---
Dave Zietlin C'03 writes frequently for the Gazette.