A Penn Quaker in Leicester's Court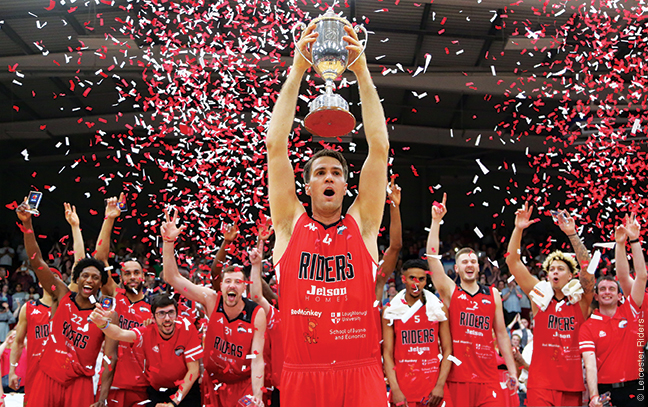 Starring at hoops—and selling tix—across the pond.
For the last couple of years, Tyler Bernardini W'12 spent much of his time trying to bolster data analytics, ticket sales, and sponsorship deals for the Leicester Riders, a British professional basketball team.
Every now and then, though, he'd get a friendly reminder: Uh, Tyler, it's time to play now.
Before retiring from the club in May, the former Penn basketball star had a unique role at Leicester: part-time shooting guard, part-time head of ticket sales.
"It was like Semi-Pro, Jackie Moon style," Bernardini laughed, referring to the 2008 film in which Will Ferrell's character owned, played on, and did marketing for the fictional Flint Tropics basketball team. "I'm thinking about promotions and setting things up in my head. The club doesn't allow me to do stuff on game nights but I wanted to be doing more. And they're like, 'No, you have to freaking play.'"
It was a good thing his coaches got him into a uniform. While Bernardini was proud of what he accomplished in the front office, pointing to 35 percent revenue growth last season as well as a more streamlined online ticketing system through Eventbrite, he did most of his best work on the court.
Bernardini averaged around 15 points per game over his four-year stint at Leicester, while nabbing multiple team MVP awards, being named team captain, mentoring new players, and guiding the club to just about every available trophy, including the two most recent British Basketball League championships and several other in-season tournament titles.
"Tyler was a special player," said Leicester's American-born coach, Rob Paternostro. "His intensity throughout practice and games was as good as anybody we've had here in my 10 seasons.
"I haven't had too many players in the past take interest in the business side of things," the coach added. "That must have been the Ivy Leaguer coming out of him. He was brilliant with that as well."
Bernardini's Ivy League roots certainly guided him on his overseas basketball journey, although looking back on his Penn experience can be bittersweet for him. A highly touted recruit out of San Diego, Bernardini arrived on campus in 2007, a few months after the Quakers captured their third straight Ivy League title. What followed were four straight losing seasons and a list of injuries for Bernardini that still makes him cringe. Double sports hernia. Two torn groins. Broken bone in his shooting hand. Another hand-bone break. Sprained ankles. Two concussions. A broken foot—twice.
Because he missed all but two games of his junior season with one of those foot injuries, the sharpshooter received a fifth year of eligibility for the 2011–12 campaign, teaming with Zack Rosen W'12 to will Penn back into contention. But despite a memorable upset at Harvard that season, with Bernardini sealing the win by taking charge in the final seconds, Penn finished just short of the Ivy championship. The title drought continued until last March when, an ocean away, Bernardini was "absolutely buzzing" to see his alma mater restore its place atop the Ivies.
"You know how hard the journey is," he said. "We had been there for the lowest of the lows. And we took it out of those dark days and were on the cusp of really doing something special … It just wasn't to be."
Bernardini finished with 1,456 points at Penn, good for 10th in program history. But after battling a broken foot throughout the 2011–12 Ivy slate—he played at less than 100 percent in games and didn't even practice at all—he figured his career wouldn't last long beyond college.
Upon graduating, his goal was to land a job with Morgan Stanley's wealth-management office in Philadelphia. As he walked in for the interview, though, he couldn't shake a weird feeling.
"I just thought it didn't feel right," he said. "I felt like I still had more basketball left in me. I was expecting a different journey than I had. When you have injuries, you feel like a lot of things are taken away from you."
Bernardini played for a few months in Italy, where he has dual citizenship, before returning to San Diego, where he ran a basketball skills development business and met his future wife, Emily. But he still felt like something was missing. And so, in 2014, he accepted a unique offer to play for Leicester, partly because the deal included free graduate courses at the well-respected Loughborough University.
He had other European offers to play in higher-profile leagues for more money. But just as he chose to come to Penn despite scholarship opportunities at high-level programs, Bernardini followed his gut to England. He then helped Leicester became one of the winningest programs in the history of the league, easing some of the pain that had tormented him since college.
"Not winning at Penn, it just never felt right," he said. "I wanted to give a championship to Penn, and I just wasn't able to do that. For me, I didn't want to go through a career not being able to bring a championship to the team I represent."
In the end, it was about more than just winning. In an unexpected twist, he and his wife Emily—and their English sheepdog Gryffindor—have made a very happy life for themselves in Leicester, a picturesque city about 100 miles north of London. And they were as enthralled as everyone else when Leicester City Football Club won the English Premier League championship in 2015–16, completing one of the greatest underdog stories in the history of sports. (Before the season, their odds at winning the title were set at 5,000-to-1.)
Partly because he had become good friends with one of that team's star players, Christian Fuchs, Bernardini and his basketball teammates were able to join the championship parade.
Carving out that kind of niche is not always easy for Americans playing overseas. Bernardini's best friend and former Penn hoops teammate, Jack Eggleston C'11, had a good run in Germany but said he absolutely "hated" a short stint in the Czech Republic. So when he visited Leicester, Eggleston got a kick out of watching his friend hoist a trophy in front of artificial flames, especially after witnessing Bernardini's struggles at Penn.
"It's very hit or miss in terms of fit," Eggleston said, pointing out that American players are usually viewed as hired guns when they sign with European clubs. "A lot of factors play into it. You've got to have a good relationship with the coach, the management. You've got to have guys around the team you like. It's got to be a town you're comfortable with. And I think Leicester just ticked all the boxes for Tyler."
Though retiring from basketball before he turned 30 wasn't an easy decision for Bernardini, he told himself that he'd rather "leave the game when you can still cherish it rather than resenting it." And he has no intentions of leaving his new home any time soon. He may move to London to work in finance—something neither he nor his wife, both Californians, would have imagined a few years ago when Bernardini just wanted to take one last stab at pro basketball.
"We have a great club and you can see why someone would take to it the way he did," Paternostro said. "But he's unique. He almost has an English accent now. He certainly perfected that side of it."
"Everything," added Bernardini, "just came together."
— Dave Zeitlin C'03