"Nothing Mattered but the Music"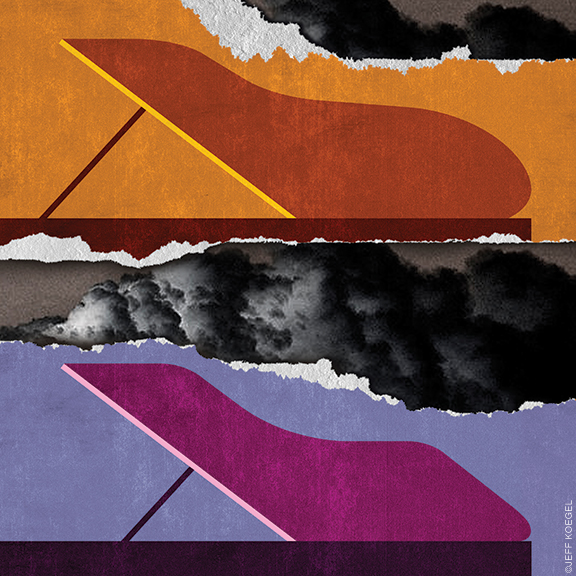 A performance of music and history grows from dark and tangled memories.
---
His wife's family history intrigued Michael H. Levin C'64 so much he thought he would write a novel about it. He titled it Swallow the Wind and labored on it for a decade.
"I couldn't make it work," says Levin, a Washington-based environmental lawyer and renewable-energy developer who is also a poet and freelance journalist. "It's particularly hard when you have 12 major characters in six countries over 50 years."
"And you can't write dialogue!" his wife, Nora Jean Levin CW'65 Gr'66, director of a nonprofit organization for long-distance caregivers, says helpfully.
"Can't write shtetl dialogue anyway," he agrees.
Meanwhile, through interviews they initiated in 1978, the Levins (who met at Penn through a roommate she dated before him) had collected a rich trove of stories from her immigrant parents, as well as from other relatives and family friends. That effort finally has begun to pay artistic dividends—in a historically resonant presentation titled Two Pianos: Playing for Life, which premiered June 9 at the Mary Louise Curtis Branch of Philadelphia's Settlement Music School.
Two Pianos recounts (and enacts) the story of three Jewish women, all classical pianists, whose friendships survived more than six decades, transatlantic separations, and the perils of war and the Holocaust. It features the piano duo of Stanislava Varshavski and Diana Shapiro, themselves immigrants from Ukraine and Russia, playing selections by Anton Arensky, Ernst Toch, Brahms, and Chopin. It also includes narration, archival-image projections, and film, along with a companion exhibition detailing the women's lives in Nazi Germany, Poland, and the United States.
[youtube height="HEIGHT" width="WIDTH"]https://www.youtube.com/watch?v=_580ixpTw5U&feature=youtu.be[/youtube]
One of the three pianists was Nora Jean Levin's mother, Anna Burstein Bieler (1908–2003), who moved to Philadelphia in 1938 and taught for almost four decades at Settlement. She played recitals in Presser Hall, on the very stage where Two Pianos was presented. For the premiere, Jean wore an elegant black and silver dress that had been her mother's.
Dedicated to Jean's older sister, Tania Haftel, who founded Settlement's Adult Chamber Players program and died last year, the event attracted about 150 relatives, friends, and music lovers. It was coproduced and cowritten by the Levins and Gail Prensky, director of the Jüdische Kulturbund Project, which recreates Jewish cultural activities under Nazism and seeks to inspire artists facing persecution.
Among the narrators, along with the Levins and the two pianists, was Kenneth Hoffman, a 65-year-old psychiatrist from Rockville, Maryland. He is the oldest grandson of Halina Neuman (1909–99), with whom Anna played duets for the Jewish Cultural Association of Leipzig, Germany, in the 1930s. "Nothing mattered but the music," Halina once told the Levins. "As long as I have that, the whole world can go to hell."
The daughter of Jacob Burstein, a famous bassoonist of Russian-Romanian origins, Anna Burstein (whose two sisters also became classical pianists) studied at the Leipzig Conservatory in the 1920s. There she met both Halina and Tanya Zunser Ury (1908–1988 ), the wife of German Jewish department store magnate Walther Ury.
After graduation, Anna returned to Palestine, where she had emigrated as a teenager. But marriage to a Polish Jew, Hirsch Bieler, who was running a German-Soviet petroleum consortium, brought her back to Leipzig, where he had residency rights. There she was able to reconnect with her musician friends.
Then, in 1933, the new Nazi government banned Jewish artists from public concert halls. "They were all fired overnight, couldn't come into the halls, couldn't perform," says Nora Jean Levin.
Jewish artists nevertheless obtained permission from Nazi authorities to form their own cultural organizations and perform for exclusively Jewish audiences. Under the auspices of the Jewish Cultural Association of Leipzig, all three friends gave piano concerts, with Halina and Anna performing together in 1934 and 1936, to glowing reviews.
Under the pressures of persecution, their paths diverged. In 1936, Anna returned to Palestine with her husband and daughter Tania; then, two years later, she and Tania followed Hirsch to the US, where Jean was born in 1943. Tanya Ury ended up in San Francisco, where she became a celebrated concert pianist.
Halina's fate was more fraught. In 1938, she and her daughter, Jola, were expelled from Germany, along with other Polish-born Jews.
"She went from Leipzig to Lodz to Warsaw, in and outside the ghetto," where she and Jola were helped by Polish friends and obtained false identity papers, Nora Jean Levin says. "She fought in the Polish Resistance. She played Chopin for the troops before they went to fight as the Germans were coming." Both mother and daughter were sent to a German labor camp, and, after the war, to a displaced persons camp.
Halina's husband, Jakob Schulsinger, died in Auschwitz. But in 1951, Halina was able to follow her now-married daughter to the United States. "Three months later," says Nora Jean Levin, "she gave her first recital in Newark," and went on to become a piano professor at Rutgers University.
Halina and Anna never performed together again. But all three women remained steadfast friends. A birthday card included in the Two Pianos exhibition is a tender tribute to that bond. Too frail to travel from Manhattan on the occasion of Anna's 90th birthday, Halina writes: "I'm so sad I'll not be able to be with you and your family for your festivity. I'm too weak for that. You are my last dear friend left. I think every day about so many beautiful things we enjoyed together … Enjoy the rest of our life in good health."
After the June presentation, Kenneth Hoffman said that, growing up, he knew "only bits and pieces" of his family story of persecution and rescue. "My grandmother and my mother never talked about the Holocaust," he says—until the Levins interviewed them for two days about their experiences. Two Pianos "really pulled a lot of that together," he says. "It was very emotional."
As for the Levins, they say they are nowhere near done mining their prodigious research, now enshrined in a private digital sourcebook, Papers, Please—A Twentieth Century Odyssey, with a cast of roughly 300 characters, 1,500 pages of text, and hundreds of photos and documents.
"This is just an excerpt, a slice," Michael Levin says of Two Pianos.
"There's 50 other stories," says his wife.
"Thousands of stories," he says, gently correcting her.
—Julia M. Klein