Jan|Feb 2018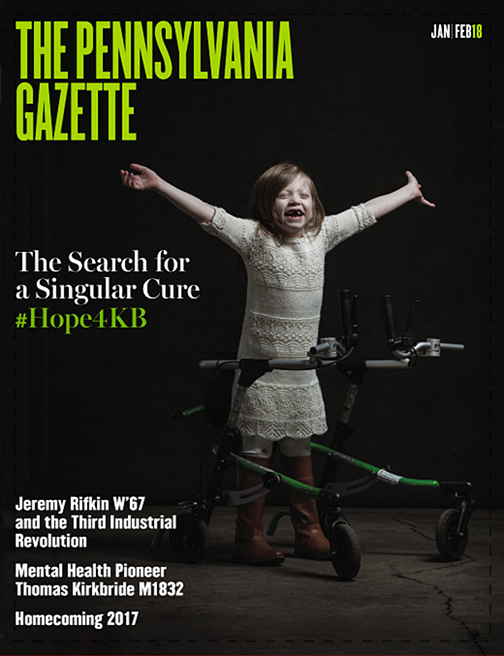 January | February 2018
Volume 116, No. 3

---
FEATURES
Hope for Katherine Belle
How one family's journey through the realm of rare disease led them to the newest frontier of precision genetic medicine.
By Trey Popp
Homecoming 2017
Our annual photo gallery.
Plus: Alumni Award of Merit winners and citations.
Of Beneficent Buildings and Bedside Manners
Thomas S. Kirkbride M1832 wrote the book—literally—on the housing and treatment of the mentally ill in the 19th century.
By JoAnn Greco
Rifkin's Next Revolution
Jeremy Rifkin W'67 launched his career as an activist by protesting the Vietnam War. Now he's making perhaps his biggest impact yet advocating for a "third industrial revolution" to save the world from stagnating productivity and the ravages of climate change.
By Alyson Krueger
DEPARTMENTS
From the Editor | A heartbreaking, hopeful story.
From College Hall | The need for university-driven innovation.
Letters | On Schoenberg's impact, Patten's significance, and more.
Views
Notes from the Undergrad | Parental portrait.
Alumni Voices | "What was so great about being smart?"
Elsewhere | Neighborhood watch.
Expert Opinion | Changing the story.
Gazetteer
Service | At 25, Netter Center focuses on the future.
Campus | $163 million New College House West announced.
Film | Series revives and reexamines "race films."
Neuroscience | Testosterone and decision-making: speed over accuracy.
Literature | Novelist Colson Whitehead on The Underground Railroad.
Football | Mungermen share memories.
Sports | Record-setting seniors Alexa Hoover and Justin Watson.
Arts
Exhibition | Impressionist prints at Arthur Ross Gallery anniversary show.
Humanities | Name change and more at the (now) Wolf Humanities Center.
Books | Q&A with The Border author Steven Schafer G'00 WG'00.
Alumni
Laura Keim GFA'97 is keeping the 18th century alive at Stenton.
Alan Cook W'95 EAS'95 helped invent a self-cleaning dog pad.
Julie Seaman C'86 promotes evidence-based justice.
Old Penn | From Friend to Leatherneck.