Evidence-Based Justice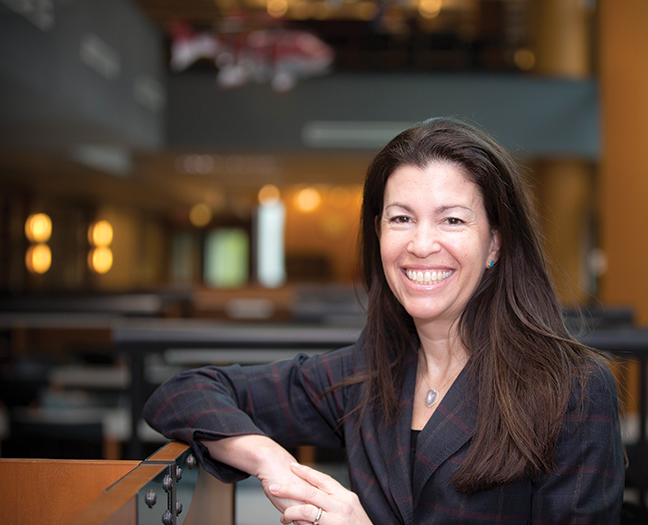 Fighting wrongful convictions in court and in the media.
---
A decade ago, Julie Seaman C'86 was browsing for books at Borders when she came across one titled Exit to Freedom, by Calvin C. Johnson Jr. At first she thought it was written by a law professor at a different university.
"The author's name was familiar, and that's why I bought it," says Seaman, a professor of law at Emory University. It turned out to have been written by a man whose wrongful conviction for rape had been overturned with the help of DNA evidence—after he'd spent 16 years in prison.
The topic was particularly intriguing to Seaman, who teaches a course in Evidence. After Seaman shared some details about Johnson's case with her students, one young man told her he knew Johnson personally through an internship at the Georgia Innocence Project (GIP), where Johnson was a board member. Introductions were made, and Seaman's involvement with GIP began.
Since 2008, Seaman has served as both board member and president, focusing on the plight of wrongly convicted inmates. Those inmates who claim to be wrongly convicted contact GIP, then receive questionnaires to see if they qualify for representation. The nonprofit only has the resources to take on cases in which inmates in Georgia or Alabama could be exonerated with the help of DNA evidence.
"We are looking for some possibility of biological evidence still existing," Seaman says. "They might not know where it is or whether it still exists. We might find it—lost for 20 years—in a box in a closet or mislabeled on the shelves in a storage room."
Seaman often uses her GIP connections to educate her law students, using real-life evidence questions arising from GIP cases for discussion and recommending GIP internships. On several occasions she has brought in Johnson to speak to her Evidence classes.
In 2016, Seaman was able to combine her GIP-laced Evidence lessons with her affinity for legal podcasts. The popular podcast Undisclosed highlighted the GIP case of Joey Watkins, who was convicted of murder in 2001. Seaman asked her students to listen to the legal podcasts each week so they could discuss the evidence in class.
"It was a pedagogical experiment, and I didn't know how it was going to sync with my syllabus," Seaman says.
The Undisclosed producers spent months focused on the Watkins case and spoke with Seaman several times. Early in the season, they included her as an expert panelist in one of their podcasts about innocence claims. They later featured Seaman and her entire Evidence class in another podcast.
"We thought it was a good idea to show how [evidence] gets taught in a legal classroom," says Susan Simpson, a Washington-based attorney who works as a host and producer for Undisclosed. "I thought it had a really good in-the-classroom feel to it, and the audience loved it."
The day of the podcast, a panel discussion materialized in Seaman's lecture hall, featuring Simpson, GIP Executive Director Clare Gilbert, and Watkins' defense attorney, Ben Goldberg. Looming behind them on a large screen, via Skype, was actor Jon Cryer (of Two and a Half Men and Pretty in Pink fame), who served as the celebrity host for roughly half of the 2016 Undisclosed podcasts.
"I picked a few different pieces of evidence from the podcast, and I told the students in advance: 'We're going to talk about these,'" Seaman says. "Then we analyzed each of these two or three items of evidence under the rules."
At one point during the podcast, a student raised her hand to say something.
"I said, 'Speak up so two million people can hear you,'" Seaman says. "They all laughed, because usually, it's: 'Speak up so that people in the back can hear you.'"
Until recently, the future of the nonprofit was uncertain, due to financial and leadership issues. But its Undisclosed exposure—with millions of listeners each week—has revitalized the organization, allowing GIP's Gilbert to capitalize on fundraising efforts.
"We're definitely more stable now," Seaman says. "I'm very optimistic about our trajectory."
The Watkins case is better positioned because of Undisclosed, too.
Seaman says that because Simpson helped uncover some new evidence, "I am optimistic about our client's chances in his motion for a new trial."
Seaman's devotion to righting wrongful convictions doesn't end with GIP. She's also an advisory board member with Penn Law's Quattrone Center for the Fair Administration of Justice, which does criminal-justice policy work to change systemic issues related to misconduct and wrongful convictions.
"If you think of the Innocence Projects as trying to exonerate people one by one, the Quattrone Center is looking at the big picture," Seaman says. "Not trying to help each person but asking: 'Why is this happening and what can we do to shift the tide?'"
—Lisa Fields