The Underground Railroad, Reimagined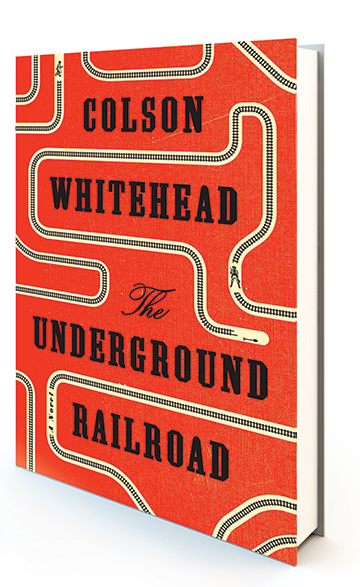 Colson Whitehead discusses his Pulitzer Prize-winning novel.
---
The genesis of Colson Whitehead's Pulitzer Prize-winning novel The Underground Railroad dates back to a misunderstanding from the author's childhood in New York City. "I envisioned, as a kid, an actual subway beneath the Earth," Whitehead said in September during a lecture titled "Ghosts, Zombies, and the Afterlives of Slavery" hosted by the Wolf Humanities Center (formerly Penn Humanities Forum).
Decades later, after he had become a celebrated writer with a collection of highly regarded works including a detective novel, a zombie story, and a coming-of-age tale set in Long Island, Whitehead still held onto his youthful vision. Finally, in 2014, he set out to bring the concept to life.
Whitehead's early work on the book, which was published in 2016, was concurrent with protests in Ferguson, Missouri over the shooting of Michael Brown by a police officer, which set off the Black Lives Matter movement, a nationwide campaign against the killing of African-American citizens by law enforcement officers. Nevertheless, he said, the specifics of the present day played no particular role in his narrative, which was more broadly informed by violence faced by blacks ever since their arrival in North America.
"It's not a secret about police brutality," he said. "Ferguson is a constant feature of my existence."
Nearly all of Whitehead's works address themes related to the ongoing reverberations of slavery in the United States, but The Underground Railroad is his most direct look at African bondage yet. "Slavery haunts the American imagination," Salamishah Tillet C'96, a Penn associate professor of English and Africana Studies, said at the lecture. What made it possible for Whitehead to write this novel, she asked, in light of myriad other canonical slave narratives and a recent scholarly debate about whether slave stories need still be written at all?
"You have to accept that you have something of your own distinctive point of view," Whitehead answered. "The scary book is the one you should do."
The novel portrays the journey of Cora, a young woman fleeing slavery on the eponymous railway, with every state along the line representing a different possibility of civil society in a Gulliver's Travels -esque framework. South Carolina, for example, features an ostensibly progressive government, whereas North Carolina has outlawed blacks altogether. Cora soon learns that nowhere is truly safe as she encounters anachronistic versions of real historical events such as lynchings, forced sterilization, and the Holocaust.
Tillet, who literally wrote the book on how contemporary writers address the antebellum period in her 2012 work Sites of Slavery: Citizenship and Racial Democracy in the Post-Civil Rights Imagination, noted the long odds facing Cora's quest for liberation. "Each state is different," Tillet said, "but there's an overarching theme of white supremacy following her," a threat personified by the character of Ridgeway, a violent slave catcher who pursues Cora from state to state.
"Can you define freedom?" she asked Whitehead.
"Agency," he answered. "It's a journey of personhood, from being a piece of property to becoming a human being." He acknowledged echoes of Harriet Jacobs' autobiographical Incidents in the Life of a Slave Girl in his choice of a woman protagonist,invoking added danger for female slaves subject to the sexual desires of plantation masters and expected to breed the next generation of laborers.
"She found freedom from the plantation. Not freedom from horrible structural racism no matter where she goes," the author added. "She's still a black woman in America."
Even when true freedom feels like an unattainable mirage, Cora travels on. "Sometimes a useful delusion is better than a useless truth," Whitehead read, reciting a passage from the novel in which a character named Elijah Lander, who bears resemblance to abolitionist Frederick Douglass, lectured an assembled crowd. "'We may not know the way through the forest,' Lander told his listeners, 'but we will pick each other up when we fall, and we will arrive together.'"—Aaron Kase