Mungermen Forever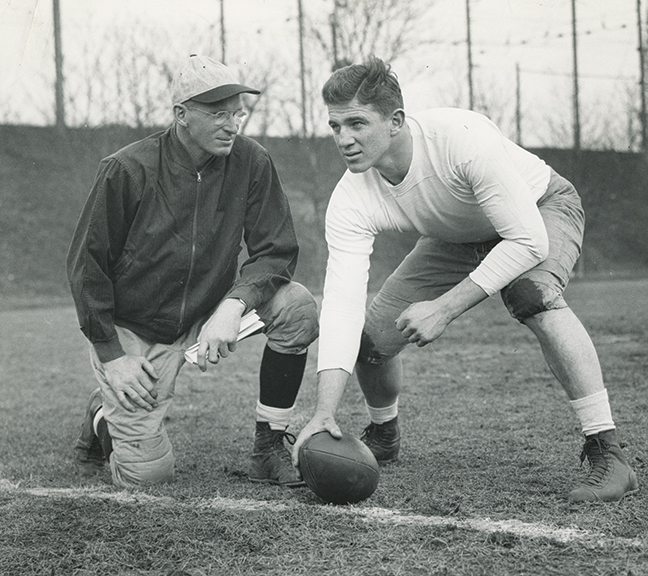 Players from Penn's gridiron glory days keep George Munger's memory alive.
---
Three hours before he ran onto Franklin Field with his players, Penn football coach Ray Priore walked into a room next door to the historic stadium to ask for advice from a different set of players … from the 1940s and 1950s.
"What would George Munger have said if he lost two games on the last play?" Priore asked as Richard "Dick" Rosenbleeth W'54 L'57, Ed McGinley W'50, John Cannon W'54, Norm Wilde W'53, and Robert Fox C'52 gathered for brunch, as they've done for more than 60 years.
Those five Penn alumni are part of the dwindling number of "Mungermen," an aptly named group that grants entry to anyone who played under famed football coach George Munger Ed'33 from 1938 to 1953. Those were the glory days of Penn football, when 70,000 to 80,000 fans regularly packed Franklin Field to see a national-caliber program that competed with the likes of Notre Dame, Michigan, Ohio State, and Army.
And though many decades have passed, the games, the plays, the tackles, the camaraderie, the sounds inside Franklin Field—everything—remain as lucid as ever.
"I forgot my keys this morning," Rosenbleeth said. "But these memories are so vivid when you come back here."
Rosenbleeth estimates that there were approximately 240 Mungermen when the reunions began in 1956 as a way to honor Munger, a former Penn football player who was hired to run the team at his alma mater when he was only 28. But nowadays, there may only be about 25 or so living Mungermen around the country, and far fewer who live close enough—and are healthy enough—to attend reunions, which are always held before football games. (Munger passed away in 1994.)
The five who were there at the Dunning Coaches' Center before Penn's game versus Yale on October 21 represented a significantly smaller gathering than even a few years ago, when the group filled a whole room at the Inn at Penn. And that the 60-year tradition—which included visits from Priore, Penn athletic director Grace Calhoun, and the Penn Band—may soon be coming to an end is a sad truth not lost on those in attendance.
"It always touches my heart," said McGinley's wife, Kate, just after the band played "The Red and Blue." "This is camaraderie you don't find often. Some of them might not be singing here next year."
Over sausage sandwiches and quiche, Kate marveled at how well everyone remembered specific plays from the 1940s and '50s. That includes her husband, Ed, who at 90 is one of the last links to the 1947 team that went undefeated with a 7-0-1 record, outscoring their opponents by a whopping 219-35 margin and finishing the season ranked No. 7 in the country.
Because that team, arguably the best in Penn's storied history, was loaded with the likes of Chuck Bednarik C'49 and other stars, McGinley played on the junior varsity 70 years ago. But McGinley, whose father Edward F. McGinley Jr. W'25 was an All-American tackle for the Quakers in the 1920s, got to enjoy plenty of memorable experiences as an upperclassman, including playing alongside his late brother Gerry McGinley W'52 in 1949. And he still fondly recalls Penn's classic game versus then-No. 3 Army, during his junior year, when Franklin Field was packed to the upper deck with fans dressed in their best suits and hats.
Playing Army, a perennial top-ranked team in that era, was always a thrill for the Quakers, even when they didn't win. In that 1948 game, McGinley remembers a teammate diving to try to stop Army star tailback Bobby Jack Stuart, only to miss the tackle, catch his front teeth on Stuart's heel and "tear out his whole mouth." Later, McGinley's voice rose with excitement as he and Dan Rottenberg C'64 racked their brains to recall the name of the Army player who caught the last-second game-winning touchdown—it was John Trent, who not long after was killed while deployed in Korea.
Rottenberg—a former Penn football player (though not a Mungerman) and author of Fight on Pennsylvania: A Century of Red and Blue Football —remembered listening to a WXPN interview in which Bednarik said that 1948 loss to Army was his favorite game ever, quite the claim considering he won two NFL championships with the Philadelphia Eagles. (Although he died in 2015, Bednarik's presence was still felt at this year's Mungermen reunion with his daughter in attendance. The son of the late Bernie Lemonick W'51, one of the best Penn players ever and an original architect of these reunions, was also there.)
Rottenberg, who went to games in the Munger era as a kid, agrees that some of Penn's losses ended up being the most memorable—but for a different reason, pointing to the 1953 season, in which the Quakers went 3-5-1, as Munger's best coaching performance.
That was Munger's final season at Penn as the University began its transition to the Ivy League and ended spring practice. But the team's schedule remained as difficult as ever as the Quakers faced four nationally ranked teams, including top-ranked Notre Dame. "The '53 team was the best team and it was Munger's first losing team," Rottenberg said. "They played the toughest schedule of any university in the history of college football, and they did it under Ivy League restrictions."
Rosenbleeth called Munger "a true gentleman" who managed to coach hard-nosed football while also being interested in the lives of his players. The last time Rosenbleeth saw him, Munger had just given a speech at one of the luncheons. Rosenbleeth told him it was a great speech, "and he looked at me and grabbed me and hugged me and said, 'Richard, I love you.'"
Nowadays, Rosenbleeth enjoys seeing his former coach's memory live on in a statue of Munger at Franklin Field, which the group helped fund, and the "George Munger Award," given by the Maxwell Football Club every year to the country's top college coach.
And, of course, through people like him.
"He loved his players and that's why these guys still come every year," Rosenbleeth said. "Even though it's dwindling down, they're still coming."
And the last of the Mungermen will continue to return to Penn for as long as they're able, just to tell stories and relish the bygone era when a Penn football game was the hottest ticket in town.
"They inspire me, they really do," said Priore—whose official title is the George A. Munger Head Coach of Football at Penn.
—Dave Zeitlin