Homecoming 2017
SLIDESHOW | Photography by Tommy Leonardi C'89
---
---
Merit Awards
Photography by Stuart Watson
---
Candice Bergen CW'67 Hon'92 | Creative Spirit Award 2017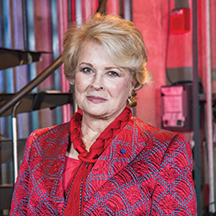 You have been a photojournalist, a critically acclaimed writer, an accomplished model, an award-winning actress, and more. Your many talents make you a true Creative Spirit.
You were born with an abundance of talent into a most unusual family. As the daughter of the radio star and ventriloquist Edgar Bergen, you reluctantly shared your Beverly Hills childhood with your father's famous puppet, Charlie McCarthy, referred to as your "wooden brother" in your 1984 memoir Knock Wood. No doubt this unique circumstance helped hone both your comedic talents and delicious sense of the absurd.
From there it was on to Penn, which appealed to you, in part, you have said, for its lack of palm trees! We like to think that the time you spent here, studying literature and the arts, sowed the seeds of your professional life. As a Quaker, you soared from one creative pursuit to the next, starring in plays by Tennessee Williams and Jean Giraudoux with the Pennsylvania Players, and signing on as art and photography editor for Penn Comment.
Captivated by photojournalism, and especially the pioneering work of Margaret Bourke-White, you roamed Philadelphia, Pentax in hand. Fortuitously, you fell in step with another camera-toting student, the photographer Mary Ellen Mark FA'62 ASC'64 Hon'94, who became a friend and inspiration.
You left Penn to pursue what turned into a stellar career. It was not long before you posed for your first Vogue cover and made your film debut, at 19, in Mary McCarthy's The Group, directed by Sidney Lumet. Subsequent roles led to critical acclaim; you were nominated for Oscar and Golden Globes awards for Starting Over (1979) and a BAFTA prize for the 1982 film Gandhi, in which, ironically enough, you played a young Bourke-White.
But television is where you have made your biggest splash. Back in the 1970s, you were the first female host on Saturday Night Live; 30 years later, you played lawyer Shirley Schmidt for five seasons on Boston Legal. Between the two, you ruled the airwaves from 1988 to 1998 as the feisty, endearing investigative reporter Murphy Brown in the sitcom of the same name. It was the perfect showcase for your offbeat humor—and the role, you have said, that you loved the most. The world did, too, bestowing upon you five Emmys and two Golden Globes for your performance. During the show's run, you also became a role model; your portrayal of a professional woman at the top of her field—a rarity on television of that era—inspired a generation of young women who were entering a workplace far different from the one their mothers had known.
In 1992 your alma mater joined the world in recognizing your creative talents and many memorable performances with the "Golden Globe of the University of Pennsylvania"—the honorary Doctor of Laws degree.
Busy as you are, you maintain an active philanthropic life. You have served as a trustee at Central Park Conservancy, the Norton Simon Museum of Art, and the Starlight Children's Foundation. Your Candice Bergen Malle Foundation, founded in 2005, supports the environment and other causes. At Penn, you have established both endowed and term scholarships in your name.
You keep charging forward, an unstoppable creative force. Your recent memoir, A Fine Romance, which touches on the death of your first husband, French film director Louis Malle, was warmly received by critics. More recently, a photo you posted on Instagram, of a designer bag you personalized for your daughter, Chloe Malle, led to the creation of a new enterprise, Bergenbags. Its startling motto, "From One Old Bag to Another," sounds like pure Murphy Brown.
Whatever creative pursuits you take on, you do so with great gusto and charm! For thrilling us with your energy and talents, and for remaining true to the Red and Blue through your success, Penn Alumni is delighted to present you with the Creative Spirit Award for 2017.
Gilbert F. Casellas Esq. L'77 |Alumni Award of Merit 2017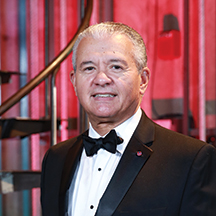 You once explained to an audience at Penn that you had "volunteered for this university … from the moment I started law school." The exceptional loyalty you have demonstrated since graduating from Penn Law prove your words are true.
It was your personal connection that brought Lin-Manuel Miranda to Penn as the speaker for the 2016 Commencement—certainly, a memorable contribution. But more enduring is how avidly and successfully you help advance Penn's core values.
"Diversity is about representation," you once said. "Inclusion is about making that mix work." In that regard, you are a master chef, helping Penn find the right balance. You believe that diversity is integral to a university's "special obligations to society" to impart knowledge, and you work tirelessly to ensure that Penn is meeting its responsibility. Indeed, President Gutmann has credited you with suggesting "Inclusion" as one of the three pillars of the Penn Compact 2020.
Since 2013, you have been cochair of the James Brister Society, which aims "to improve the quality of the campus experience for students, faculty, and administrators of color," and were key to its revitalization. You helped the Society reaffirm its priorities, energize and expand its membership base, and ensure that the University is providing the resources and attentive support that help students and faculty excel. In addition, you were a founding member of the Association of Latino Alumni and focused on multicultural outreach as a member of the Penn Alumni Board of Directors. Thanks to your efforts, our campus is becoming more welcoming and inclusive every day.
As you ascended from a legal clerk to your current role as chair of the management consulting and investment firm OMNITRU, you undertook a wide array of leadership positions. Your service on diversity-related committees throughout the corporate world, your selection as chair of the US Equal Employment Opportunity Commission under President Bill Clinton, and an appointment by President Barack Obama to the Military Leadership Diversity Commission speak to your own "special obligation to society." These responsibilities make your vigorous participation in campus life all the more impressive.
A stalwart alumni volunteer since 1989, you ramped up your engagement by joining the Board of Overseers of the School of Social Policy & Practice, serving as its chair in 1996—the same year you were named a term trustee. You made your presence felt on the Trustees' Executive, Academic Policy, and Budget and Finance Committees and chaired the Neighborhood Initiatives Committee.
You became an overseer for Penn Nursing in 2003, and three years later, you were named a charter trustee. In this role, you chaired the Ad Hoc Committee on Diversity while maintaining your role on several other committees, including Honorary Degrees & Awards and Student Life. Your extensive service earned your selection as an emeritus trustee in 2016.
In an impassioned speech to the Puerto Rican Undergraduate Students Association, you urged students to take an active role as alumni. There are few better models than you. Your gifts to Penn have been generous, strategically targeted, and personally meaningful—the ideal philanthropic combination—including support for financial aid, diversity initiatives, annual giving, and the Penn Nursing Center for Global Women's Health.
From your days as a law student, to being a Penn parent as Marisa C'08 graced campus, and now as an exemplary alumni leader, your legacy is extensive. Yet, we know you are not nearly finished yet. For your steadfast dedication to reshaping our campus for the better, Penn Alumni is honored to award you the Alumni Award of Merit for 2017.
Kyle S. Kozloff W'90 | Alumni Award of Merit 2017
The Alumni Weekend Parade of Classes is a joyous affair in which Quakers of all ages—many carrying festive banners and flags—march down Locust Walk to the exultant strains of the Penn Band. For the past 14 years, their steps have been enhanced by your own witty commentary as emcee, which is sprinkled with fun facts about passing marchers and classes. Sporting a red and blue Penn blazer, with a smile on your face and a microphone in your hand, you have become almost as iconic as the event itself. "Many of us can't imagine the parade without you," President Amy Gutmann has pointed out. Indeed, we can't.
While you came by your wit and exuberance naturally, it was surely honed further during your undergraduate years at Wharton, when you were an active member of Mask and Wig, Penn's famously zany all-male comedy group. After graduating with a degree in strategic management, you soon deployed both wit and business acumen on behalf of your alma mater.
As president of the Class of 1990 for the past 17 years—and a notably charismatic and hardworking one—you have been particularly effective at drumming up excitement for reunions and keeping your class engaged in the years in between. You chaired the reunion committees for your class's last three reunions. Two years ago, for your 25th, your witty and creative emails helped boost both attendance and giving—and contributed to the event's ultimate success.
And success is indeed the word. In the parlance of the film industry in your hometown of Los Angeles, the gathering was a blockbuster. Nearly 800 classmates showed up, breaking attendance records for a 25th reunion and fundraising $4 million for the University, beating the average number for the previous eight years. In true Hollywood fashion, your class aced the awards season, walking away that year with both the David N. Tyre Award for Excellence in Class Communications and the Class of 1917 Award for the most successful reunion fundraising.
Your family has been a loyal Red and Blue presence since the 1930s, when your grandfather, William Kozloff, graduated from Wharton with the Class of 1938. Subsequently, some 35 members of your extended family, including your father, Dr. Stephen R. Kozloff C'62, and sister, Rebecca Kozloff Collins C'92, have earned Penn degrees.
Given the abundance of familial Red and Blue, it seems only natural that you are active in alumni causes. You served as the vice president for alumni programming for the Penn Alumni Board of Directors and chaired the committee of the same name. A longtime member of the Alumni Class Leadership Council (ACLC), you currently serve as cochair of special programs, overseeing both the Penn Reunion Leadership Conference (PRLC) and the events that bring your fellow class presidents together. You have also reached across classes, especially to your "shoulder" classes—those who shared your college years—to develop friendships and plan events that rekindle old ties, such as mini-reunions on Homecoming Weekend.
Your leadership extends well beyond campus to your home in Los Angeles, where you serve as the de facto "mayor" of the local Penn community. You happily welcome visiting Quakers into your home, interview prospective students, serve on host committees for University events in your hometown, and cochair the Southern California Regional Advisory Board (SCRAB), which offers programs that bring together the many members of the Penn community in the L.A. area.
Ideally, we would call out our appreciation for everything you do for the Red and Blue in a style that echoes your own—with a microphone in hand, as the entire Penn community passes by. Instead, we'll do the next best thing by awarding you the Alumni Award of Merit for 2017, which comes with our warmest thanks for your dedicated service to your alma mater and your beloved Class of 1990, together with your inimitable contributions to one of Penn's best-loved traditions, the Alumni Weekend Parade of Classes.
Egbert L. J. Perry CE'76 WG'78 GCE'79 | Alumni Award of Merit 2017
"Opportunity presents itself," you once said, explaining that it is by "stepping into it" that one becomes a leader. We at Penn have witnessed these words in action firsthand. For more than 40 years, you have "stepped into" opportunities at the University, over and over again.
As cofounder, chairman, and CEO of The Integral Group, an Atlanta-based national real estate advisory, investment management, and community development firm, and as chairman and a director of the Federal National Mortgage Association, you bring an exceptional level of acumen and leadership to your work at Penn.
Appointed a University trustee in 1996, your extensive expertise in real estate and community development was a boon for us as you chaired the Facilities & Campus Planning Committee and participated on the External Affairs and Neighborhood Initiatives Committees. Additionally, your commitment to inclusion showed in your tenure on the trustees' Ad Hoc Committee on Diversity, including a period as its chair. Named a charter trustee in 2006, you served on the board's Executive and Nominating Committees; a decade later, in 2016, you were appointed to emeritus trustee, an honor befitting your steadfast commitment and contributions to the University.
Your tenure as a trustee tells only part of the story. You have also been active at Penn Engineering, serving on its board of overseers for a dozen years, beginning in 1996—six years after your induction to the School's Gallery of Distinguished Alumni. And for more than a decade—and counting—you have deftly deployed your knowledge of urban communities and housing as chair of the Advisory Board of the Penn Institute for Urban Research (IUR). In fact, you were instrumental in shaping the Institute, which is now recognized as a model of how a Penn institute should function.
Of course, you found even more ways to "step into it." You had a hand in shaping Penn's future as a member of the committee that brought President Amy Gutmann to Penn in 2004. Your dedication to fostering diversity is evident in your work with Wharton's AAMBA/Whitney M. Young Committee and, since 2002, with your support of the James Brister Society, which aims to improve the quality of campus life for students, faculty, and administrators of color. As members of the Penn Club of Atlanta, you and your wife, A. Renee Perry W'77, also host popular receptions for alumni in your area.
What is even more impressive is that you did all this while raising two future Quakers—Ashley Rian Smith Esq. C'05 and Aleria Perry WG'19—and leading a successful professional life.
In addition to your history of loyal service, in 2006, you and Renee established the Percival and Margaret Perry Endowed Scholarship at Penn Engineering—a wonderful honor to your parents and a testament to your commitment to increasing access to a Penn education. You also provide significant support for the IUR, advancing its mission of urban research, education, and civic engagement. And as a former gift chair and current member of the Class of 1976 Gift Committee, you encourage others to give back to Penn, enhancing the culture of giving within our community and expanding your personal impact many times over.
Time and time again, you demonstrate what a true leader looks like, and we are proud to call you one of our own. For exemplifying how opportunity and action add up to impact, and for "stepping into" leadership so effectively in service of the University, Penn Alumni is honored to award you the Alumni Award of Merit for 2017.
Alice Way Waddington Ed'49 | Alumni Award of Merit 2017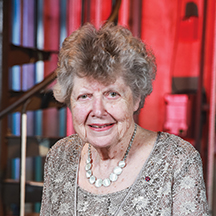 At the time you entered Penn, trolleys clanged down Woodland Avenue, while the popular automobiles of the day—Buicks, Lincoln Zephyrs, and Fords—cruised along Locust Walk. You joined Alpha Xi Delta, played clarinet and tenor sax in a dance band, and sang in the chorus under future Philadelphia Orchestra conductor Eugene Ormandy—all while pursuing your studies at the Illman-Carter Unit for Kindergarten-Primary Teachers, part of Penn's School of Education.
If such images seem static, recalling sepia-toned vintage photographs, you are quite the opposite—fast-moving and firmly rooted in the present. As a longtime volunteer, for both the Alumni Class Leadership Council (ACLC) and the Class of '49, you have become legendary for your energy and your spirited commitment to the school. As a fellow alumnus so aptly noted, you are "Pennergetic."
You are also a gifted multitasker, an ability that served you well when, after college, you helped to run your family's dairy distribution business while raising four children. You soon turned your attention to your alma mater, becoming an intrinsic part of University life in the process. With your positive attitude and wonderfully infectious smile, you have lit up countless Penn-related events, from scholarship celebrations to reunions, in the many years since.
Where some people's efforts flag with the passing years, yours seem only to have grown. As class president, a position you have held for more than a decade, you became known for your thoughtful, inclusive leadership style. You have been a longtime member of the Class of 1949 Reunion Gift Committee. And as copresident (with George Wills) of both the 60th and 65th Reunion Committees for your class, you worked in partnership with Alumni Relations and Development staff to develop activities designed to appeal to your classmates, including a mural arts tour of the city. Your efforts helped deliver a stunning turnout for your 65th reunion.
At your last reunion luncheon, held, appropriately enough, in the Class of 1949 Auditorium in Houston Hall, Wharton Professor Christopher Maxwell spoke on the benefits of positive thinking. Not that you need any guidance on the subject—you seem always to be wonderfully, contagiously upbeat.
While you have long energized alumni of your generation, you have inspired younger alumni, too, providing guidance and mentorship. A model volunteer for the University as well as your class, you have served as a member of the Homecoming Host Committee, the Alumni Class Leadership Council, the Penn Alumni Council, and so much more.
In short, you are a living example of what a lifetime of engagement with your alma mater looks like. "The more you give of yourself and your time" to Penn, you once wrote, "the more you will get back." It would be hard to imagine anyone who has given more. No wonder you have been described as a "quintessential alumna."
With gratitude for your cheerful demeanor, dedicated service, and unfailing "Pennergy," Penn Alumni is delighted to bestow upon you the Alumni Award of Merit for 2017.
Sue Dreier Wishnow C'86 | Alumni Award of Merit 2017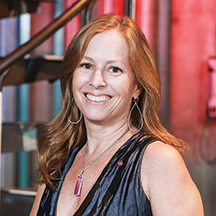 It was evident early on that you had a special place in your heart for Penn. As a student, you joined the Kite and Key Society, sharing your love for Penn exuberantly with visitors during walking tours of campus. That same energy, enthusiasm, and infectious Penn pride has persisted for 30 wonderful years and counting, both in the US and abroad.
You have a rare gift for communication, one you effectively use to connect with fellow alumni all over the world. As copresident of the Class of 1986 for the past 10 years, you have kept the University within arm's reach for even the most far-flung classmates. When you and copresident David C. Blatte W'86 recognized the need to keep your classmates engaged all through the five-year reunion cycle, you acted quickly, decisively, and with phenomenal success.
Impressive showings at Alumni Weekend even in non-reunion years prove that there is no "off year" for the Class of 1986. With a fun, informative e-newsletter—In the Mix with '86!—and an active Facebook group, you spur yearlong engagement among your fellow "86ers," inviting them to Engaging Minds events, Mask and Wig shows, Penn Athletics games, and more.
The results speak for themselves. As cochair for the 25th reunion, outreach chair for the 30th reunion, and a longtime member of the Gift Committee, you led the way to record-breaking fundraising years, earning the Class Award of Merit—twice!—in the process. For your 30th reunion, the Class of 1986 earned the top spot for total giving to the University; raising $28.5 million for The Penn Fund, the class set the record for a 30th reunion and was the fourth largest for any reunion class.
You work for all alumni, too, assuming key roles on the Penn Alumni Council and the Alumni Class Leadership Council. As a member of the Penn Alumni Board of Directors for a decade, beginning in 2003, you were a part of several committees as well the Global Alumni Network International Advisory Board. The international emphasis is fitting; you served on the board of the Penn Club of the United Kingdom, and as a member of the Penn Alumni Interview Program, you interviewed prospective Quakers in both Toronto and London, where you chaired the program for six years.
When you relocated to the Garden State, you naturally kept up the momentum by becoming an active member of the Penn Club of Metro NJ. As vice president for membership, you developed a clever online system that made it easier than ever to be part of the club. And you expanded the club's membership by promoting fun events, from a concert by the Penn Keynotes to a widely attended yPenn event featuring the charismatic professor Peter Decherney.
You lead by example in supporting The Penn Fund, and your shining influence raises the bar for excellence and alumni engagement. In gratitude for all you have done for Penn—locally, globally, and personally—and in anticipation of what you will accomplish next, Penn Alumni is delighted to award you the Alumni Award of Merit for 2017.
Louis Hornick III C'02 | Young Alumni Award 2017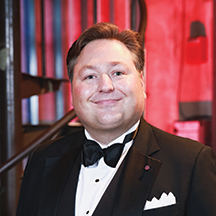 You are a joyful steward of meaningful traditions. From the steins that hang from the walls of the Mask and Wig clubhouse to the songs of Irving Berlin to the red and blue flags of Homecoming, you take infectious delight in the cherished institutions that connect the generations. Your dedication is evident in all you do for your alma mater, for your century-old family business, and for the storied musical troupe whose mission you have made your own: "Justice to the stage; credit to the University."
As an undergraduate you earned the 2002 Penn Alumni Student Award of Merit for your service to the Sphinx Senior Society; your fraternity, Phi Kappa Sigma; the Provost's Alcohol Rapid Response Team; and, especially, to Mask and Wig as its secretary-treasurer. Mask and Wig—that creative, boisterous brotherhood on Quince Street—became your passion during your tenure at Penn, and your talents came alive on its stage. But your enthusiasm didn't end there: after graduation, as the old chestnut goes, the song may have ended, but the melody has remained the same.
As a member of the Mask and Wig Board of Governors since 2003, you have demonstrated an extraordinary ability to build relationships between undergraduates and the club's most senior alumni. Not even a distance of thousands of miles dimmed your commitment; when you lived in Los Angeles, you would fly cross-country so as not to miss a meeting. You have chaired both the House Committee and the Tour Committee, which brings the jubilant spectacle of Mask and Wig performances to regional clubs all over the country—a treat for both student cast members and alumni audiences, who delight in their shared bond.
Your dedication to Penn hasn't stopped there. Currently you serve on the Executive Committee of the Alumni Class Leadership Council, but well before that you were the very first to hold the position of "young alumnus" on the Penn Alumni Board of Directors. You have contributed to the success of each of the reunions for the Class of 2002, chairing the record-breaking 15th reunion. You have also been a member of the Homecoming Host Committee and the Penn Alumni Council.
Your alma mater is never far from your mind. When you produced an Irving Berlin musical in Los Angeles, naturally you invited the local Penn Club to attend, and your theatrical production company is called, of course, Quince Street Productions. You have been a welcoming presence at just about every Penn gala, retreat, and conference from Philly to New York. You have also become a familiar face to legions of undergraduates and alumni alike, as well as to prospective students, for whom you serve as a Penn Alumni Interviewer.
Little wonder you see yourself as a link in an unbroken chain. You're fourth-generation Penn on both your maternal and paternal sides, a proud lineage now immortalized on the Founder's Gate of the Generational Bridge on Locust Walk. Your very nickname, Tripp, stands as a reminder of those who came before you—back to your great-grandfather who, in 1918, founded the textile company that has been run by your family ever since. Including, now, by you. Alongside your father, you've taken on the leadership of LHSC Inc. as its executive vice president. Under your watch the company opened a factory in South Carolina, bringing overseas jobs back to America's grateful textile belt and ushering your great-grandfather's legacy into a new era.
You recognize the value of connecting past, present, and future—and remain firmly committed to working together with your fellow Quakers to ensure that our own sacred institution will continue to flourish. For your unique ability to bridge generations of Penn alumni, and your tireless commitment to keeping Mask & Wig as vibrant and fresh as it has been since 1889, Penn Alumni is pleased to present you with the 2017 Young Alumni Award.
Rohit Singh C'02 W'02 | Young Alumni Award of Merit 2017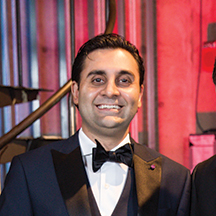 When you decided to become more active at Penn as an alumnus, you may have taken your inspiration from President John F. Kennedy: you asked not what your alma mater could do for you but what you could do for your alma mater. Since your graduation, your savvy and enthusiastic engagement have made you a valued friend to the University.
As a member of the Kite and Key Society and a Wharton Undergraduate Tour Guide, you forged ties to Penn that would eventually become a lifetime bond. You spent a memorable semester in Lyon, France, as part of the Huntsman Program in International Studies & Business and graduated summa cum laude in 2002, with degrees in economics and international studies.
From there, you began an impressive career, with an uncommon level of focus, acumen, and vision leading to rapid advancement at the world's top financial services companies. Those same traits have been evident since you began increasing your involvement at Penn.
Always willing to lend your talents where Penn needed them most, you started by joining the Penn Alumni Interview Program, participating in a pilot program to offer Skype interviews to students from all over the world. This was only the beginning of your rise as one of Penn's strongest champions, and like any good champion, you rallied your peers to join you. You encouraged their philanthropy as co-gift chair for the Class of 2002 Gift Committee, and as a member of host committees for School of Arts and Sciences and Engaging Minds events, you helped inspire the sort of personal involvement that reinforces lifelong bonds.
Your passions are always aligned with purposes that strengthen the University. As the first Huntsman alumnus to serve on the program's advisory board, your valuable input and astute analysis of engagement numbers revealed a need to better connect with our Huntsman alumni. That's when you saw another way to make an impact—you became the founding chair of the Huntsman Alumni Council, where your special insight helps us better reach this group of worldly Quakers. What's more, the Singh Family Endowed Scholarship supports an international Huntsman student, increasing the diversity of our campus while also helping a student in need.
As the son of a university professor, you developed an affinity for libraries early in life, so becoming involved with the Penn Libraries was a natural fit. The Orrery Society Council was a perfect match, and your enthusiasm made your appointment as cochair an easy choice. By establishing the Singh Family Fund for South Asian Studies, you have helped the University acquire scholarly materials that strengthen research in this field—a testament to both your undergraduate membership in the South Asia Society and the significance of this area of study to your family. And as an ex-officio member of the board of overseers, you continue to stand among the Libraries' most active and dedicated supporters.
On top of all this, you have proven yourself a trusted mentor and advisor for young alumni. Whether leading corporate on-campus recruiting efforts at Penn or sharing your views on impactful volunteerism, your indefatigable Penn pride is palpable in all you do.
Anyone who believes the adage "Youth is wasted on the young" surely is unaware of the energy, enthusiasm, and experience you have offered to Penn in such a short time. For making Penn's priorities your own, and in anticipation of your bright future as a leader, Penn Alumni is delighted to award you the Young Alumni Award for 2017.
---