Senior Standouts
Alexa Hoover and Justin Watson enter the record books.
By Dave Zeitlin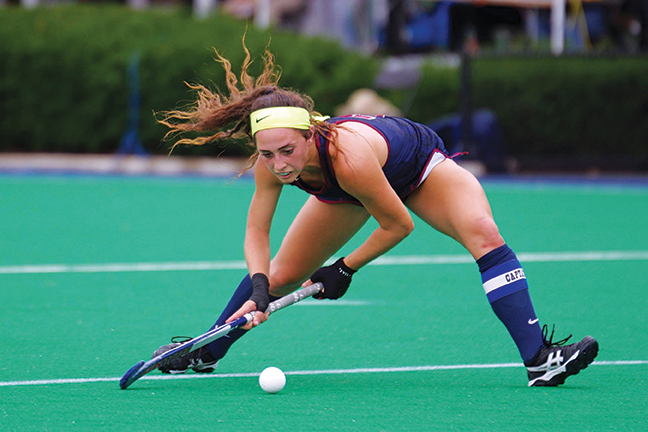 Alexa Hoover didn't plan to throw her stick. It just sort of happened, the sheer ecstasy of the moment taking over after the senior field hockey captain stole a pass, juggled the ball on her stick, and finished off "the coolest goal I've ever scored in my life."
The goal proved to be the game-winner as the Quakers pulled off a huge 3–2 upset victory over No. 10 Syracuse on October 22. And it was so pretty that Penn head coach Colleen Fink didn't reprimand her star player for the jubilant stick throw that resulted in a penalty; instead, she gave her a high-five on her way off the field.
"Would I have preferred that she not have gotten a card? Yes. But that's just someone's innate reaction," Fink said. "In the context of the moment, I was kind of like, 'Really? It was a pretty good goal.'"
Fink got to enjoy a lot of pretty good goals from Hoover, who will graduate in May as the program's all-time leader in that category, with 68 over the course of her college career. And, in a way, her lost-in-the-moment celebration showed the spirit of a player Fink called "fiercely competitive" and bent on raising the bar of Penn field hockey.
"She came to Penn at a time when we were kind of just transitioning to a program that was going to contend in the Ivy League," Fink said. "We were just on the cusp, and we really needed that player to be able to help propel us to that level. She definitely became that person."
The Quakers never did win the Ivy League during Hoover's career, but they certainly looked like a national-caliber program at times. Two years ago, in Hoover's breakout sophomore campaign, Penn finished with a 13–3 record and lost to longtime league juggernaut Princeton in its final game with the Ivy title on the line. And after an 11–6 season last year, Fink boosted the team's schedule in a big way as Penn faced seven nationally ranked teams this year, winning against two of them and losing three by a single goal en route to a 9–8 overall record.
Now, the coach says the team's mindset has evolved to the point where "we don't lose to non-ranked teams." And Hoover, the first Penn player ever to be named First Team All-Ivy four times, is the main reason for that shift.
"I think it just shows the direction this program is going in," said Hoover, who ranks fourth in Ivy League history in both goals and points (163). "And it's honestly been an honor to be able to say I helped get it in that direction."
Hoover even helped the program get some buzz around campus and the city—no small feat for a field hockey player. Two years ago she was featured in Sports Illustrated's "Faces in the Crowd" section. And her goal against Syracuse was featured on the local Fox 29 news broadcast and went viral online within the field hockey community.
"I had people coming up to me on campus that I don't know saying, 'Hey, I saw your goal. That was so cool,'" Hoover said. "And I was just like, 'Oh my God.'"
Hoover had been recognized before. Students often approached her in Houston Hall, holding up copies of the Daily Pennsylvanian, and asked, "Wait, you're the girl with the neon headband?"
Since she was 14, wearing a headband has been her signature look—one which she'll continue when she tries out for the US national team in January. If that doesn't work out she'll likely go to graduate school at a place where she can be a volunteer assistant coach—maybe even Penn.
"I've been playing since I was four years old," she said. "I'm definitely going to find some way to get back into field hockey."
Still, it will be hard for Fink—who's known Hoover since she was a feisty 12-year-old—when Penn's 2018 season begins and her star forward isn't out there on the field. It might be even harder for her two young children.
"I'm still trying to tell my three-year-old that Alexa's not going to be on the team next year," the Penn coach said. "And he just starts crying like, 'Why? Why can't she be on the team anymore?' And I'm like, 'Mommy doesn't know, Toby! I'm just as upset.'"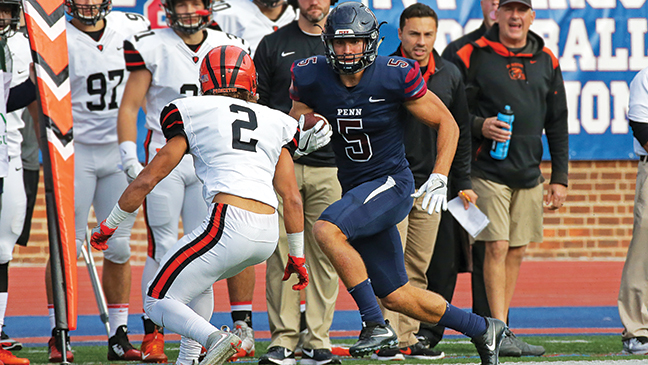 By the time Justin Watson took the field for his final college game, he had already smashed the Penn record book and secured his legacy as one of the best wide receivers in Ivy League history.
Then he had perhaps his best game of all.
In a fitting finale, the All-American finished with a career-high 13 catches—including one of the best of his career—for 192 yards and a touchdown, leading the Quakers to a 29–22 win over Cornell on November 18.
"That was singlehandedly one of the finest performances I've seen," said Penn head coach Ray Priore. "But it's kind of crazy that he did that a lot. It was very fitting that's how he went out his last game."
After a spectacular diving grab by Watson set up Penn's go-ahead touchdown, the Quakers needed a goal-line stop on a Cornell fourth down in the final second to finish the 2017 season on a four-game winning streak. Because they were on the wrong end of last-second results in their first three Ivy League games, however, that wasn't enough to capture a piece of the title, which Yale won.
But that was not because of Watson, who, despite dealing with constant double-coverage and new quarterbacks, had a marvelous season with 81 receptions, 1,083 receiving yards, and 14 touchdowns, a Penn record. Some others: career receptions (286), career receiving yards (3,777), career all-purpose yards (4,116), career receiving touchdowns (33), consecutive games with a reception (40), and consecutive games with a touchdown reception (10).
"It's definitely cool to be a part of history at a historic program like Penn," Watson said. "It's cool to have my name listed with so many great players and the grandfathers of football."
Although he didn't win one more Ivy championship, as he had hoped, Watson felt like his class helped "bring Penn football back" thanks to their dramatic titles in 2015 and 2016. And he was glad he could go out with "one more thrilling victory."
But the senior may still have plenty of football ahead. Throughout the season, pro scouts descended on Franklin Field to watch Watson in action. Priore said he's "never seen as much NFL activity in a given year."
Will Watson get picked in April's draft? It's an uphill battle for any Ivy League player, but "I totally believe in myself," he said. "I have a whole bunch of guys at Penn and a lot of family back home that believe in me too. There's no doubt in my mind I can get drafted and have a long career in the NFL."
Dave Zeitlin C'03 is a regular Gazette contributor.