Sep|Oct 2023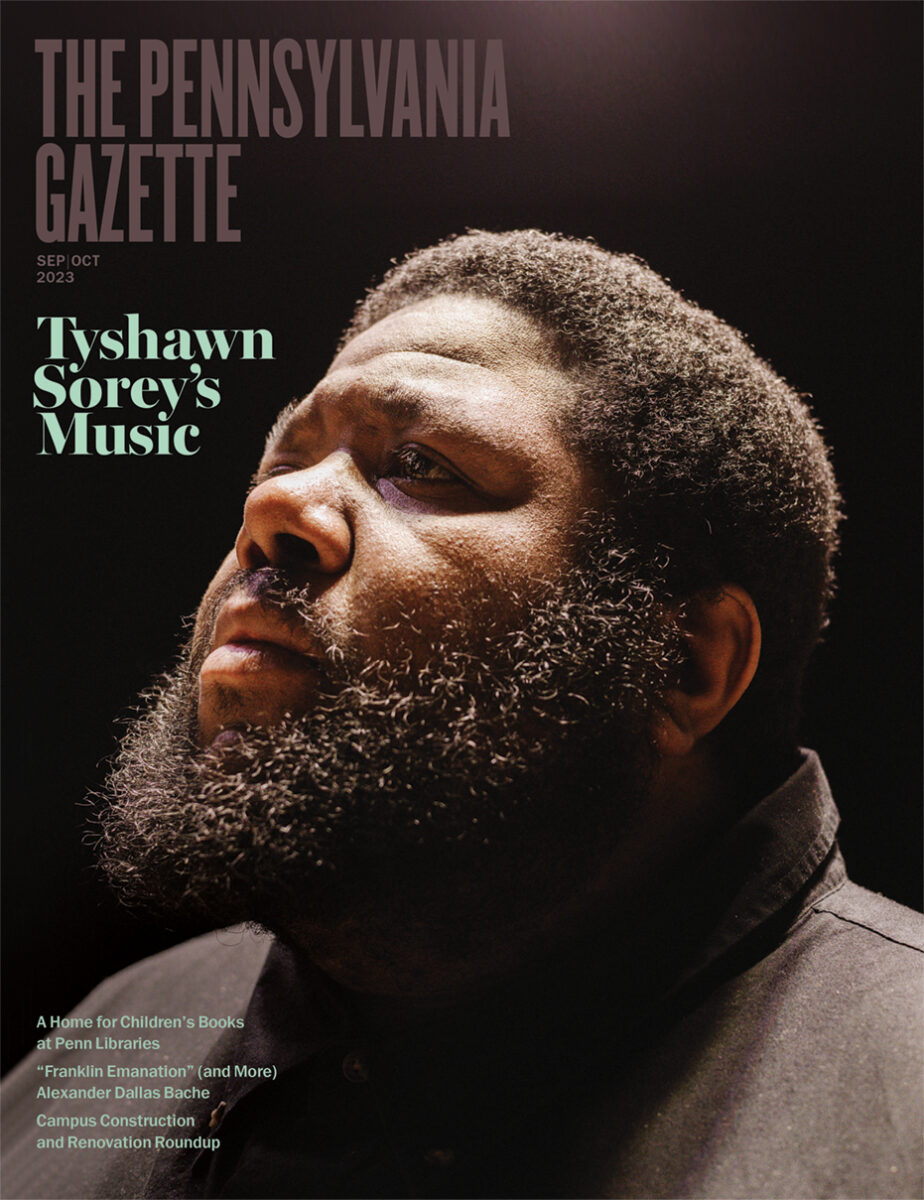 Download a PDF of this issue
September | October 2023
Vol. 122, No. 1

---
Features
From swinging standards to avant garde nonconformism, Penn music professor, jazz drummer, and shapeshifting composer Tyshawn Sorey has won acclaim for "awesomely confounding" music whose "vulnerable
virtuosity" can "open different portals in your depth of feeling and imagination."
By Nate Chinen
---
From picture books to The Poet X, Penn Libraries are expanding and diversifying their holdings of books for young readers.
By Trey Popp
---
The great-grandson of a famous founder (of the nation and this University) and "boyhood's friend" of the president of the Confederacy, educational reformer and onetime Penn professor Alexander Dallas Bache made his own reputation by championing the professionalization of American science in the mid-1800s.
By Dennis Drabelle
---
Departments
From the Editor | Music, literature, science.
From College Hall | From Penn to Athens and back.
Letters | Arguments over climate and grammar.
Views
Alumni Voices | "I feel the need to seize the better moments."
Elsewhere | Magical meeting.
Expert Opinion | First gen, then and now.
Gazetteer
Campus | What was going up and getting fixed this summer.
Gifts | $20 million for international students and healthcare entrepreneurship.
Leadership | Annenberg professor Sarah Banet-Weiser named Annenberg dean.
Curriculum | Wharton programs meet growing interest in DEI and ESGB.
Biomedicine | Latest advance toward growing insulin in lettuce plants.
Affirmative Action | Penn statement on the Supreme Court's decision.
Community Engagement | High schoolers mix food culture and photography.
Sports | Swimmer Matt Fallon EAS'25 W'25 medals at World Championships.
Sports | Belated recognition in a gift from one swimmer to another.
Track and Field | USA Champs Nia Akins Nu'20 GNu'20 and Sam Mattis W'16.
Arts
Artist's Statement | A daughter and her father's creative connection.
Photography | An exhibition of Laurence Salzmann's work at Penn Libraries.
Memoir | Radical in her youth: Drew Faust G'71 Gr'75 Hon'08's Necessary Trouble.
Calendar
Briefly Noted
Alumni
Ken Jaworowski CGS'00 is a first-time novelist at 55.
Lauren Meyer GFA'02 GFA'03 works to protect fragile historic structures.
Alumni "Mom, Pop, and a friend" operation launches "Jewish Netflix."
Notes
Obituaries
Old Penn | A new tour of early Penn from the Class of 1968.