A Blanket and a Bond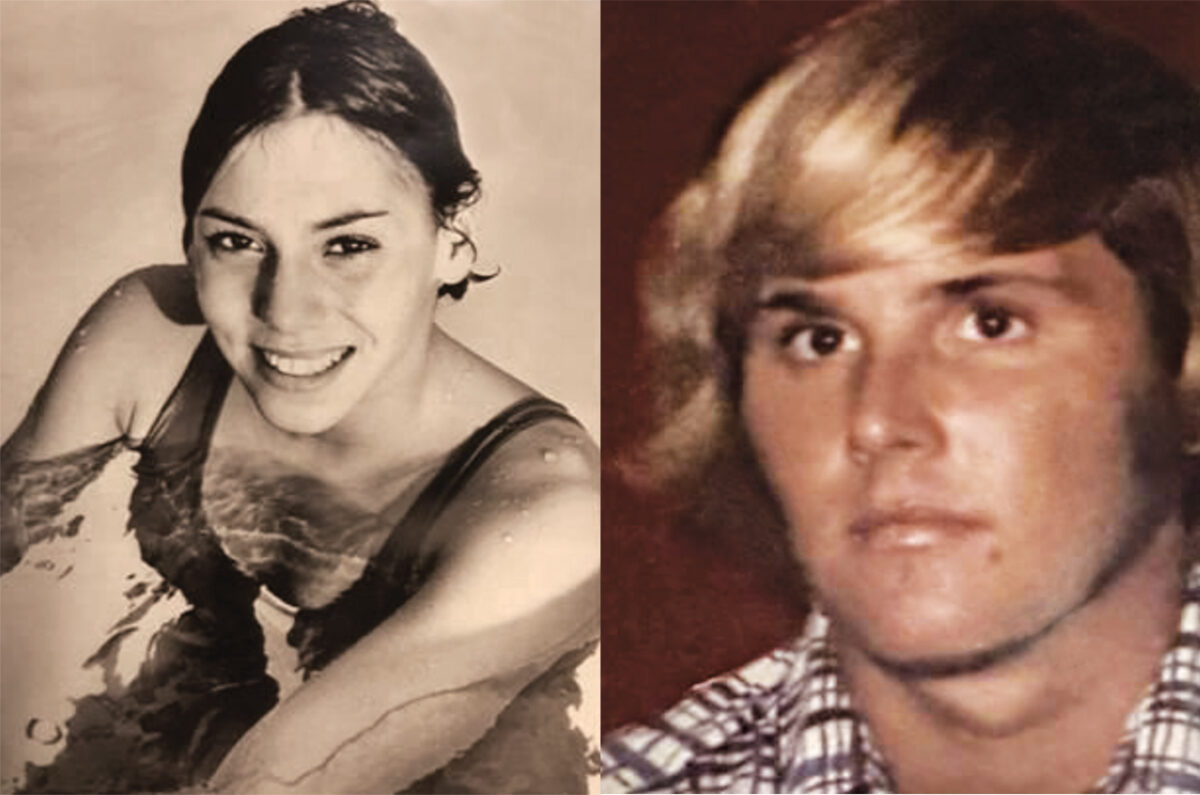 A reunion gift, from one Class of '73 standout swimmer to another.
---
Mary Ellen Olcese CW'73 didn't know what to say when she looked inside a bag Ted Kriebel C'73 GEd'75 handed her during their 50th reunion lunch in May.
"I really was flustered," Olcese recalls.
Inside the bag, neatly folded, was a red blanket bearing blue stripes and a big "P" beneath three stars. Kriebel had received it from the Penn athletic department 50 years ago to mark his participation on Penn's varsity men's swimming team.
Olcese, a standout member of the Penn women's team, was not given one of her own when she graduated. That's because the University did not consider her a varsity athlete—a slight she recounted in a Zoom presentation she gave last fall to her classmates about women's athletics at Penn.
Listening in, and "shocked at the disparity" between men's and women's sports at the time, Kriebel vowed to surprise Olcese with his blanket at their reunion—even though the two classmates hadn't seen each other since graduating. So before heading with his wife to campus from their home in Virginia (to attend a Penn reunion for the first time, he notes), he transferred his blanket from a closet into a gift bag with a plan to track Olcese down at their picnic tent outside of College Hall.
"You should have seen her face," Kriebel recalls. "It was like she had gotten a diamond ring. She just sparkled. She could not believe it." Since Kriebel had kept the blanket in plastic wrapping all these years, "it was in beautiful shape," says Olcese, who attended the reunion with her sister Janet Olcese PT'70, her daughter Maura Olcese C'08, and her baby grandson. "It looked like it was brand new."
A member of the Penn Athletics Hall of Fame, Olcese certainly had an athletic career that warranted recognition. She'd been a renowned swimmer well before arriving at Penn, setting national age group records in the butterfly and backstroke as well as a world record in the 440-yard individual medley as a 14-year-old (which the New York Times wrote up in an August 22, 1965, article). "The biggest disappointment of my young life," she says, was failing to qualify for the 1968 Olympics. At that point she turned her attention to college, though "swimming was not dictating where I was going to go," Olcese notes. "Nobody was calling me on the phone, saying, Why don't you consider my school? or We have a scholarship for you or anything like that."
Though she had retired from national and international swimming by 1969, Olcese made an immediate mark at Penn's Sheerr Pool. As a freshman she qualified for the first national intercollegiate swimming and diving championships for women in 1970, put on by the Division for Girls and Women's Sports (DGWS), a precursor to the Association for Intercollegiate Athletics for Women (AIAW).
Joined by teammate Marg Seluk CW'71 G'74, Olcese traveled to Illinois State University for the meet, but was surprised that a Penn coach was not sent to accompany them. "We had to travel with West Chester's swim team as our chaperones," she says. Over the next three years not much improved for the women's swimming team, which was not yet a member of the Ivy League and mostly competed in dual meets against nearby schools like West Chester (the big powerhouse at the time), Swarthmore, and Ursinus.
"Swimming for women on the college level at that time was pretty sparse," says Olcese, who was the team's captain and MVP in 1972 and 1973. "I was a distance swimmer, but on the college level they only offered 50s and 100s, which was not my forte." She did receive a bathing suit—but not a sweatsuit, she recalls. "They covered our travel, gave us some orange slices, but there was not a whole lot of expense."
Following the passage of Title IX in 1972, women's athletics began to resemble the men's game more closely ["Century Club," Jul|Aug 2021]. A few years after Olcese graduated, the Ivy League began to include women's swimming, and a few years after that women's national championships became a part of the NCAA program.
Olcese, who went into coaching after graduating, enjoyed seeing that growth but always felt something was missing, even after her induction into the Penn Athletics Hall of Fame 20 years ago. (Based on a conversation with field hockey and lacrosse star Julie Staver CW'74 G'82, she believes women may have begun to receive varsity blankets the year after she graduated, though the tradition was discontinued for men and women alike at some point thereafter.) That's why it was so meaningful to receive the blanket from Kriebel—a standout swimmer in his own right who helped Penn capture an Ivy League and an Eastern regional championship in 1971 and was part of the Quakers' Ivy-winning 800-yard freestyle relay team that year.
"It's really not the physical thing itself, though I do love it," Olcese says. "It's Ted's recognition of the blanket as an important thing to me—because it was the acknowledgement of a swimming career. That's what touched me so much."—DZ