New Majors and Concentrations at Wharton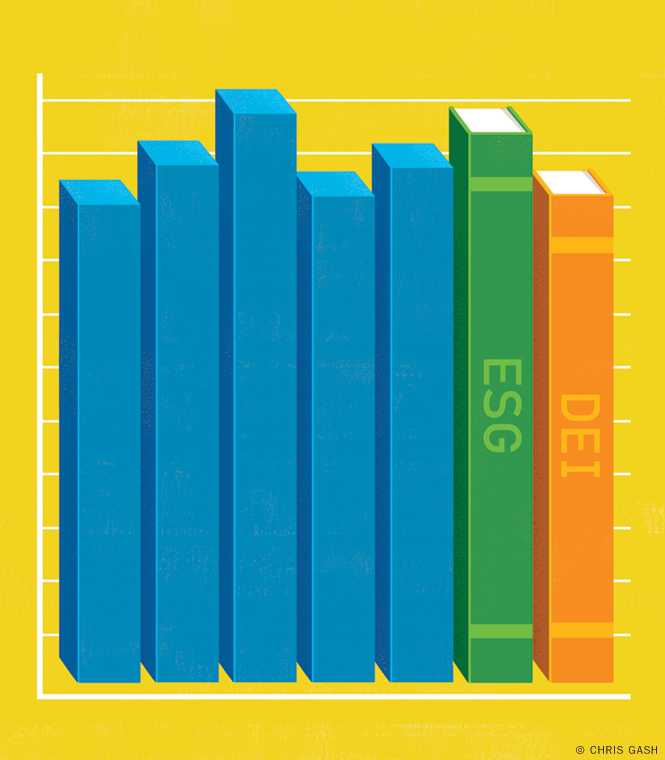 The School's DEI and ESGB programs will better prepare students for a changing workplace.
---
Facing public pressure since the onset of the pandemic and the summer of racial unrest in 2020, many companies finetuned or created from scratch DEI (diversity, equity, and inclusion) policies and ESG (environmental, social, and governance) initiatives.
To better prepare business students entering or returning to a transforming workplace, the Wharton School announced the introduction of two new curricula designations to debut this fall semester. The School's Environmental, Social and Governance Factors for Business (ESGB) and Diversity, Equity and Inclusion (DEI) programs will function as either a concentration at the undergraduate level or a major at the MBA level—and will see their first students graduate in May 2024.
"There's a growing awareness that issues like these affect business decisions and the bottom line," said Witold J. Henisz, vice dean and faculty director of Wharton's ESG Initiative. "We were looking for a way to signal that the questions around them might merit further study. So in July 2022, the School began a close examination of student programming to try to build on the strengths that were already there and to identify logical opportunities for expansion."
In a recent Deloitte survey of more than 22,000 Gen Zs and millennials—cohorts that will make up more than 60 percent of the workforce by 2025—more than half reported researching a brand's societal impact and environmental sustainability policies before accepting a job. Meanwhile, a recent Nasdaq report showed a significant leap in the number of companies getting ESG-related questions on their earnings calls, including requests on climate transition plans and sustainability efforts.
Wharton—which has noticed that recruiters are seeking graduates with ESG skills, particularly on behalf of financial and consulting organizations—first made a move in this direction in 2018 when it unveiled a similar major in Business, Energy, Environment and Sustainability (BEES), which "proved very successful," Henisz said. "These new offerings are a broadening of that major as part of an effort by Dean [Erika H.] James to recognize these critical new opportunities for business research and pedagogy." In general, BEES and the new ESGG and Social and Governance Factors for Business (SOGO) majors are all designed to "provide in-depth foundations for those interested in the complex relationships between business and the natural environment … and the ways in which firms incorporate ESG factors into their governance," according to the Wharton website.
The new program incorporates 30 or so relevant courses—such as Henisz's own Corporate Diplomacy, which looks at the financial significance of ESG factors, and Corrine Low's Economics of Diversity and Discrimination—that are already offered. "When we looked at this suite of existing offerings, we saw a way to signal to potential and current students that there's a significant body of material that merits study," Henisz said.
A similar trajectory led to the introduction of the DEI major, according to Stephanie Creary, an assistant professor of management and Faculty Fellow of the Coalition for Equity & Opportunity. When Creary arrived at Wharton in 2017 it was to teach Leading Diversity in Organizations, a course she created. Over the years, the students "have changed from being mildly interested in the topic for personal reasons to those who want to go into DEI roles in their professional lives," she said. "That's especially the case with the MBAs, who want to become better managers."
And while DEI has been around for decades, it's only in the last few years that corporations have developed roles such as chief diversity officers. Yet while LinkedIn reported 168.9 percent growth in hires for chief diversity positions between 2019 and 2022, there has since been a drop-off in such opportunities as companies look to shed costs (and as some company's diversity efforts have been dragged into culture wars, with Bud Light, for instance, seeing a major drop in sales after a collaboration with a transgender influencer sparked a right-wing boycott).
"My students began to want to learn more beyond my class," Creary said. "First, they wanted a required DEI course, then they started asking for a major." In 2020, Creary reached out to alumni for their input based on the classes they had taken while at Wharton. Together she and the former students began drafting a skeleton of a curriculum. "We shared our thoughts with the management department and they took the lead on gauging interest school-wide. After they saw broad support from other departments, the idea moved on to the curriculum committee."
As is the case with the ESG majors, no new DEI courses have been added but include courses like Kevin Werbach's Big Data, Big Responsibilities and Creary's and Low's classes. "Many of our past students have taken these courses," Creary said. "What's new is that there's now an acknowledgment that this [track] exists and there's a mechanism in place to let new students know that it's something they can pursue."
—JoAnn Greco