The Jewish Netflix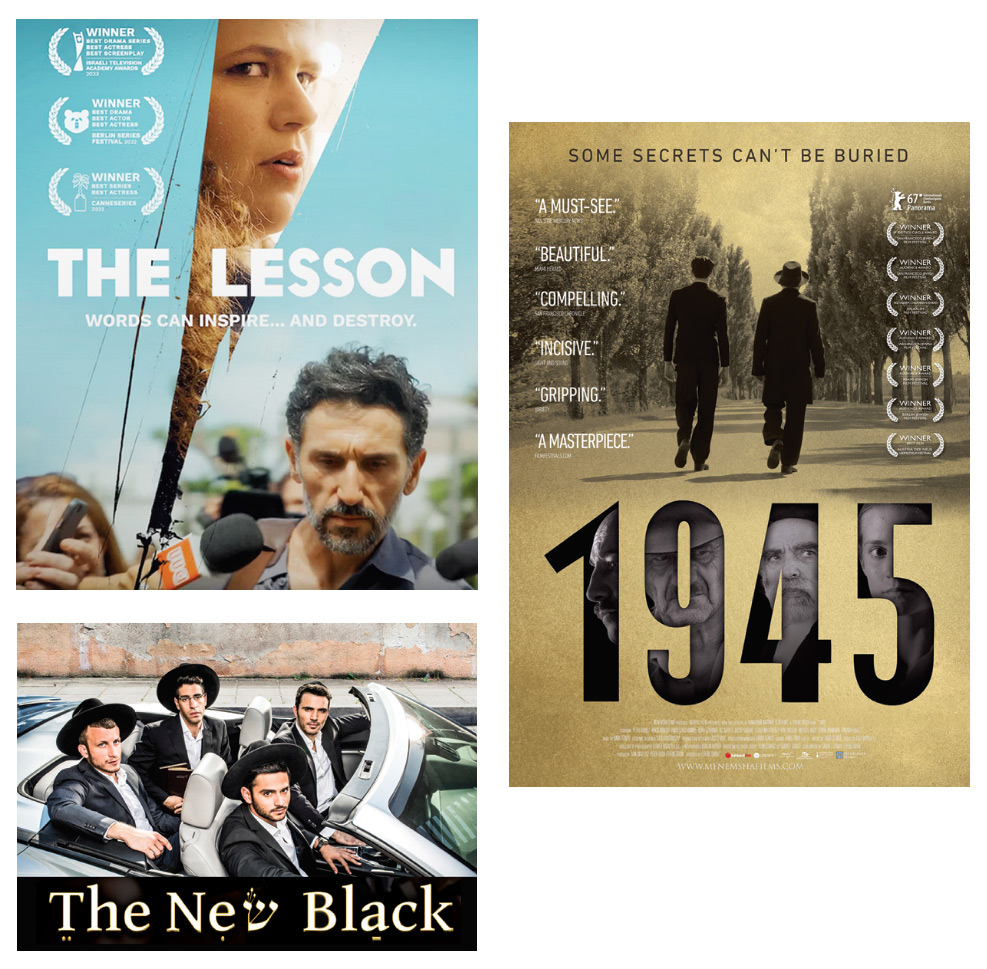 Meet the trio that launched a niche streaming service specializing in Jewish and Israeli content.
---
Neil Friedman C'75 and Heidi Bogin Oshin CW'75 met their first day at Penn. She was wearing what he describes as "those little white sneakers that cost three dollars from the local Five and Dime."
"Nice sneaks," Friedman quipped.
So began what Oshin describes as an "on again, off again" relationship between the two urban studies majors with law degrees and a shared passion for film. After assorted geographic and romantic detours, the Los Angeles-based couple are now personal and professional partners. And they've teamed with Bill Weiner W'76, a former executive at New Regency Productions, to start ChaiFlicks, a niche streaming service specializing in Jewish-themed content from around the world.
"It's a Jewish Netflix," Friedman says.
The service officially launched in August 2020 and, as of this July, featured 1,700 hours of programming. It costs $9.99 a month, or $72 a year, after a seven-day free trial, and is available on a variety of streaming platforms. Top shows include two popular Israeli television series: The New Black—"Entourage in the yeshiva," in Oshin's elevator pitch—and The Lesson, an award-winning drama about a classroom conflict between a teacher and student that spirals out of control.
ChaiFlicks—whose name contains the Hebrew word for life—is a "a Mom, Pop, and a friend" operation, says Weiner, also a Los Angeles-based lawyer. He supervises business affairs, weighs in on programming, and, as a lover of computers, has been known to answer tech queries. At one point, he says, ChaiFlicks was "listing my home phone number as a place to call" when subscribers had problems.
Oshin's job is finding Jewish-themed films from around the globe. Friedman curates television series, which ChaiFlicks distributes exclusively in its territories (the US, Canada, Australia, New Zealand, and the United Kingdom). Many originate in Israel, a top TV producer whose shows have inspired such American series as Showtime's Homeland and HBO's In Treatment.
Netflix had what Friedman calls "tremendous successes" with two Israeli series, Fauda and Shtisel. "I went to school watching what they did," he says. "I knew that the Israeli TV series were extra special. I decided to check every single Israeli series that's ever been made."
ChaiFlicks reflects both "a cultural commitment to providing curated programming for the educated, intelligent Jewish world" and a conviction that "there is incredible hunger for this programming amongst this audience," Friedman says.
That conviction derives from experience. Friedman is the founder and president, and Oshin the executive vice president, of Menemsha Films, a film sales and distribution company that Friedman calls "the leading supplier to the Jewish film festival circuit." In one five-year stretch, Menemsha represented five Academy Award nominees: Divided We Fall (Czech Republic), Son of the Bride (Argentina), Prisoner of Paradise (Canada), Zelary (Czech Republic), and The Story of the Weeping Camel (Germany).
ChaiFlicks was the outgrowth, in part, of frustration. Friedman had some success selling distribution rights to Menemsha's films to Netflix. The required threshold for such a sale generally was $1 million in box office receipts, he says. But Menemsha hit a wall with the Hungarian black-and-white film 1945, about two Holocaust survivors who return to a Hungarian village after World War II.
Despite the 2017 film's critical plaudits and healthy (for an art film) box office sales, Netflix wasn't interested. "If we can't make a deal with Netflix for a film this special," Friedman recalls saying to Weiner, "we've got to start our own service."
The pandemic accelerated their conversations. In March 2020, in a soft launch, the partners put 40 Menemsha films on the video hosting service Vimeo. "Week two," Oshin says, "we went out scouring the world for additional content."
Penn was foundational to the trio's passion for cinema. While Oshin's background included watching "every old movie possible" with her mother, both Weiner and Friedman (who double-majored in history, with a concentration in film) took film classes at the University. For Friedman, "Film as Social and Intellectual History," taught by Stuart Samuels, then professor of the History of Ideas, was seminal. "I just fell in love," he says. Friedman became a teaching assistant in the course his senior year and remains close to Samuels, a documentary filmmaker and producer whom he considers his mentor. "But for that class, I doubt we'd be having this conversation today," he says.
Weiner, a photographer from a family of artists, transferred to Penn from the University of Rochester. An accounting and economics major at Wharton, he studied film history with the late Amos Vogel, a film studies professor and founder of the New York Film Festival ["Obituaries," Sep|Oct 2012].
Weiner later spent more than two decades at the film production company New Regency, where he was executive vice president for business affairs and general counsel. He met Oshin and Friedman through friends in 2010. He and Friedman "knew a lot of the same people, the same deals," Weiner says. "We were talking like brothers about the film business, we were so in sync."
In December 2020, ChaiFlicks reached an agreement to sell 30 percent of the business to an Australian distributor, Moving Story Entertainment. Though the service remains "a labor of love," that cash infusion, plus monthly revenues, has left ChaiFlicks debt free, Weiner says.
The partners won't release subscriber figures or revenues. But Weiner says that audiences are growing at a rate of 5 percent a month, and he predicts that ChaiFlicks will become "cash-flow positive" within 12 to 18 months.
ChaiFlicks looks to other niche streamers—such as BritBox, specializing in British television, and the Criterion Channel, which presents classic and contemporary films—as models, Friedman says. And he notes that its competition in the Jewish space is limited. One competitor, JEWZY.TV, a UK-based service that launched in December 2020, has folded, Weiner says. Another, IZZY, remains narrower in scope, offering only Israeli content.
The ChaiFlicks founders have ambitious plans for expansion, including becoming available in additional countries. Another goal is to produce original content. First up: a Jewish cooking show that the partners hope will debut in six to nine months. "It fits in with the mission of our service: preserving Jewish culture," Weiner says. —Julia M. Klein