A Life with Others
A Penn Libraries exhibition highlights photographer Laurence Salzmann's intimate connections with his subjects.
---
Laurence Salzmann was barely a teenager when he started walking to the Penn Museum with a 35mm camera in hand. It was the mid-1950s, and he would set out from his home on the 1800 block of Pine Street, carrying the Kodak Pony 135 he'd just received as a bar mitzvah gift. On the other side of the Schuylkill he'd connect with his father's old college friend Reuben Goldberg Ed'30, who was a Penn Museum photographer from 1937 to 1960. "He said, 'Hey, come on out to the museum,'" Salzmann recalls. "So I started walking across the South Street Bridge on Saturday mornings and working with him." Goldberg taught Salzmann how to develop and print film and nurtured his love for photography.
Salzmann's first photographs as a young man included portraits of family and friends, as well as the social world around him. Attending Philadelphia public schools in the 1950s made him more keenly aware of issues of race and social justice, both through the mixed demographics of the schools and, in high school, firsthand experiences of anti-Semitism as an athlete.
Salzmann also had a deep interest in the wider world. At 16, he hitchhiked to Miami and made his way to Cuba to study Spanish. Over the next three years he journeyed widely, often hitchhiking and taking odd jobs. He made his way around the Caribbean, Central and South America, and Europe. Yet only upon his return to Philadelphia did he begin to make his photography public—focusing on his native city. His inaugural work was the 1966 film The Ragman, which followed an African American rag collector driving a horse-drawn cart through old Philadelphia streets gathering cast-off textiles to sell for reuse in papermaking and recycled cloth.
Salzmann's first major international work followed soon thereafter. It arose from his experience training for the Peace Corps, to which he applied in order to avoid the Vietnam War draft. Due to a record of challenging authority while training for the Peace Corps, Salzmann's application was ultimately rejected and he was "deselected"—as he describes it. But prior to his dismissal, as a part of his language instruction, he had gone to Juárez, Mexico, for a homestay in a shantytown with a family of brickmakers. There, he forged a meaningful connection with his hosts, and returned and documented their way of life through photography and film in a project titled The Family of Luis.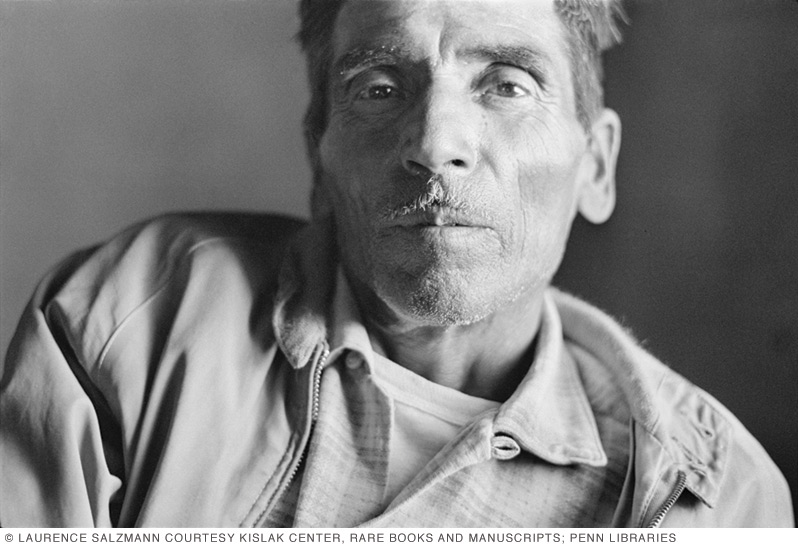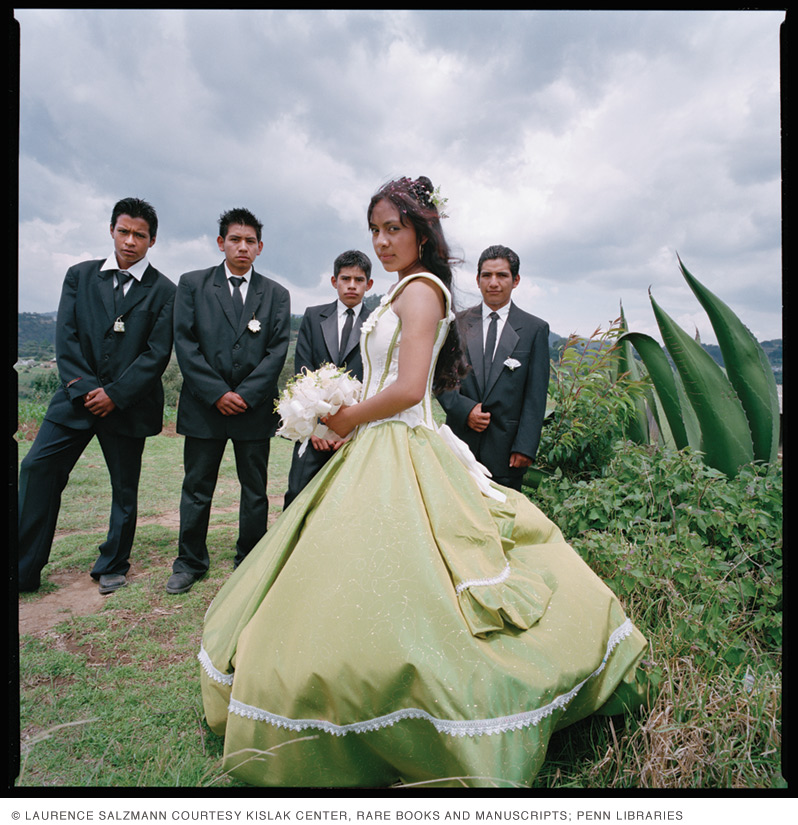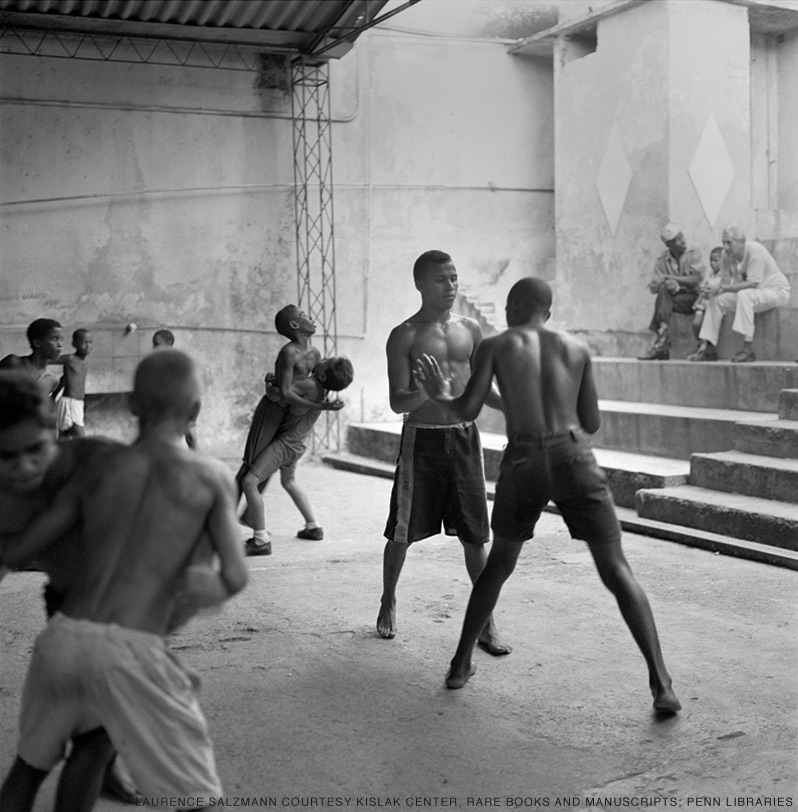 With that pair of early endeavors, Salzmann set a pattern of deep engagement and return that would mark his long career in photography and filmmaking. Spanning nearly six decades, Salzmann's broad body of work explores the lived experiences of Jewish communities in the US, Romania, Lithuania, Turkey, and Israel; the lives of migrant workers and laborers in Mexico; young wrestlers and folkloric dancers in Cuba; salt harvesters in Peru; pilgrims in Argentina; herders in Romania; and portraits of wide-ranging rural and urban communities. In 2018, he and his wife Ayşe Gürsan-Salzmann G'69 Gr'92, an anthropologist and archaeologist who has been his longtime creative collaborator, donated his photographic archive to Penn Libraries' Kislak Center for Special Collections, Rare Books and Manuscripts. The archive includes some 2,700 photographs and related materials that encompass Salzmann's most influential and exhibited works.
A Philadelphia-born photographer and filmmaker who earned a master's degree in visual anthropology from Temple University in 1971, Salzmann has spent most of his career trying to tell the stories of unheard and forgotten people. "There's several levels to it," he says. "One is preservation of ways of life and living, and sharing that with the larger community. Everything that I've done, I've always created both books, traveling shows, and movies. I have been able, through those three mediums and lectures, to bring the stories that have been gathered to a larger public. I've also in many cases been fortunate enough to return to visit these communities."
To celebrate the archive donation, a public exhibition, Laurence Salzmann: A Life with Others, is on display through December 4 in the Goldstein Family Gallery on Van Pelt-Dietrich Library's sixth floor. The Kislak Center will also host a symposium on October 10 featuring several guest speakers along with presentations from the photographer and his family, a tour of the exhibit, and a reception. (The Salzmann Collection is viewable online through Colenda, Penn Libraries' online image database.)
A richly illustrated exhibit catalogue of the same title, with essays from fellow photographer Jason Francisco—a longtime friend and associate professor of film and media at Emory University—frames the 20 distinct projects now held by the center within a holistic appreciation for Salzmann's vision, art, and activism.
"Salzmann's long career has touched an exceptionally broad range of inquiries," Francisco writes in A Life with Others: "cultural anthropology, folk and folklore studies, race and ethnicity studies, American studies, Latin American studies, Romanian studies, Turkish studies, Jewish studies, memory studies, migration studies, Holocaust and post-Holocaust studies, post-Communist studies, post-colonial studies, urban studies, and peasant studies, among others."
Arthur Kiron, the Schottenstein-Jesselson Curator of Judaica Collections, says that the collection's importance goes beyond "the beauty, depth, range, and human significance of its images." It also "advances our ongoing curatorial efforts to rethink the role of photography in libraries, both as primary sources to collect and as a foundation for building and teaching visual literacy."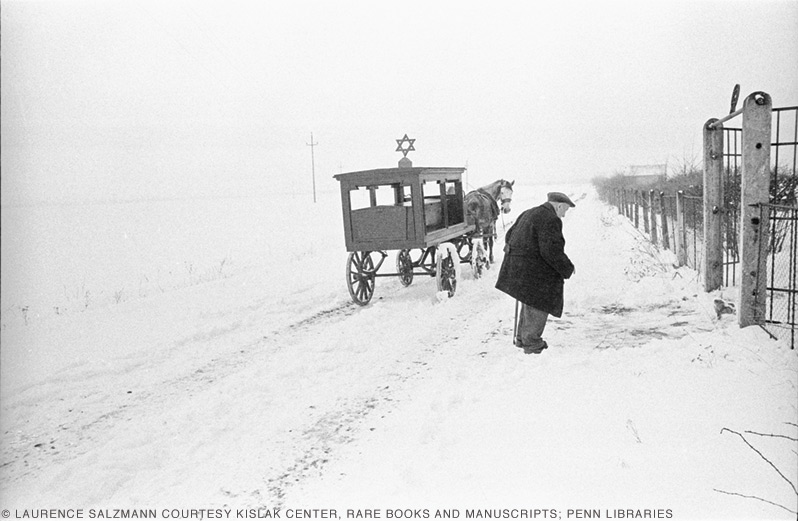 Salzmann discovered what would prove to be perhaps one of his deepest vocational callings during a 1974 trip to study folklore in Romania. His travels through the country took him to the town of Rădăuți on a Saturday. Seeing the town synagogue near the main square, he entered to find nine men gathered, waiting for a tenth so that they could form a minyan and begin their prayers. Salzmann joined them and soon knew he'd found the focus of his study.
"Prior to World War II, [the Jewish community] made up a quarter of the town's population," Salzmann says. "All of them were deported by the Romanian fascist government to an area called Transnistria, next to the Ukraine. Many of them died there. They weren't sent to the extermination camps; they were left to die from the hardships that they suffered." A small number of survivors returned to Rădăuți. "By the time we got there, what had been maybe 8,000 Jews was reduced to 250."
Salzmann was joined in Romania by Gürsan-Salzmann, whom he'd met two years before. She was teaching at the University of the Arts in Philadelphia when she took Salzmann's visual anthropology workshop at Temple University in order to prepare for a study of women and markets in Mexico. She invited Salzmann to come along as a photographer, launching a collaboration that continues to this day, both in the field and on the page, where Gürsan-Salzmann's writing often complements Salzmann's photographs. Both also maintain their own independent research: Gürsan-Salzmann, a consulting scholar in the Penn Museum's Mediterranean section, member of the Gordion Archaeological Project, and director of the Gordion Cultural Heritage Program, is also known for her work in Iran ["Arts," May|June 2007] and Turkey ["Arts," May|Jun 2019].
Gürsan-Salzmann and Salzmann lived in Rădăuți for two years. The two, who married in 1976, became deeply woven into the town and community—a connection that is palpable in the resulting photos and book, The Last Jews of Rădăuți (1983), which features Gürsan-Salzmann's prose. "[Her] writing, her portraits of people," Salzmann says, "are almost like poetry." The images too are moving and intimate: bath scenes, funerals, men at prayer, people at their kitchen table baring their souls.
A few years later, Salzmann returned to Romania to document shepherds as they moved their sheep across the country seasonally, as ultimately captured in the 1999 book Miorițza. In the mid-1980s, Salzmann went to Turkey intending to spend a few months photographing Jewish tombstones. That project led to another, joined by Gürsan-Salzmann and their young daughter Han. They lived in and traveled across Turkey for five years, documenting living Jewish Sephardic communities, resulting in traveling exhibits, two books—Anyos Muchos I Buenos (1991) and Travels in Search of Turkish Jews (2011)—and the 1989 film Turkey's Sephardim: 500 Years.
Salzmann also continued his visits to Mexico and Cuba, among other places in Latin America. Most recently, through a connection from Rădăuți, Salzmann went to Peru, where he was inspired by people in the Sacred Valley still engaged in the ancient practice of salt harvesting. He studied Quechua, returned with a Fulbright fellowship, and produced Mish'I Kachi Runakuna/Sweet Salt People (2021).
"I think my legacy has been to both remember the past, be in the present, and preserve stories and ways of life," Salzmann reflects, "learning about other people's ways of life, sharing that, being collaborative with them, and preserving stories of others so that others have a voice that could be reached and remembered."
"It is not that he only takes the pictures and puts them up or exhibits them," Gürsan-Salzmann adds, "but he makes sure that his work goes back to the people, the community he came to know."
—Beebe Bahrami Gr'95