Uncharted Waters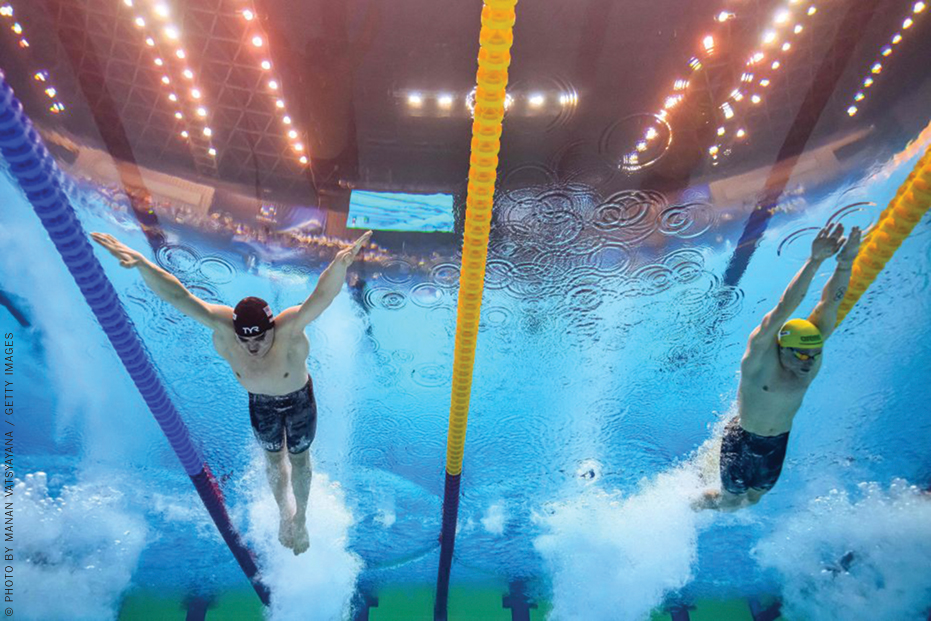 Swimmer Matt Fallon makes history at the World Aquatic Championships, blazing a trail toward the 2024 Olympics.
---
Matt Fallon EAS'25 W'25 had three modest goals when he arrived in Fukuoka, Japan, in late July for the World Aquatics Championships. "Swim fast, take in the experience, and have fun," Fallon said after cruising through a preliminary heat of the men's 200-meter breaststroke.
He wound up exceeding that humble bar by some distance.
Fallon left Japan with a bronze medal in the 200 breast with a time of 2 minutes, 7.74 seconds, becoming the first Penn swimmer to medal at the World Championships.
"I'm very happy with it," Fallon said in Fukuoka. "This entire trip has just been kind of an adjustment, and even though I didn't feel the best in that race and I definitely feel I have faster times in the tank, that was definitely a very good swim overall. And I was just grateful that I was able to get it done for Team USA."
Still only halfway through his college swimming career, Fallon has quickly entered rarefied air on the national scene. His swim was .03 seconds off his best time, set at June's US National Championships, which served as the qualification meet for Worlds. That time of 2.07.71 is the 10th fastest among American breaststrokers, hot on the heels of the national record set by Josh Prenot (2:07.17) in 2016. Fallon won the 200 breast and was fourth in the 100 at nationals, after having won a national title last summer in the 200.
In Japan, Fallon finished behind the world's two fastest men in the event. China's Qin Haiyang won the race in 2:05.48, becoming the first individual to win all three distances of the same stroke (50, 100 and 200 meters) at the same World Championships. The swimmer whose world record he seized, Australia's Zac Stubblety-Cook, finished second in 2:06.40.
Fallon was in eighth place after the first 100 meters with Stubblety-Cook in sixth, before both relied on superior closing speed in the back half to make up the distance. "It doesn't make me feel like I'm totally in the back," Fallon said. "I was very happy to be next to him in all three races, and I kind of look up to him not only as someone to race against but ever since he set the world record."
The bronze culminated an up-and-down 18 months for Fallon. The Warren, New Jersey, native burst onto the scene at the NCAA Championships as a freshman in 2022. He earned a bronze medal in the 200 breast, setting an Ivy League record. He also finished 10th in the 100 breast, having already set a Penn program record at the Ivy Championships.
Fallon parlayed that into a strong summer, though he opted to take time off from swimming instead of trying to qualify in June for the 2022 World Championships. His mental and physical reset paid off at July's US national championships, where he won the title in the 200 breast and finished second in the 100.
But a back injury short-circuited his sophomore season, as he failed to qualify for NCAAs or defend his Ivy League crowns. His time in the 100 breast at the conference meet was more than a second off the pace of the previous year, and his 200 breast time was four seconds slower than at NCAAs in 2022.
With his back now healed, Fallon is hoping the lighter workload may help him prepare to qualify for the 2024 Olympics. "I think it helped me in the long run," he said.
Following the end of his sophomore year, Fallon stayed with Penn teammate Daniel Gallagher for a short training camp in Georgia, where he got a crash course in the Olympic long-course distance (as opposed to the short-course pools used in college competitions). "I put in some good long-course training where I'm just focused on swimming for two months," Fallon said, "so that was a good thing to have under my belt."
Fallon now makes the turn toward an Olympic year as one of the top American male breaststrokers in both the 100 and 200. The former comes with a chance to swim in the medley relay—which has traditionally been as close to a guaranteed gold medal as exists in swimming. (The US has won every gold in the event at a non-boycotted Games since 1960.)
Fallon's trajectory to elite American swimming seems unusual, but it's getting less so. He was one of six male swimmers from New Jersey on Team USA in Fukuoka, all of whom earned at least one medal. Hailing from the Mid-Atlantic region and the Ivy League is a unique distinction that Fallon carries with pride.
"It shows that no matter where you're from, if you put in the training, you'll be able to achieve your dreams," he said. "There are definitely different college teams that can obviously help you with your training, and they have programs that are very conducive, but it's about finding what's right for you. And I think everything that I have is what's best for me, and I'm going to continue with it."
—Matthew De George