Nov|Dec 2023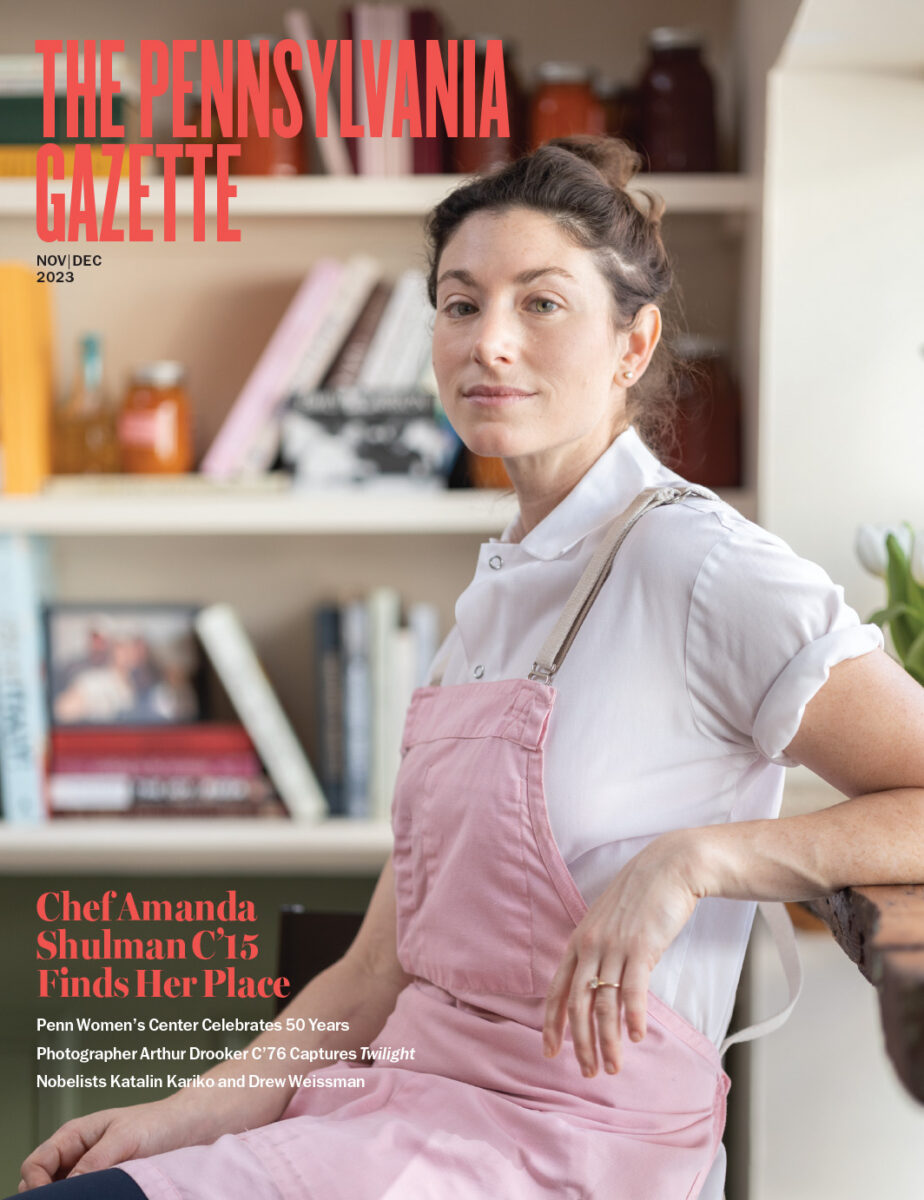 Download a PDF of this issue
November | December 2023
Vol. 122, No. 2
---
Features
Amanda Shulman C'15 has earned national acclaim with Her Place Supper Club, where she's also bending stubborn industry standards around life balance and labor compensation. It all began with a jolt to Penn's off-campus social scene.
By Trey Popp
The Penn Women's Center celebrates five decades of providing advocacy, advising, refuge, counseling, company, and tea. From its origins in the struggle against campus sexual violence, the center has evolved to tackle a range of concerns, from wellness to combating racism. The latest debate: Is its name, meant to be welcoming, too restrictive or exclusionary at a time
when gender itself is contested?
By Julia M. Klein
New photographs by Arthur Drooker C'76 explore the elusive moments before dusk when "vivid colors paint the sky with magic and mystery."
---
Departments
From the Editor | Pleasures of company and solitude.
Letters | First-gen memories, gratitude for experience, and more.
Views
Alumni Voices | Remembering poet and teacher Dan Hoffman.
Salvo | "Bring the pretty Latin close."
Rabbit Hole | The mystery of Hirschfeld's Alexander.
Expert Opinion | Uncle Sam wants who? Gen Z.
Gazetteer
Awards | mRNA researchers Kariko and Weissman win Nobel Prize.
Convocation | New venue, timeless message for Class of 2027 launch.
Journalism | "Nora-ites" assemble for 20th anniversary of mentorship prize.
Honors | Carl June awarded 2024 Breakthrough Prize for CAR T cell therapy.
Symposium | Nuclear fears and hopes at Perry World House.
Appointments | John Bence named University Archivist.
Psychology | Q&A with Adam Grant on his latest, Hidden Potential.
Sports | Men's basketball looks to bounce back from star losses.
Arts
Exhibition | Arthur Ross's Goya prints at the Arthur Ross Gallery.
Visual Art | When the Children Come Home and Moveables at ICA.
Calendar
Briefly Noted
Alumni
Fayette Avery McKenzie GrEd1908's "poisoned" presidency.
Allison Luvera WG'22 wants to make the first "super premium" boxed wine.
Baye Adofo-Wilson L'97 helped restore a historic Negro leagues ballpark.

Events
Notes
Obituaries
Old Penn | Playground fun at the old Illman-Carter School.