John Bence Named University Archivist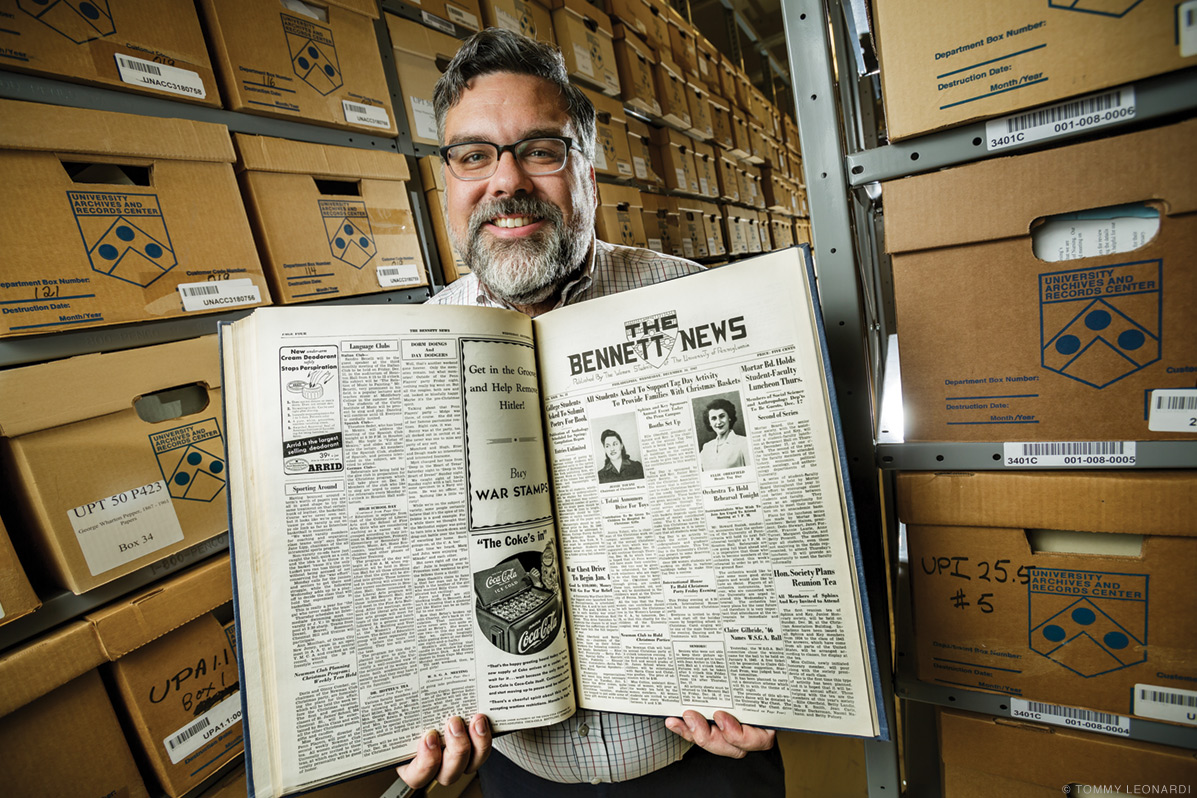 ---
Advancing digitization, more inclusive collecting, and "poking around" in Penn history are on the agenda for the new head of the UARC.
---
As an anthropology-turned-history major at Kenyon College, John Bence set off on a path leading to his appointment, as of August 1, as Penn's University Archivist. He took a student job in the library archives that taught him that "this was a profession" with its own particular culture—one that appealed to him more than the "PhD route."
"I didn't want to teach, per se," he said in a September interview at the University Archives and Records Center (UARC). He was more drawn to the practical dimensions of "how history knowledge is produced" and preserved to facilitate historical research and discovery.
Bence went on to earn a master's degree in archives and public history from New York University in 2011. Before coming to Penn, he spent 12 years at Emory University, where he was assistant director and university archivist in the school's Stuart A. Rose Manuscript, Archives, and Rare Book Library.
Bence will "oversee all operations of the UARC, including its outreach initiatives and fundraising program," according to the statement announcing his appointment. "As the chief administrator responsible for UARC's program to collect, manage, preserve, and make accessible materials of operational and historical value, he will lead a team that serves the Penn community; scholars interested in the history of the University, institutions of higher learning in the United States, and American intellectual life; and the Philadelphia community." The UARC hasn't had a permanent director since 2019, when longtime head Mark Frazier Lloyd retired; in the interval, assistant University archivist J. M. Duffin served on an interim basis.
The fact that Penn's archival and record retention functions are combined in one office offers "an ideal kind of synergy," Bence said. While most records don't end up being kept permanently, being able to identify the "sliver" that needs to be preserved is a big advantage. More often, archivists are "like the cleanup crew," he noted. "You're going and begging and borrowing and finding things where they've been left" before they get thrown away.
Bence will also manage the UARC's ongoing administrative transition from the Office of the President to Penn Libraries' Kislak Center for Special Collections, Rare Books and Manuscripts, initiated in January 2022. The move makes sense to him. "We're all storing boxes on shelves. We're all storing publications on shelves. We're all scanning things to put online, or we do exhibits of cool stuff. We teach classes in schools," Bence said. "Bringing it together allows us to streamline some of that" and also provides new opportunities for fundraising and outreach that the UARC couldn't pursue alone.
Collection and preservation of records digitally—whether created on paper originally or "born digital"—is an overarching concern. "There is a misconception that anything digital lasts forever, and this is really not true," Bence noted. "A number of years ago, a lot of people were writing about the 'digital dark age,' because a lot of stuff from the '90s and early 2000s is already gone," as organizations shut down and deleted their websites. Universities are no different, having migrated much information to online platforms that lack the longevity of paper. "So we need to just sort of be aware of all those realities." One possible scenario for Penn's collection, he suggested, would be for campus or alumni groups to "submit digital things to us that are authenticatable" and already curated to some degree.
Bence spent his first few weeks on the job familiarizing himself with Penn history and the ways in which the UARC serves its various constituencies, surveying the emails that come in with reference questions, talking with colleagues teaching Penn classes that draw on archival materials, and generally "poking around—you know, the yearbooks online, the DP online," he said. "It'll take a while for me to become any sort of authority on [Penn] history."
He noted an "interesting tension" in the role archives play. UARC serves as internal authority, but its mission extends to "making materials available for others to come and interrogate the history. And that's what we really encourage."
Although most inquiries arrive online, Bence emphasized that UARC's reading room can offer "some of the deepest engagements" through expert guidance and serendipitous finds. A visitor may be looking for a specific piece of information, but "we have to filter through a bunch of things, and you may discover more about that topic" than expected.
Aside from students and Penn offices (the Gazette very much included), alumni and their family members are major users of the archives. In addition, "there are external scholars and researchers who come in," Bence noted. "They might be doing something longitudinal, where they're asking about the way all universities do something, or they may be asking a specific question. We get all kinds."
Questions have a way of shifting with the times. In recent years, for example, many universities, including Penn, have taken a harder look at institutional connections with the slave trade ["Gazetteer," Nov|Dec 2018]. At Emory, Bence was involved in a similar project that led to the creation of an online portal focusing on the work of Black student activists.
"That's sort of why we're here permanently," Bence observed. "History is always going to have the lens of the time it's written in. And so revisiting those source materials is always going to be a valuable enterprise." Although UARC "doesn't necessarily change the way it does things because of a particular question that's arising," such questions can help "refocus what we're collecting to think about what people might be interested in in the future," he added. "The hope is that what we have collected answers as many questions as possible. And allows people to come back and revisit and reconceptualize what's in there."
In a digital world, issues involving consent, copyright, and intellectual property get more complicated. "Archives have had to really respond by being a little more circumspect in the way that we collect stuff—and whose voices we're including and excluding and why," he said. Digital information also complicates the traditional archival model of "catching stuff as it ages," he noted. "Digitally, things are a lot more fragile, frankly; things can go away. So there's a lot more upfront work, and that upfront work requires a lot more having people on board being collaborative and being sort of equal partners in archiving everything."
As he settles in, Bence said his "priority will be getting out on campus and meeting folks, understanding what they may have, understanding this institution better" and overall bringing Penn's "history forward, to get people engaging with it" through classes, exhibits, and other collaborations. "At Emory, I was always trying to partner with folks to, if they were having an anniversary, to make the archives part of it, or have the archives help them make it a success in some way."
He's also keen on surfacing and collecting new materials that reflect Penn students' experience on campus, which have a special relevance in the context of current concerns over student retention, success, and flourishing. "I think the University Archives can play an important role in showing people that they belong here, and that what they do here is connected to the past and also the future," he said.
"The University Archives is a place for everyone at Penn," Bence concluded. "We're open to anyone with any inquiry—the hard questions and the fun questions, whatever it is—and the hope is, going forward, that we can really demonstrate that." —JP