New Normal, New Team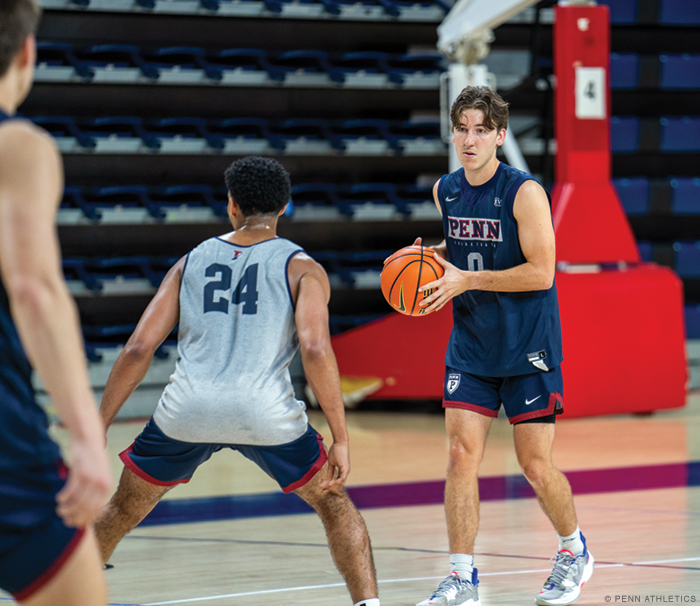 ---
Can the Quakers overcome the unexpected loss of one of the nation's most prolific scorers—and a changing college basketball landscape?
---
Clark Slajchert felt distraught in the Jadwin Gym locker room after Penn's narrow loss to Princeton in the Ivy League men's basketball tournament last March. But looking around at the faces of his crying teammates, he took solace knowing most of the key players would return to seek revenge in 2023–24, when they'd try to duplicate what the Quakers' biggest rival would go on to accomplish: winning the Ivy League followed by an NCAA tourney run. "You're super excited for the next season," Slajchert said. "It was like, All right, we've got these guys coming back, let's run it back next year. We're this close."
But just like in the frustrating final few minutes of that loss to Princeton, things have not bounced the right way for the Quakers since. In May, Jordan Dingle—the Ivy League Player of the Year who ranked second in the nation in scoring—decided to transfer to St. John's. Then, a few months later, program stalwart and Dingle's classmate Max Martz announced that he would not play for the Quakers this season due to medical reasons.
On top of losing two of their top three scorers, the departures were especially difficult to bear since both Dingle and Martz had withdrawn from school when the Ivy League canceled sports during the pandemic, so that they could preserve a year of eligibility and still play four seasons at Penn. The 2023–24 campaign was supposed to be their last—together—for what should have been an experienced and formidable squad. But now, Slajchert, a senior, and juniors Nick Spinoso and George Smith are the only Penn returners who've been consistent contributors.
"There's a lot of opportunity for a lot of guys," said Slajchert, who ranked second on the team in scoring the last two seasons behind Dingle. "Overall, there's a little bit of anxiety with a new team, worrying about who's gonna fill in the gaps. But more excited than anxious. This is what you ask for: to get an opportunity at a high level. … We can still do great things."
Slajchert admitted feeling "sadness" at the departures of Dingle and Martz (on top of the graduation of four seniors) and professed particular surprise about Dingle, who he called a "hell of player … [that] I feel honored to have shared the court with."
Penn head coach Steve Donahue was surprised too, pointing out at the end of last season how rare it is for Ivy League players to transfer before they get their degree. (It's far more common for Ivy Leaguers to graduate and then suit up as a graduate transfer elsewhere if they still have NCAA eligibility, as Slajchert plans to do next season. Graduate students are not permitted to play for Ivy teams; otherwise Slajchert said he'd likely want to stay at Penn.) But Donahue began to see the writing on the wall as the offseason progressed. Dingle was reportedly promised NIL (Name, Image, and Likeness) compensation, a bigger spotlight to potentially get drafted into the NBA, and the chance to play in his home state of New York for legendary coach Rick Pitino, who's assembled a team chock full of transfers in his first year at St. John's.
"It's the new normal, unfortunately," Donahue said. "But I still think it's a little bit of an outlier that someone would leave this place."
Whether or not stars transferring out of the Ivy League and other smaller conferences becomes a trend remains to be seen in a shifting NCAA landscape, where top programs more closely resemble professional outfits with the advent of booster-funded NIL collectives that pool money to lure premier players. And now that college athletes don't have to sit out a season after transferring, the "transfer portal" has swelled—with more than 1,000 players offering college coaches the chance to poach from their peers in addition to recruiting high schoolers.
But if other teams rely too heavily on transfers, Donahue believes Ivy programs could find a lane in the long run. "I've never heard of any organization that benefits from switching personnel every year, whatever the job. I think hard work, continuity, teamwork, getting older, getting experience, getting a bond with each other—that will help our league," he said, pointing out that a Princeton squad that didn't exactly steamroll the Ivy competition last season went on to beat two transfer-reliant, big-conference teams in the NCAA tournament.
As for the financial component, the Ivy League was already at a disadvantage since athletic scholarships are not offered. But even as players can now earn more NIL money elsewhere, Donahue believes an Ivy League degree "is so much greater than a one-time payment," he said. "We make sure these guys are taking advantage of great internships and make sure they're set for 40 years of incredible opportunities and growth."
Donahue is equally bullish on the prospects of this year's team, despite the deck seemingly stacked against him with the Quakers losing more than half of their scoring, rebounding, and minutes played from last season. In addition to Slajchert, Donahue expects the team to run through Spinoso, a center who's an especially skillful passer from the post and is primed to make "another dramatic jump this year." And in the backcourt, Donahue praised Smith as "one of the best defenders and three-point shooters in the league." The junior guard shot a blistering 46 percent from three-point range last season (albeit on a low volume of attempts) and proved to be a strong rebounder who brings other intangibles to the court, too. "Everyone loves playing with George," said Slajchert, "because he does all the shit that guards don't really love to do."
Donahue also expects important contributions from a freshman class that includes promising guards Tyler Perkins and Sam Brown (the son of former Philadelphia 76ers head coach Brett Brown), as well as 6-foot-10 forward Johnnie Walter, a transfer from Cal State Northridge. Returners Andrew Laczkowski, Eddie Holland III, and Cam Thrower should play key roles for the Quakers, as well.
But if Penn wants to exceed expectations, especially in the early going against challenging non-conference opponents (including a bout with Kentucky at the Wells Fargo Center on December 10), they'll need to lean on Slajchert, who Donahue expects to be a "more consistent leader and scorer" in his senior season.
Slajchert acknowledged a responsibility to take on more of a leadership role following the departures of Dingle and Martz. "I feel like I'm ready for that," the California native said. He's also ready to become more of a facilitator and help his younger teammates overcome adversity before the Ivy schedule commences in January. "I've been working on becoming a little more well-rounded," he said. "The past few years, I've been a scorer. I still think I can do that at the highest level, but for us to win I need to do more than just score."
Heading into the season, Slajchert liked the makeup and attitude of the squad enough to "think that we can be the best team in the Ivy this year." Donahue concurred, scoffing at the idea that this could be a rebuilding season.
"I've been around this league long enough to know we have a really good team," the head coach said. "We're probably, in my opinion, going to be a better team than last year." —DZ