Out of the Box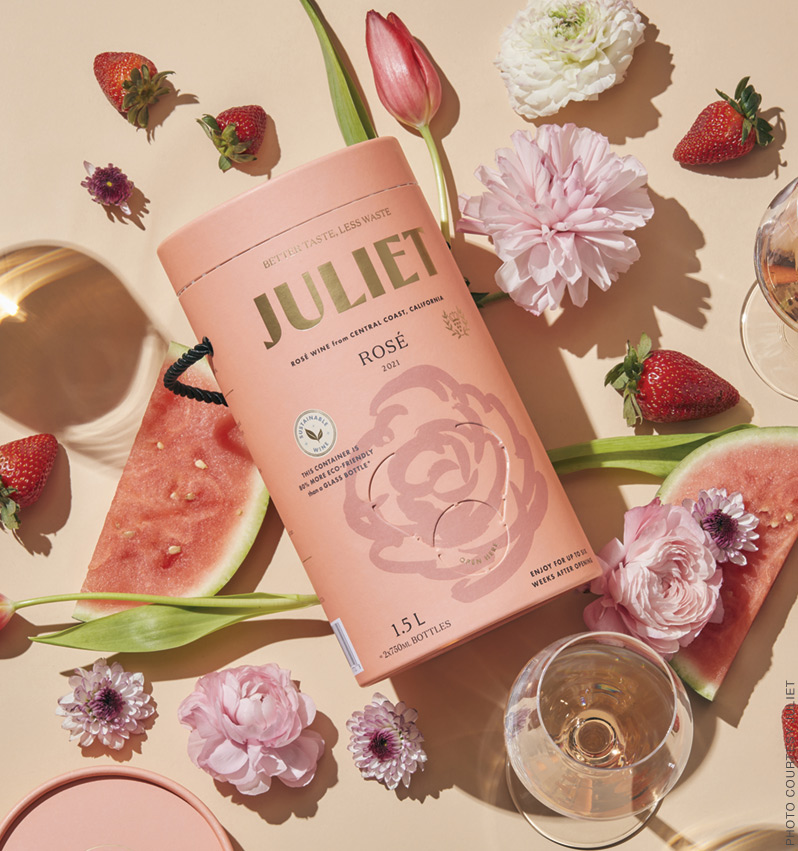 It's better for the environment than glass bottles, but can boxed wine be a high-end drink too?
---
"Our vision overall is to be the first truly luxury super premium boxed wine brand."
So proclaimed Allison Luvera WG'22 last August after she and her business partner, Lauren De Niro Pipher, unveiled Juliet at a launch event. With a sleek, cylindrical shape featuring Art Deco lettering and lush color schemes, it's a boxed wine that the founders hope customers will be proud to display on their dinner table. The lightweight packaging is less energy-intensive than heavy glass bottles, and its components can be recycled. Each box contains two bottles worth of Pinot Noir, Sauvignon Blanc, or dry Grenache rosé made in a winery near Santa Barbara, California, that has been certified by the California Sustainable Winegrowing Alliance. The vacuum-sealed packaging keeps the wine fresh for about six weeks after opening—and plays nice with poolside settings or anywhere else glass isn't welcome.
Wanting "a brand name that resonated with women," Luvera said Juliet was selected from a survey of 200 women because it's an "iconic, globally recognized female name from literature" and "also evokes romance and an Italian sensibility." The wine is currently offered at about 100 stores, restaurants, hotels, and spas in California, New York, and Florida, and can be shipped to 45 states through a purchase on its website. The company, according to Luvera, is on track to reach $1 million in sales this year and "our online sales channel is showing phenomenal growth."
"Boxed wine is a huge category in the US, but as you probably know if you go into a wine or liquor store, it's not a sexy category, it's not a high-end category," said Nick Papanicolaou, CEO of No Sleep Beverage, who became one of Juliet's investors in July. "The fact that Allison and her partner are doing this is a very attractive story."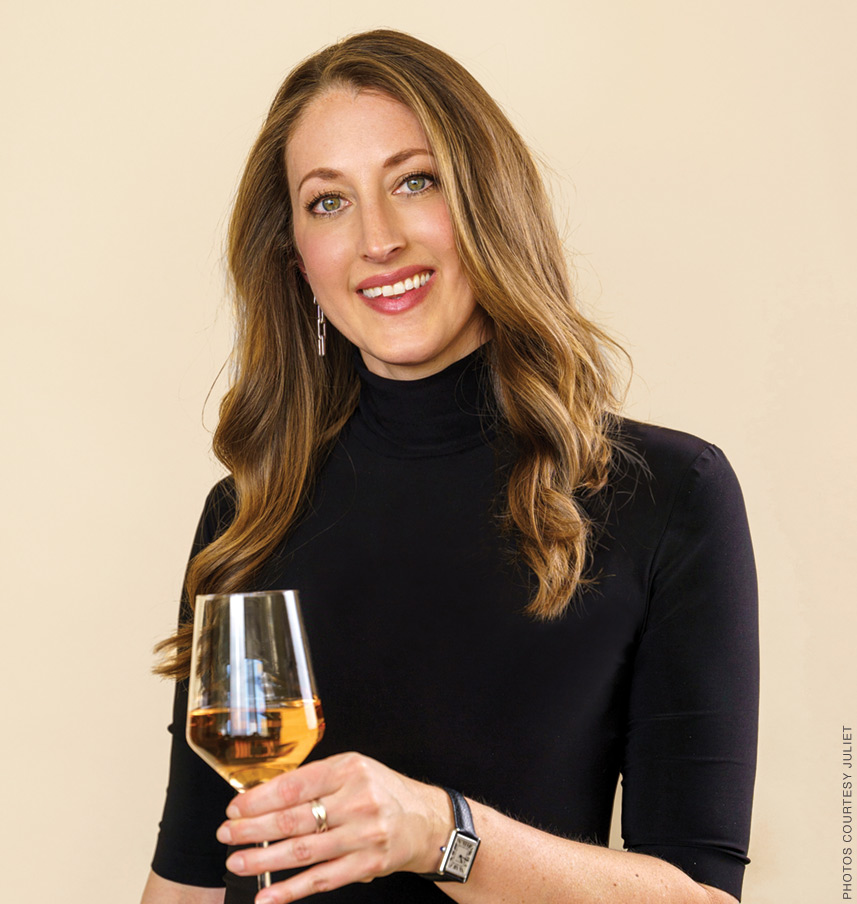 Luvera grew up in Sherrill, New York, which is about a half-hour drive west of Utica and holds the distinction of being the state's least populous city. Although she had an idyllic childhood riding bikes and playing kickball, she was eager to take a big city by storm.
After attending Boston College, where she met De Niro Pipher (a relative of actor Robert De Niro), she moved to New York, where she got a job at Hearst and climbed the ladder from a marketing assistant at Seventeen magazine to director of marketing for InStyle magazine. There she learned how to develop brand partnerships, something she uses today with Juliet. "If you look at our marketing strategy, Juliet is much closer to a fashion brand or a beauty brand," she said.
Wine has been a longstanding interest for Luvera, who while in college spent a summer working in the marketing department of a Napa winery. "I remember going into grocery stores and surveying what other wines were on the shelf, and what they were priced," she said. She also took personal wine trips to Piedmont, Italy, and New York's Finger Lakes region, and worked part-time at a wine store in Tribeca while working for InStyle.
She left publishing in early 2015 for a marketing job with Pernod Ricard, one of the world's largest wine and spirits sellers. Working for the company's newly created luxury division, she set up brand activations at places like Art Basel and the Cannes Film Festival.
Itching to start her own company, Luvera enrolled in Wharton's Executive Education program in 2020. "I wanted to learn more about finance and accounting and operations and fill in some of my blind spots," she said, adding that a course taught by David Wessel—an adjunct professor of finance and director of executive education at Wharton—helped her apply lessons on raising money from a venture capitalist as she tried to get Juliet off the ground. Networking opportunities also proved advantageous. "You reach out to anybody who is a Wharton alumni, and they will take a phone call with you," she said. Among others, she met David Trone WG'85, a US congressman and cofounder of Total Wine & More.
Luvera had come up with the idea for Juliet in May 2021 after drinking boxed wine at her parents' house. "It was such a great experience, like having wine on tap in the fridge," she said. "I didn't have to deal with the wine opener. I didn't have to throw out a half-drunk bottle at the end of the night. But it was disgusting wine, so it had me thinking, Is there a boxed wine out there that is really, really good?"
While some make that claim, Luvera felt she could fill a gap by packaging premium wine a little differently and marketing to women. "The wine industry as a whole is pretty stagnant, but there are a couple of spots for growth: alternative packaging wine and super premium wine," she said. "If we could combine those two categories and create something in the intersection, we knew there was a growth spot."
"Boxed wine is growing 30 percent year over year and it tends to grow higher at the higher price point you are," said Papanicolaou. Juliet sells for $35 a box, a little higher than competitors like Ami. On the other end of the spectrum, Franzia costs as little as $14.
One of the greatest challenges was designing the cardboard cylinder. "It sounds fairly simple, but it's a totally different shape so everything needs to be redesigned," Luvera said. "We would notice something wouldn't work when we transported it in the mail or when we were pulling the pouch out." They kept pressing forward, though, because they felt it was essential to differentiate their product. "We had to crush this negative stigma against boxed wine, and we had to remove the box shape to do that," she said. Juliet currently has two patents pending on its cylinder box.
Matthew Kaner, a wine-branding consultant, said he believes Juliet sets itself apart by its commitment to sustainability. Packaging and transporting Juliet uses less than half of the carbon emissions than traditional glass wine bottles. "A lot of wine companies believe in these tenets, but I'm seeing Juliet go steps further to fly the flag of ethos-based consumption and break stigmas around alternative packaging," he said.
Juliet feels so protective of its brand identity that the company decided to sell products directly to consumers online (rather than only through distributors) despite regulatory and licensing headaches. To be a "modern, premium brand that resonates with a younger consumer, we felt like we had to have an amazing online presence," Luvera said. "We needed the customer data. We needed to have that direct access to the customers, and you don't have that if you're selling wholesale."
She emphasized that Juliet is focused on listening to customers. "We got the question over and over again about when we were coming out with more varietals, and a lot of people were asking for orange wine, so we're doing it," Luvera said. "It's a great feeling to know you have fans that like what you already put out there and are looking for more."
—Alyson Krueger C'07