July|Aug 2022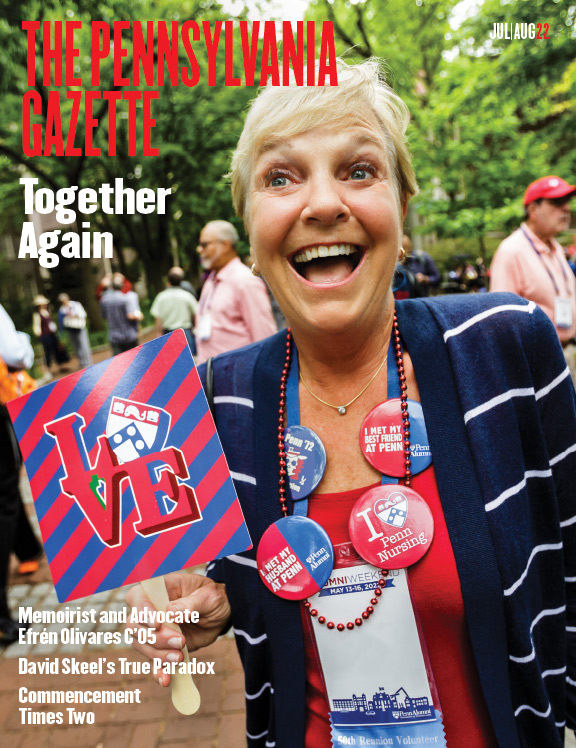 July|Aug 2022
Vol. 120, No. 6
---
Features
For Efrén Olivares, whose childhood was split between Texas and Mexico, the push to reform US immigration policies and practices is both a marathon and a sprint. He shares his story of legal battles and personal struggles in an emotional new memoir, My Boy Will Die of Sorrow.
By Julia M. Klein
A sometimes wet—but welcome!—return.
Photos by Tommy Leonardi
How Penn's foremost expert on bankruptcy law became one of the most surprising voices in contemporary evangelical Christianity.
By Trey Popp
---
Departments
From the Editor | Reunions and separations.
Letters | Ukraine danger, Beck's full life.
---
Views
Alumni Voices | Possibilities of the present moment.
Elsewhere | "The warm, velvety, juicy morsel found my mouth."
---
Gazetteer
Commencement I | An in-person celebration for the Class of 2022.
Commencement II | … and the Class of 2020 comes back strong.
Lost Landmark | "If we scored 100 points, we were going to Abner's."
Honors | 2022 President's Prize winners announced.
Heard on Campus | Burns on Franklin at this year's Silfen Forum.
Research | Report details impacts on children who lost caregivers to COVID.
Sports | Men's lacrosse takes Ivy League championship.
---
Arts
Calendar
Architecture | Reveling in the row. City of Homes.
History | Allen Guelzo G'79 Gr'86's Robert E. Lee: A Life.
Medicine | Sara Peskin Gr'13 M'15 GM'19 on "hijacked" brains.
Briefly Noted
---
Alumni
Rachel Drori C'04 cultivates plant-based meal service Daily Harvest.
Lindsay Shaw C'05 guards the Cleveland Guardians' mental health.
Duke Lacroix C'15 expresses himself through soccer and design.
Notes
Obituaries
---
Old Penn | First Commencement on campus.