A Wise Move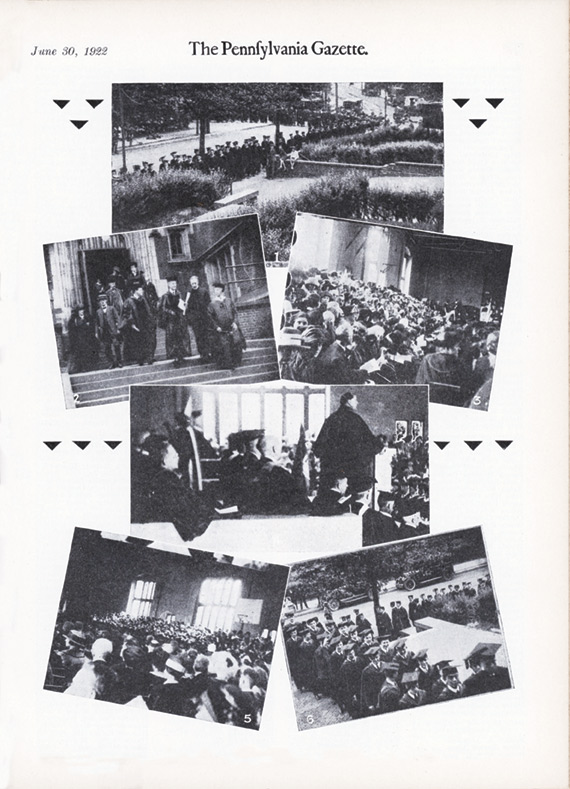 ---
After 165 Commencement ceremonies across Philadelphia—in venues such as the Metropolitan Opera House, the Academy of Music, and the halls of the original campus at Fourth and Arch Streets—Penn's 166th Commencement was held for the first time at the University's West Philadelphia campus 100 years ago on June 14, 1922. The move supplied something that was missing at the earlier locations: "a truly academic atmosphere," explained Pennsylvania Gazette editors in the June 30 issue that year.
The chosen spot was Weightman Hall, built as an athletic field house in 1904 by architect Frank Miles Day C1883 Hon1918. Although it lacked the seating and acoustics of a music venue, "everybody is ready to concede to the wisdom of holding the 1922 Commencement exercises on campus."
To compensate for the limited seating, undergraduate and professional schools were split up into two sessions, and attendees were limited to the graduates themselves and their immediate families. But in return, this allowed time for the reading of each of the graduates' names—all 1,196 of them—instead of awarding their degrees en masse, as had been the custom.
The move also provided an opportunity for graduates to process across campus in their regalia, a scene "whose pictorial qualities will not soon be forgotten." And another innovation "that deserved more attention than it received" was the use of an official ceremonial stage and platform, with the University's coat of arms painted on the backdrop.
"This Commencement is somewhat different," Acting Provost Josiah Penniman Hon1922 told the Class of 1922, as he sent them out into the "less-sheltered, less-protected and more exacting life of the great world."
After five years at Weightman Hall, Commencement was moved in 1927 to the recently opened Palestra. In 1932 it moved to Municipal Auditorium (better known as Convention Hall), where the Perelman Center now sits. It remained there, with a few notable exceptions, until moving to its current location at Franklin Field in 1986.—NP