May|Jun 2023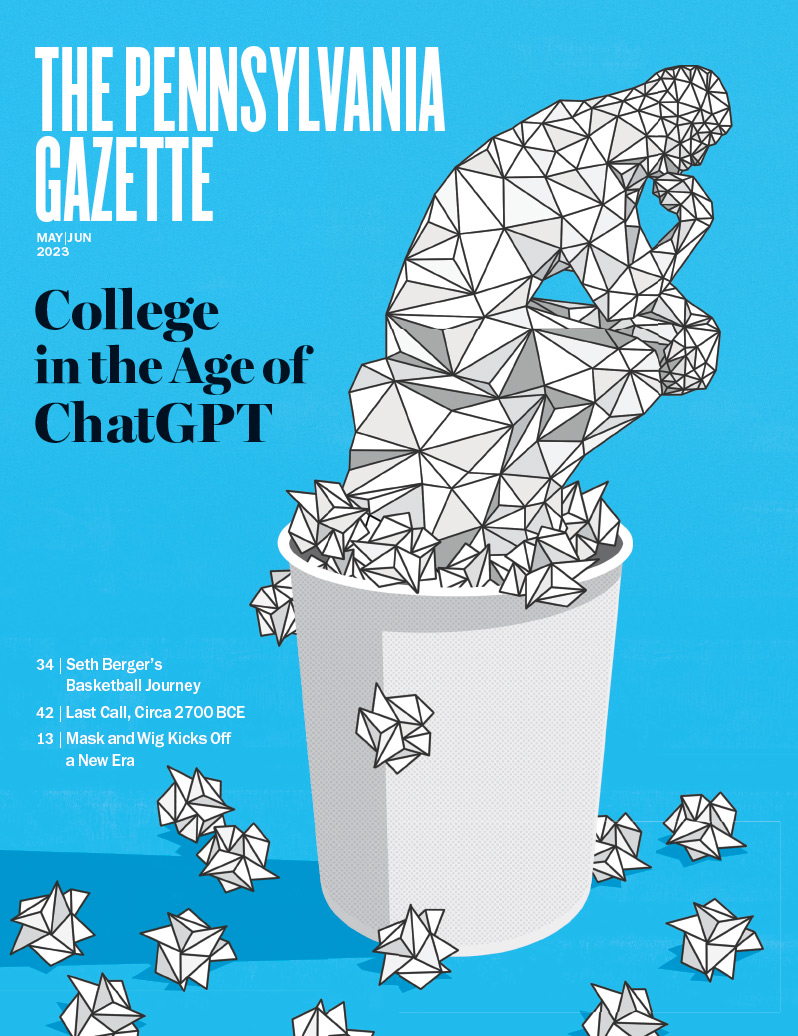 May|June 2023
Vol. 121, No. 5
---
Features
College in the age of ChatGPT.
By Trey Popp
Thirty years after starting the basketball juggernaut AND1, Seth Berger C'89 WG'93 continues to live and breathe hoops—as a father of three (plus a guardian to five Nigerian brothers), a venture capitalist affiliated with the Philadelphia 76ers, and the longtime head coach of a suburban Philadelphia boarding school team that his AND1 cofounder calls the "Duke of high school basketball."
By Dave Zeitlin
Unearthing the world's oldest tavern while reconstructing daily life in ancient southern Mesopotamia.
By Beebe Bahrami
---
Departments
From the Editor | A new technology, an old bar, a life in basketball.
From College Hall | Reinvigoration and reinvention.
Letters | Age-old questions, more (and more mixed) band memories.
Views
Notes from the Undergrad | Oranges and apples.
Alumni Voices | Revenge is … complicated.
Expert Opinion | Fools rush in (and that's OK!).
Gazetteer
Performing Arts | Women take the stage at Mask and Wig spring show.
Election Analysis | Will the "guardrails" that held in 2020 work in 2024?
Heard on Campus | Brent Staples on what launched his writing career.
Education Costs | 2023–24 tuition and fees up 4 percent, financial aid up 12.
Leadership | Annenberg Dean John Jackson named Penn's 31st provost.
University Life | Hikaru "Karu" Kozuma GrEd'15 is the new VPUL.
Sports | Men's and women's basketball fall to Princeton in Ivy tourney.
Commencement | Idina Menzel and Quinta Brunson to speak.
Arts
Calendar
Film | A double exposure in Lise Yasui C'77's The Picture Taker.
Fashion | Kartik Kumra C'22 is creating "Indian future vintage" menswear.
Spoken Word | Joshua Bennett C'10's new book mixes cultural and personal history.
Briefly Noted
Alumni
Ryan Harwood W'03 owns and manages a professional pickleball team.
José Gregorio Baquero WG'94 runs one of Latin America's largest food conglomerates.
In Memoriam: Kevin Neary C'04
Notes
Obituaries
---
Old Penn | College Green, April 1973.