Tiger Food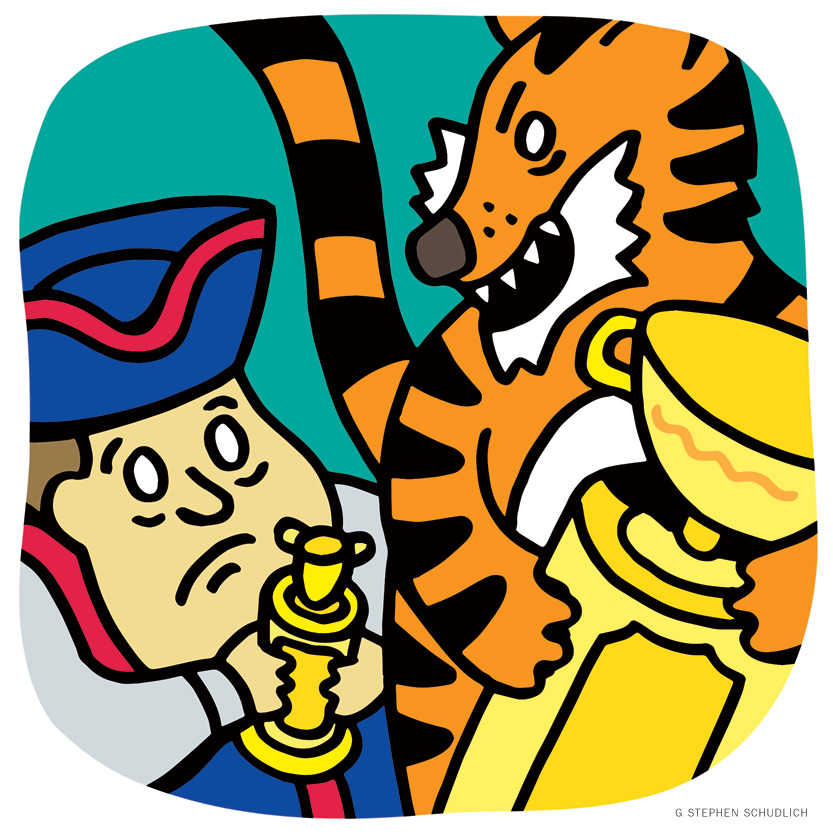 Despite solid seasons, Penn basketball (men and women) continued to get feasted on by archrival Princeton.
---
Princeton's improbable run to the Sweet 16 of the NCAA tournament may have busted March Madness brackets around the country, but it didn't surprise Steve Donahue. The Penn head men's basketball coach had taken an Ivy League team to that round before (Cornell, back in 2010), and Yale and Harvard have since scored big upsets at the Big Dance.
Donahue's conflicted emotions watching Princeton draw national acclaim for the Ivy League wasn't a surprise either—not after his Penn team had the rival Tigers on the ropes twice in March, just before Princeton pulled off its tourney upsets over NCAA title contender Arizona and then Missouri.
"Honestly, it's very difficult," Donahue said. "I respect what they accomplished. But at the same time, I'm deeply rooted with Penn and I want that for our guys."
The Quakers had their chances. After a tough mid-January stretch that included a bad home loss to the Tigers, the Quakers reeled off eight straight wins heading into their regular-season finale at Princeton. But with a piece of the league championship on the line, Penn gave away a 17-point halftime lead and lost in overtime. Back at Princeton's Jadwin Gym for the Ivy League Tournament a week later, Penn took the Tigers down to the wire in a back-and-forth slugfest before again coming up just short. The next day, Princeton beat Yale for the Ivy tourney title to book its spot in the NCAA tournament.
Princeton has now won nine straight games against Penn in a longstanding rivalry that is usually more even—as the big scoreboard in the Palestra corridor that tracks the series shows. "Listen, Pete Carril lost eight straight in this battle," Donahue said of the legendary Princeton coach who died last year. "It just happens. We're motivated. We've done a really good job the last few seasons being one of the best teams in the league. We don't take our challenge with Princeton lightly, and we understand it's a hurdle we have to get over."
The two rivals might be more evenly matched than Princeton's win streak over Penn would suggest, though the Tigers have proven to be a difficult team to beat in the final minutes of games. Penn fans in attendance at Jadwin for the Ivy semifinal have likely replayed in their head some moments from the end of the Quakers' final loss, including a couple of key Princeton offensive rebounds and a questionable charge called on Penn center Nick Spinoso.
"I try to do my best to move on," Donahue said. "We've got to live and learn from it. What I hope is we are so much better next year so that a small margin of error, where maybe a call doesn't go your way, doesn't stop you from achieving all you want to do. That's where our energy goes moving forward with this group—with our five top scorers returning and a really good freshman class coming in."
Those top five returners include Jordan Dingle, who finished second nationally in Division I scoring with 23.4 points per game and was named Ivy League Player of the Year. Dingle also became the eighth player in program history to be named Philadelphia Big 5 Player of the Year, collecting the award at the Palestra on April 10 during a ceremony in which Spinoso was honored as the co-Most Improved Player and Perry Bromwell C'87 was inducted into the Big 5 Hall of Fame. "He really had a spectacular year in a lot of ways," Donahue said of Dingle, who is already eighth on Penn's all-time scoring list with a season left to play.
Kayla Padilla enjoyed a spectacular season of her own on the women's side, averaging 17.7 points per game (second in the Ivy) while shattering program records in three-pointers made in a season (81) and for a career (210).
Dingle and Padilla both arrived at Penn in 2019, but only Dingle will return to the Palestra next season since he withdrew from school when the Ivy League canceled winter sports in 2020–21. Padilla plans to graduate from Wharton this spring and then transfer to the University of Southern California as a graduate student.
Penn women's basketball coach Mike McLaughlin helped Padilla through the transfer process but admits that it's frustrating that she only got to suit up for the Quakers for three years instead of four because of the pandemic—and that she never got to hoist an Ivy League trophy.
"She wanted to accomplish so much here, and this year she wanted to win an Ivy League championship," McLaughlin said. "She was remarkable, she really was. She did everything she could do. To me, she's going to leave as one of the all-time great ones."
Like the men's team, the Quaker women have lost nine straight to Princeton, capped by an Ivy tourney semifinal setback. (Both Penn hoops teams finished 9–5 in the Ivies this season with 17 wins overall.) And the Tigers, like their male brethren, went on to pull off a March Madness upset in the program's 10th NCAA tournament appearance since 2010.
The Quakers had challenged their archrival for Ivy supremacy with league titles in 2014, 2016, and 2017, but it's been a steeper climb since then to outmaneuver Princeton on the court and in recruiting battles. Yet, "I still think we're positioned really well," McLaughlin said. "I do think good days are ahead of us."
---
The New Big 5 (Make That 6)
The Philadelphia Big 5 has hit the reset button.
The longstanding association of five storied Philly hoops programs—Penn, Villanova, Temple, La Salle, and Saint Joseph's—will officially add a sixth member to its ranks: Drexel. (The Big 5 name, which dates back to the 1950s, will remain.)
And instead of the round-robin series held throughout the basketball season (which has dimmed in excitement in recent years), a new series format will determine a Big 5 champion through a same-day tripleheader on December 2. The mid-April announcement was made on the court of the Wells Fargo Center (home of the NBA's Philadelphia 76ers and the site of many NCAA tournament games over the years), where the Big 5 Classic tripleheader will be held. (Despite its history and charm, the Palestra doesn't offer the same kind of capacity or infrastructure, and Penn's famed home gym hasn't seemed to be as big of a draw for other fan bases as it once had been.)
For the new series, the six schools will be separated into three-team pods—Temple, La Salle, and Drexel in one; Villanova, St. Joe's, and Penn in the other. Each team will play the other two teams from their pod at their on-campus gyms, and their ranking will determine if they compete for the Big 5 championship or in a third-place or fifth-place game on December 2. —DZ