Competition and Camaraderie
Joshua Bennett tells the story of the movement that changed his life—and the culture of American poetry.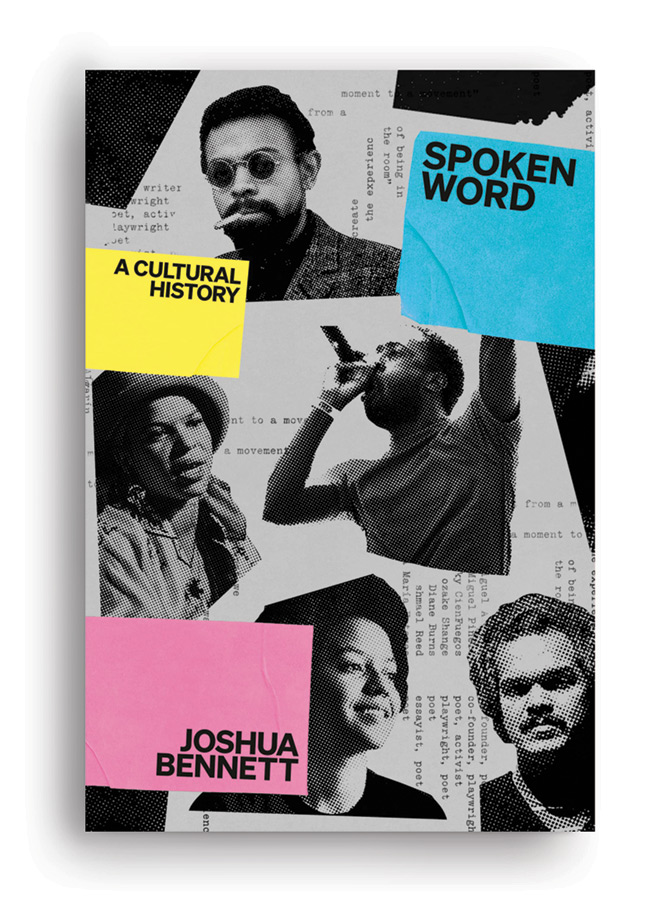 ---
Joshua Bennett C'10 grew up around preachers. As a very young child, he would improvise his own sermons. Later he got shyer, but "the idea that I too could be part of this illustrious tradition of public orators was incredible to me," he says. "I knew that there was tremendous possibility in the spoken word, and that if I committed to this thing, I could change my life: if I could get up in front of people and speak with at least a measure of the confidence with which I'd seen preachers speak my whole life, I thought I could do anything in the world."
When he was 11, Bennett participated in his first poetry slam, at a library he happened to be visiting with his mother, who urged him to sign up. The only child to read, he took second place. By the time he got to Penn, he had become a well-known figure in the spoken word poetry world, as both an individual performer and a member of championship-caliber teams competing in national poetry slam competitions and through viral videos. As a junior living in Du Bois College House in 2009, he was invited to perform at the White House in a program that also included James Earl Jones and Lin-Manuel Miranda ["Gazetteer," Mar|Apr 2010].
Both of those events figure in Bennett's new book, Spoken Word: A Cultural History, which interweaves his own history and that of the spoken word poetry movement, drawing on documentary sources and interviews with participants to tell what he calls "the fifty-year story of how several, distinct collectives … ultimately gave us the sound we can now hear everywhere from mainstream radio to Broadway musicals to the underground performance venues where it all began."
While noting that oral performance is poetry's original form, going back to Homer's epics, Bennett traces the roots of a distinctively American spoken word movement to two sources: the Nuyorican Poets Café in New York beginning in the 1970s; and the parallel and occasionally intersecting Black Arts Movement led by Amiri Baraka.
From there he moves to Chicago and the birth of the poetry slam in the mid-1980s at the Get Me High Lounge—presided over by Marc Smith, "a white, working-class writer in his late thirties," whose later rejection by a younger, diverse generation of poets Bennett explores in a nuanced passage. Through the 1990s and 2000s, the slam format—featuring judges, time limits, and elimination rounds—exploded in popularity nationally and internationally and spread to middle and high schools, leading to theater-packing competitions that spawned films and HBO shows like Brave New Voices and Def Poetry Jam.
The book's third section tackles "The Digital Revolution in Spoken Word," focusing on the burgeoning flow of spoken word performances online, ranging from elaborately staged productions that are essentially short films to simple video recordings of poets at the microphone. Bennett details the history of The Strivers Row, a spoken word collective he founded with his older sister Toya (which tended toward the mini-film approach), and profiles Button Poetry, "a hybrid YouTube channel and publishing house with over a million subscribers and tens of thousands of books sold each year."
It concludes with a meditative epilogue that touches on "The Hill We Climb," the poem read by Amanda Gorman at Joe Biden Hon'13's presidential inauguration; Carlos Lopez Estrada's film Summertime, which "follows a group of twenty-five teenage poets around [Oakland] … cataloguing their trials, tribulations, and moments of transcendence"; and Bennett's experiences with his infant son August Galileo.
"I wanted to write a book that felt like the best spoken word poetry that I'd seen and grown up around, and for me those poems were historically grounded but always had a personal element, and they were always deeply musical," Bennett says. The reporting he did for the book offered "an excuse to talk to my friends, colleagues, and heroes," he adds. "But I think it's also supposed to mimic my own journey, which started out in poetry slams as a 17-year-old boy but ended up with me really building a career on the internet—and it ends in a house that I bought with money from being a poet. That's pretty cool to me."
In slam poetry's early days, Marc Smith consciously placed it in opposition to the academy—almost like he had no choice but "to create this poetry game so that he could rescue the ancient art from the hands of the scholars," says Bennett.
Yet even though that presumption lingers, it doesn't really work—even with Smith, who taught classes in slam at the college level. And it definitely doesn't fit Bennett, who is a professor of English at Dartmouth, or many practitioners of his generation.
Bennett notes that his fellow "youth poet" at the 2009 White House performance, Jamaica Osorio, is now a professor of political science at the University of Hawaii. "Both of the spoken word poets invited to the White House that day ended up going on to become educators in a university context," he says. "I kept touring in graduate school," he adds. "I teach classes on poetry where we incorporate weeks on spoken word, in part because to me it's an indelible part of the tradition, and it's important.
"I think that tension is certainly still there," he says, but "there are any number of us who've gone from the poetry slam world and gotten MFAs and PhDs, and we can do both things. … Reading a bunch of books doesn't mean you forget how to perform. That doesn't hold up to scrutiny. You can do both if you want to."
Spoken word poetry can also accommodate a "quieter performance voice," as opposed to "this idea that everyone gets up there and is James Brown or something," he says. "Even in my earlier poetry slam/spoken word days, there were people who read more quietly, there were people who read from the page, and they've always been there. Many versions of this thing we do are worthy of defense and celebration."
Most of the poems in Bennett's three published volumes "are not intended for performance," he says. "I want all of them to sound beautiful when they're read aloud, to be sure, but to me performing is another gear."
Some poems have elements of both modes, he says, mentioning "Benediction," a poem from his book The Study of Human Life that was originally published in the Atlantic. "That is a poem that I think really lives a new life in performance and I'm really proud of it," he says. "By and large I think I'm tapping, in some ways, into a quieter room in my mind when I write for the page—but when I read it, I always want it to feel bristling and alive."
Another view that Bennett challenges is that poetry slams are somehow tainted by their competitive format. On the one hand, Bennett says most competitors "know it's funny" and don't take it completely seriously; on the other, "there's a long human history of competitive poetry," going back to the ancient Olympics in the West and in other cultures as well.
And it's not like getting a poetry collection published in the US isn't a competition. "You have to win a contest," he says. "That's how I got my first book published."
At a poetry slam, "literally anyone can get up and do it," Bennett says. "I got good at it by going on MySpace and listening to poets, and by studying YouTube, and then I practiced a bunch in front of people and, yeah, it changed my life, and so I'll always defend it."
Bennett doesn't profess to "love most poems I hear at poetry slams," but maintains that the format performs an important social function. "When I meet students who've done [the high school competition] Poetry Out Loud or memorized poetry or done spoken word or open mics—it performs such a crucial role in their growing up. They get to speak with confidence and come out on the other end alive. That's such an important lesson."
Rather than competition, the real message of spoken word—the form and the book—is one of community, Bennett says. "The fact that I started a spoken word collective [Strivers Row] with my friends, and that I founded it with my big sister, I think, is important.
"Competition is the flashy part, the poetry slams," he says. But Spoken Word "really is a book about camaraderie and how many small collectives of people—in the Black Arts Movement, the Nuyoricans, Button Poetry, The Strivers Row—got together and really thought poetry could make the world just a little bit different," he says.
Whether it happens in cafés or competitions, YouTube or TikTok, "I think that sort of utopian striving is absolutely critical in a world worth saving," says Bennett. "I think we have to maintain that spirit. I think we have to cultivate it in our young people, in classrooms and in houses of worship and in our homes." —JP