The Power of Pickleball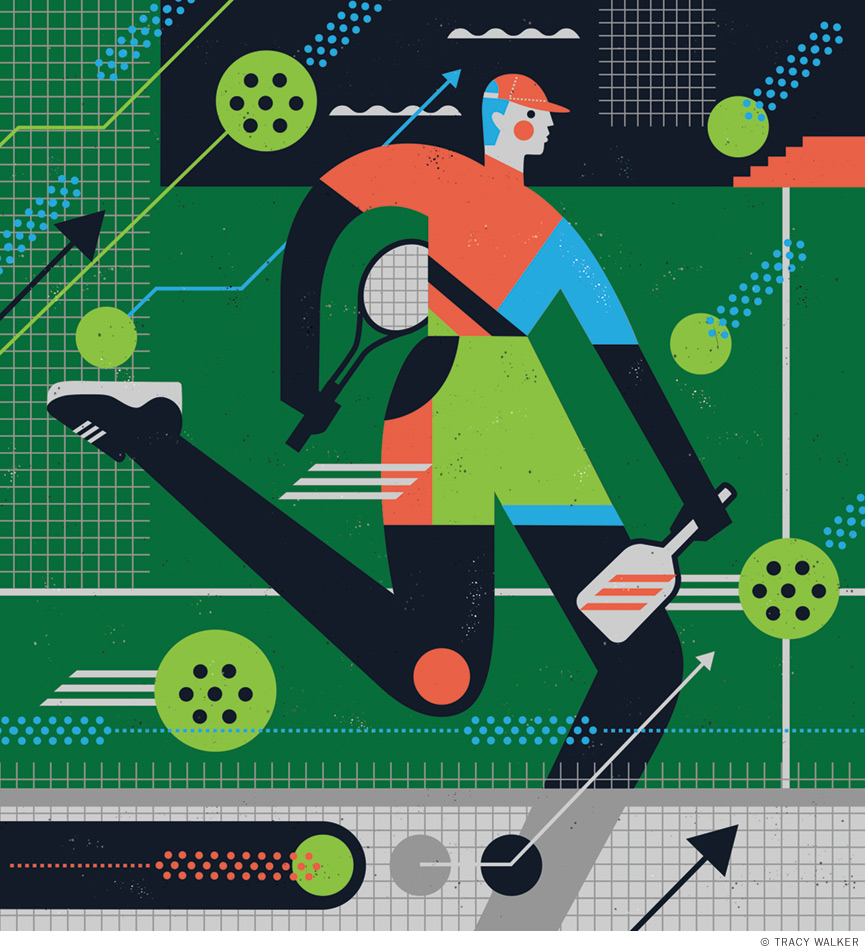 Can a professional league in America's "fastest-growing sport" thrive? One former Penn tennis captain is banking on it.
---
The first time that media entrepreneur Ryan Harwood W'03 played pickleball was also the first time he had ever heard of the sport.
Harwood and his business partner, entrepreneur Gary Vaynerchuk, were invited to play in a celebrity pickleball tournament in 2017 at a charity event in Austin, Texas. The event's host, Steve Kuhn, was a big fan of the sport and the future founder of Major League Pickleball (MLP), a new professional league in the US.
As an avid tennis player and former captain of the Penn men's tennis team, Harwood figured he could hold his own in the paddle-based sport. "I said, 'How hard could this be—holding a racket and hitting a ball?'" But while he was able to pick up the skills,  learning the rules and nuances of the game proved to be a bit trickier.
Harwood and Vaynerchuk were in for another surprise when they met their pickleball doubles partners—retired tennis luminaries Andre Agassi and Andy Roddick. "It was a once-in-a-lifetime experience," says Harwood, who was paired with Agassi. "We played one game to 11 points, and Gary and Andy Roddick won, which still devastates my soul to this day."
Pickleball fell off Harwood's radar until 2021 when a longtime friend, former professional tennis player Amer Delić, sought Harwood's marketing expertise to help promote MLP. Harwood's ears perked up when Delić mentioned the fledgling league was seeking buyers for pickleball teams to be based around the country. "I have a lifelong dream of owning the New York Knicks, and Gary has a lifelong dream of owning the New York Jets," muses Harwood, a Long Island, New York, native who lives in Manhattan with his wife and two young children. While buying a pickleball team is on a much different scale, "we said why not?" Harwood recalls. "Why don't we just do this and have some fun?"
Harwood and Vaynerchuk announced their team purchase in April 2022. Harwood declines to say what they paid for their team but says that these days the price tag for an MLP team is in the "mid-seven-figure range." The co-owners named their New Jersey-based team The 5s after Vaynerchuk's favorite number. Harwood additionally became the team's general manager.
Owning and managing a professional pickleball team is the latest in a career full of twists for Harwood. After graduating from Wharton with a degree in finance and legal studies, he worked at Goldman Sachs for five years, but "ultimately looked at myself in the mirror and knew that corporate America or the corporate finance world was not for me long-term." He pivoted to digital media and entrepreneurship when he launched PureWow, a multimedia women's lifestyle brand.
In the process, Harwood met Vaynerchuk, who owned an advertising agency, and the two quickly became friends. Vaynerchuk acquired PureWow in 2017 under the umbrella of his company, Gallery Media Group. Harwood is CEO of Gallery Media, which includes another venture he founded, the men's business and culture brand ONE37pm. He continues in this role in addition to his duties with The 5s. The longtime tennis enthusiast has also taken up a new pastime. "I play pickleball now and it's very addicting," he says.
Pickleball has been around since 1965 when three dads in Washington took some tennis, badminton, and ping pong equipment and created a new game for their kids. But the sport has exploded in popularity over the past few years, with the pandemic jumpstarting interest because it's played outdoors, is easy to learn, and it can be enjoyed by individuals at various fitness levels. Pickleball participation grew nearly 40 percent during the pandemic, according to a 2022 report by the Sports & Fitness Industry Association (SFIA), which dubbed pickleball America's fastest-growing sport for people of all ages.
As tournaments for amateur and professional players sprung up across the US and the world, the creation of Major League Pickleball in 2021 quickly drew investor groups to buy teams, including celebrities and several superstars in other sports.
The 5s became one of 12 teams participating in MLP's 2022 season. The number of teams doubled to 24 for the 2023 season. "In less than a year, [the league] grew faster than our wildest dreams," Harwood says.
MLP teams have four players—two men and two women. Teams compete against each other in matches consisting of four games—a women's doubles game, a men's doubles game, and then two mixed doubles games. If necessary, a tiebreaking singles game is played, in which each team's four players rotates in to play four points until 21 points is reached.
In 2022, MLP held three standalone tournaments and The 5s took third place in two of them, Harwood notes. However, MLP changed its format for the 2023 season, which kicked off in January. Now, the league is holding six events across the country in Arizona, California, Florida, and Georgia, with up to $5 million in prize money. MLP players were paid an average salary of more than $50,000 last year, though sponsorships and tournament prize money can boost their incomes to at least four times that amount.
As general manager of The 5s, Harwood selects the team's players via the MLP draft and then ensures the players have everything they need. He's also involved in marketing the league, bringing sponsors on board, and formulating rules and regulations, among other things. "Basically, by owning a team, you own equity in the league," Harwood says. "We all have the same goal to make the league more valuable and therefore we're all participating in how to make the league the best that it can possibly be."
One of the biggest challenges for Harwood has been the learning curve. He says the team's current players, who range in age from 15 to 28, know more about pickleball than he does—a departure from other professional leagues where the general managers "were either former players themselves, or they were around the sport for 30 years and they know it well," he says. "We're coming into a nascent sport where the players have been playing for a long time and the GMs and owners aren't as skilled or knowledgeable about the sport."
So, for Harwood, the first season was all about listening and watching. "Now, I feel like I know 10 times more than I did a year ago and I'm being a little bit more assertive in my decisions," he notes. "But ultimately, if all four players feel that there's a strategy we should deploy during a match or tournament, I listen to them."
Currently, MLP derives most of its revenue from sponsorships and ticket sales, though media rights and television deals, merchandise sales, and gambling are expected to contribute significant financial growth to the league in the future. Whether or not professional pickleball can one day rival more established pro sports leagues has been a hot topic for debate, but Harwood is optimistic. "We foresee MLP growing tremendously," he says.
—Samantha Drake CGS'06