Working Overtime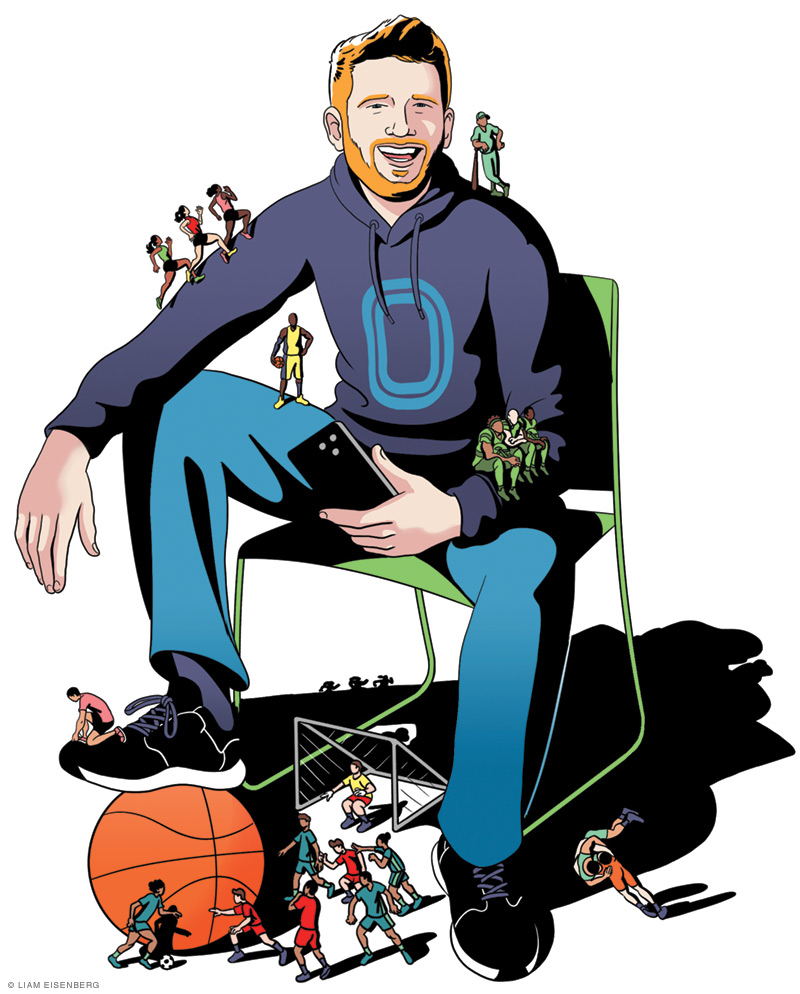 The cofounder of a sports media company and new basketball league is trying to change the game.
---
Zachary Weiner C'14 is used to thinking a few moves ahead.
It paid off as a competitive chess player at Penn, where he won three Ivy League titles as the team's captain. It helped him translate his sports fandom into a series of ventures in college, including the creation of a nationwide network of campus sports bloggers, and to a job after graduation at the talent agency William Morris Endeavor. And it allowed him to see market niches that the sports media company he cofounded, Overtime, could fill by distributing original content on social media geared toward young fans always on their phones.
Now that vision has led to the most daring experiment Weiner and his company have embarked on yet: Overtime Elite, a basketball league that pays dozens of the country's top male players between the ages of 16 and 19 to compete and train at a recently constructed facility and arena in Atlanta. OTE is both a chance to disrupt what many see as a flawed talent delivery system to the NBA—over which the NCAA has long held an unchallenged domestic monopoly on players younger than the NBA's 19-year age minimum—as well as a chance for Overtime to mint new stars and attract new audiences. "The athletes that we are drawn to, and our audience is drawn to, are amazing athletes," Weiner says. "But they also are, in many ways, digital talent."
Overtime's cofounders, separated by two decades in age, have recognized both sides of that coin. Weiner brought the sports expertise, having launched Sports Quotient, a website for commentary and analysis by college writers that grew to include 250 students across more than 80 schools for "displaced sports fans" like him. He'd played basketball growing up in Manhattan, and in pickup and intramural games at Penn—yes, an overtime loss in a league final at the Palestra still hurts—and was the kind of young consumer Overtime now targets. His older cofounder, Dan Porter, brought decades of experience in startups and digital technology, having helmed several successful gaming companies that capitalized on the rise of mobile gaming. (It wasn't until after Weiner's mom did a little sleuthing that Weiner realized that Porter's father, professor emeritus of mathematics Gerald J. Porter, was Weiner's advisor at Penn.)
When they launched Overtime six years ago, the pair rethought how to deliver sports highlights to Gen Z viewers. That meant meeting them where they are—namely TikTok, YouTube, Instagram, and the like—with buzzy content. Given the prohibitive cost of accessing athletes in many established leagues, they hit on the idea of turning up-and-coming young athletes into stars. Overtime began with proprietary technology, which Weiner still calls the heart of the network, that allows athletes to create highlights and tell stories with a "sense of intimacy and urgency and speed." One of the first players to take off via the app was Zion Williamson, a high school hoops phenom whose explosive dunks made him go viral before he played at Duke and became the top pick in the 2019 NBA Draft.
The result is more than 65 million followers on Overtime's more than 80 content channels. Overtime's investors include Klay Thompson, Kevin Durant, and other current NBA players, as well as Amazon head Jeff Bezos and a slew of venture capital firms. It has raised more than $240 million in funding at a valuation north of a half billion dollars and employs 270 people.
Creating a league was an ambitious yet logical next step, a chance to control content creation and open new streams of revenue through broadcast deals, merchandizing, and licensing. The seed was planted during a weekend event in Brooklyn in 2018. A showcase of games and skills competitions flooded Overtime's social channels, but Weiner gleaned more from a dinner with athletes' parents, about what top players were looking for as they chased their NBA dreams.
Out of that sprang OT Elite. The league signs players to contracts of at least $100,000 for a season that roughly mimics the college basketball calendar. It started with three teams in its inaugural 2021–22 campaign and is up to six (plus guest appearances from prep schools and international teams) for 2022–23, which began play in October. In addition to playing games and working out with professional coaches, players live and learn in Atlanta, with a life-skills curriculum geared toward their career paths, focusing on subjects such as financial literacy and media training. Games held in a 1,200-seat arena are broadcast on Amazon's Prime Video. Unlike the high school and college route, players can polish their games—and their brands—and get paid instead of waiting to turn pro to cash in, while Overtime gets exclusive rights to the content they create.
Players and their families place their faith in OT Elite to foster kids' professional dreams, taking a long-term risk to secure short-term financial gains by opting out of the more established college system. It's not a responsibility Weiner takes lightly. "These young men are relying on us for a lot," he says. "They're relying on us for their basketball development, for their education, for their well-being, so we take it very seriously, and that's why we've poured so many resources into it." (Players can choose to defer their salary to maintain college eligibility; those who take a salary and don't make the NBA can receive additional money toward their education.)
OT Elite is the model for more initiatives. OT7, a seven-on-seven football league, launched in 2022, and Overtime has its eyes on other sports as well. Changes are afoot, especially now that courts have forced the NCAA to allow athletes to profit off their name, image, and likeness after staunch, decades-long opposition. The NBA is also moving closer to lowering the league's age limit back to 18, which would again permit high schoolers to enter the draft.
Meanwhile, Overtime could soon learn how its alums fare at the next level, as twins Amen and Ausar Thompson—who bypassed their senior years of high school and college to be among the first OT Elite signings in 2021—are projected to be top 15 picks in the 2023 NBA Draft.
Weiner is watching all these pieces move across the board, looking for openings. Yet the company's priority remains the same: delivering content that fans will flock to.
"At the end of the day, the most important vertical is that we have an on-court and off-court product that young fans are obsessed with," Weiner says. "Let's say the 20-year-old basketball fan loves OTE, they love watching the game, they love watching the highlights, they love our players, they love our teams, they feel like they are a part of it, and they feel like it represents them. That is the ultimate goal." —Matthew De George