A More Welcoming Penn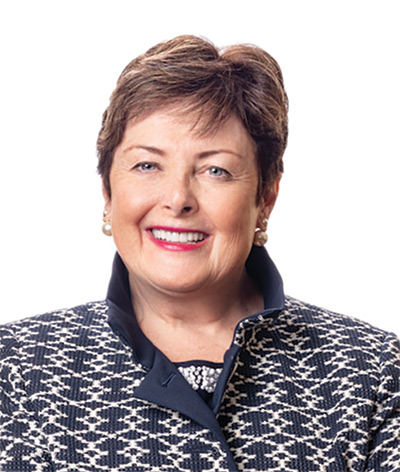 "Who is this Ann Reese? She's a huge personality. How do we not know her?"
So recalled Hoopes Wampler GrEd'13, of the reaction when Ann Reese CW'74 attended her first Homecoming as Penn Alumni president in 2017.
With Reese approaching the end of an eventful five-year term that spanned the worst of the COVID-19 pandemic, Wampler, Penn's associate vice president for alumni relations, and others paid tribute to her at the group's October board meeting.
"Your support, your energy, your optimism, your passion, and your commitment to making Penn a more welcoming place is just truly extraordinary," Wampler said. Attendees received a commemorative pin created in Reese's honor, and Sara S. "Sally" Bachman, dean of the School of Social Policy and Practice, announced that a renovated conference room at the school had been dedicated in Reese's name in recognition of her support and service on its board of advisors.
In a taped message, executive director of alumni relations Elise Betz (absent due to COVID) said that Reese's "brave contributions to Penn have led us on a path to a more welcoming community, especially for marginalized folks—Black, brown, indigenous, first-gen, and LGBTQ."
Betz pointed to Reese's honorary membership in the James Brister Society for her work advancing the organization's mission of diversifying Penn's leadership, her involvement in fostering anti-racist education and programming in alumni relations, and—the "highlight for me," she said, as a member of the LGBTQ+ community—her role in launching Penn Leadership Q, "the LGBTQ+ leadership pipeline, the first in the country, to have representation in every space." (Earlier in the meeting, Betz noted, the first "out and proud LGBTQ+ Penn trustee" had been elected: Joan Lau EAS'92 WG'08, who's also an Alumni Award of Merit winner this year ["Homecoming," 2022].)
Reese called it an honor to serve as president and pointed to the lesson on engagement provided by COVID—that the alumni who come to campus are "just the tip of the iceberg of people who want to stay involved." And she praised the rigor with which Penn's alumni groups have been examining their practices to make them more open to diversity of all kinds.
"I'm not going anywhere," added Reese, who is currently vice chair of the trustees. "And it's never too late to have the Penn experience: stay involved your whole time." —JP