Superheroes in Scrubs
Veterinary Emergency Group has a new philosophy for taking care of pets in need.
---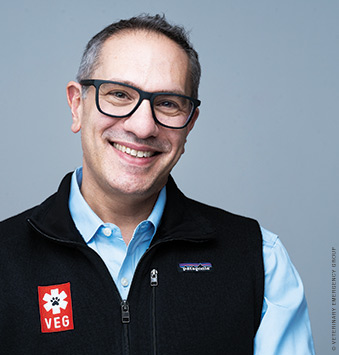 "Veterinary medicine is hard, and nobody expects any differently," says David Bessler V'03, founder and CEO of the Veterinary Emergency Group (VEG).
But the difficult part shouldn't be wrestling with burnout, unrealistic expectations from clients, or the stress of ballooning student debt, he adds. "The hard part should come from: man, diabetic ketoacidosis is hard. Doing surgery is hard. That should be the hard part."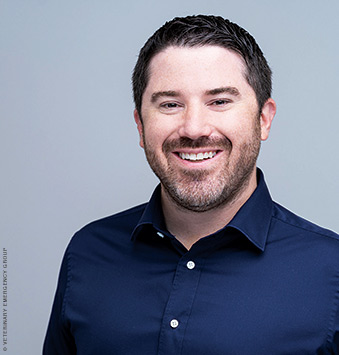 With that in mind, he and VEG cofounder and president David Glattstein WG'12 are trying to change the reputation of the veterinary emergency industry—for customers and workers alike. And having opened more than 40 clinic locations in less than 10 years (with at least 25 more planned for 2023), VEG is rapidly expanding by doing things a little differently.
For starters, pets and their owners stay together, from the time they enter the door to the time they leave. "When you bring your kid into the ER, they would never take your child away from you in the emergency room, but that's what we do with pets [at a typical ER]," Bessler says. At VEG, pet parents can stay with their animals during all phases of treatment, including surgery and overnight hospitalization. An open floor plan allows freedom of movement, so pet parents can "see all the craziness that's happening"—and as a result, perhaps develop an appreciation for the challenging work that is usually hidden from view.
Veterinary nurses are "the lifeblood of a hospital," explains Glattstein. Yet in traditional hospitals "the customer doesn't see any of the magic that they're doing in the back. [At VEG] the nurse is getting to show all the years of experience they have right in front of the customer."
Bessler wants customers to "see us as their friends, their heroes, their helpers—not the enemy." Discord between pet parents and veterinary staff is one of the top reasons for job stress in the industry, and it can be especially rough in emergency veterinary medicine ["Rescue Mission," Mar|Apr 2022]. On any given day at his previous jobs as an emergency veterinarian, Bessler says, "there was a good likelihood that I would get yelled at by a pet owner who would tell me, 'You killed my cat, you killed my dog, all you care about is the money.' Or I'd get yelled at by my boss—because they got yelled at by some customer who said, 'All you care about is the money.'"
When he found himself hoping for slow days at work, he decided he needed a change. He purchased a company in 2014 to gain more control. About two years later, Glattstein entered the picture after feeling unfulfilled in the investment industry and wanting to be "in the trenches … building a business." He had written a paper on veterinary entrepreneurship while at Wharton and later "realized this is an amazing industry and something I wanted to be in long term."
Bessler jokes that Glattstein just googled "entrepreneurial vet near me" and discovered Bessler, who by then had opened a second emergency clinic. "And in the email, I wrote, 'You're a Penn grad like me,'' explains Glattstein. "And David, because he's an 'entrepreneurial vet near me,' wrote back right away."
Glattstein thought that the VEG method of emergency veterinary care "needed to be spread everywhere"—far beyond Westchester County, New York, where the first clinic opened not far from Bessler's and Glattstein's homes. They secured investment from Sequoia Heritage (which has also backed firms including Apple, Google, WhatsApp, Instacart, and Zoom), and clinics started rolling out across the country. "Now people are coming to us, saying 'We need a VEG in our community,'" Glattstein says.
To attract and retain talent, they offer equity to all doctors, nurses, and managers; student loan payoff assistance of up to $5,250 per year; unlimited continuing education; shared experiences like national retreats; and other opportunities for growth.
At VEG, veterinarians sit on the floor with pets, where they're more comfortable. When someone calls, they speak directly with a licensed veterinarian. Scribes follow doctors, taking notes and writing up reports, so that parents get discharge information sooner. And a VEG Cares charity program, funded by donations, pays up to 100 percent of the cost for low-income community members who can't afford their emergency bill.
Occasionally, if the VEG Cares funds are exhausted or an unreasonable customer refuses to pay, other services will be given away for free, too. "When your back is against the wall, and somebody's telling you, 'All you care about is the money, you're not going to help my dying pet who's totally savable just because we don't have the money,' every single one of our doctors is empowered and entitled to give shit away for free—to save themselves," Bessler says.
If so much of veterinary career stress "comes from being tortured by pet owners who are unhappy," he continues, "let's make it less likely for them to be unhappy." The VEG customer experience is different, Bessler posits, because it avoids charging people for dimly understood procedures that happen behind closed doors. Instead, a pet owner is swiftly "taken into the back, and a bunch of people who know a whole lot about my pet are surrounding me to help," he says. "And if I can't [afford my pet's treatment], they'll help me figure something out. They find a way to say yes."
Through it all, Bessler is guided by his love of emergency veterinary medicine—what it is and what it can be. "It's an extremely rewarding career, because you get to be the most helpful at the most important time, and do the most good for the most people in the shortest amount of time," he says. "You're a superhero." —NP