New Sheriff in Town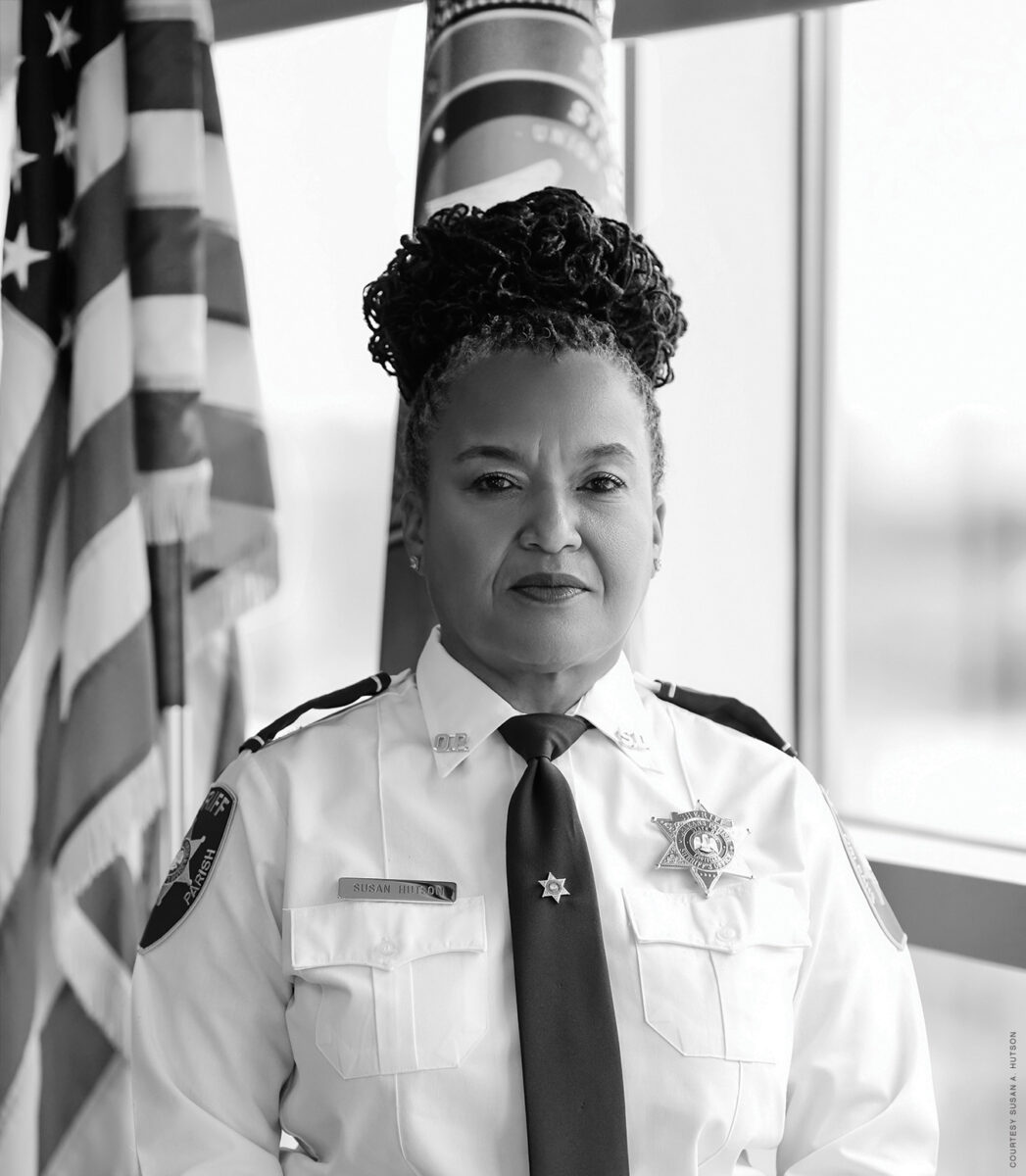 Louisiana's first Black woman sheriff is striving to reform an infamous prison.
---
Since her days at Penn, and over a three-decade career practicing law and monitoring troubled police departments, Susan A. Hutson C'89 has come to see the insidious impact of systemic racism on the criminal justice system—and has made it her mission to seek change.
"I don't know if you're a spiritual person or not, but I feel like I've been led on my journey," the 56-year-old says. "You don't know why you get someplace. There's a Creator moving you there."
Now Hutson's stepping into a new role—one that might be her most challenging yet and require a little help from above. In a December 2021 runoff election in Orleans Parish, the former independent police monitor for New Orleans was elected sheriff, taking 53 percent of the vote in a "stunning victory," as local media described it, over 17-year incumbent Marlin Gusman C'77 W'77. With the win, Hutson has made history: the progressive Democrat, inaugurated last May, is the first African American woman to lead a sheriff's office in Louisiana and the first woman to head the New Orleans office.
But Hutson doesn't linger on that accomplishment. She is too busy, she says, pushing for reform, starting with changing the culture at the notorious Orleans Justice Center (OJC) she oversees. With a population of roughly 1,000 inmates, most awaiting trial, the jail has for the last decade been under a consent decree mandating 174 reforms, primarily for failing to protect inmates from physical and sexual assault and failing to provide adequate medical and mental healthcare. The OJC also has struggled with problems of understaffing, poor sanitization, and excessive use of force by its deputies. "We're trying to turn this upside down," Hutson says via Zoom from her office, "and create real and lasting change."
Hutson campaigned on improving relations with the City of New Orleans, which funds a chunk of the sheriff's $55.7 million budget; recruiting deputies to bolster staffing; reducing the jail population, especially when it comes to the incarceration of Black and brown people for lesser crimes; increasing transparency around jailhouse incidents; and providing mental health services for the more than half of the OJC residents (the term she prefers to inmates) suffering from mental health issues.
Hutson also says she wants those in custody to have easier access to educational programs, to not only occupy them in the short term and potentially reduce violence, but also allow them to leave jail with better prospects than when they arrived. "This is an opportunity," Hutson says of her message to residents. "I can't probably get you where you need to be, here, but at least I can plant that seed, something to kickstart it."
Early progress has been mixed. Hutson didn't get the full budget she wanted, but she did secure a raise for starting deputies in a bid to attract recruits, thanks in part to David Trautenberg C'80 GEd'80 GrEd'16, the new chief financial officer for the Orleans Parish Sheriff's Office. "That was one of the sheriff's campaign promises," Trautenberg says. "That was a win. … She's committed. She has the long view and really is unflappable many times. Her having gone to university in Philadelphia has given her a broader vision of what community is and, coupling that with her legal background and life experiences, she has street cred that she utilizes throughout the day to navigate through these trickier scenarios."
Critics, however, say she isn't moving fast enough on reforms. The judge overseeing the consent decree has asked for more transparency regarding several incidents. One month after Hutson started, two inmates died in one weekend. In another instance, prisoners held a three-day protest.
Will Snowden, Louisiana director for the nonprofit Vera Institute of Justice, which is dedicated to ending mass incarceration, is advising Hutson on policies to reduce the jail population. "I don't want to give her a hall pass unnecessarily," he says. "But she's demonstrated a commitment to learning how to be successful in this particular role and not necessarily relying on traditional approaches of the past."
Hutson says she's trying to master not only the ins and outs of managing the jail but also the politics that come with an elected position. "I'm really about the work," she says. "I want to make it better. But when you're dealing with other people's areas and power, they see loss of control. I'm learning."
It's an approach she's taken since her time at Penn, says Hutson, an economics major who was exposed to social activism at the University. She attended student meetings in the aftermath of the 1985 MOVE bombing and joined protests against South Africa's apartheid system, violence against women, and racism within Greek life.
At her next stop, Tulane University Law School, she learned more about a system that too often failed poor and Black people and blamed female victims of domestic violence, she says. "I still didn't know anything about systemic issues, but it started to open my eyes."
After graduating from Tulane in 1992, she worked as a defense attorney and then in the Corpus Christi, Texas, prosecutor's office, where she investigated the police department. That's when she discovered her passion for oversight.
She went on to become a police monitor in Austin and Los Angeles, where she reviewed 7,000 civilian complaints that first year alone, she says. "I learned so much the three years I was there," she notes, including how to get buy-in from strong Los Angeles Police Department unions. "I learned a little more diplomacy."
Always in the back of her mind, Hutson says, were family run-ins with law enforcement that she had heard about from her parents. In East Texas, she says, she had uncles who were detained and mistreated by police. Well before that, in 1941, her grandfather was shot and killed by a small-town Texas sheriff following an altercation with a white teenager. "There was no justice," she says. "When I started to do the work of oversight, I knew this is where I needed to be."
In 2010, she took on police misconduct in New Orleans as its independent police monitor. "It was a big challenge," she says. "I knew the system was protecting itself." In her 11-year tenure, Hutson says she established an investigation team to look into officer-involved shootings, released bodycam footage, and opened investigations into citizen complaints of retaliation—as well as complaints from within the police department's ranks.
With that same drive to make the machinery of justice more just, Hutson ran for sheriff. "We have to change," she says. "I have four years at least to try to do everything I can."
—Lini S. Kadaba