The Voice of AOC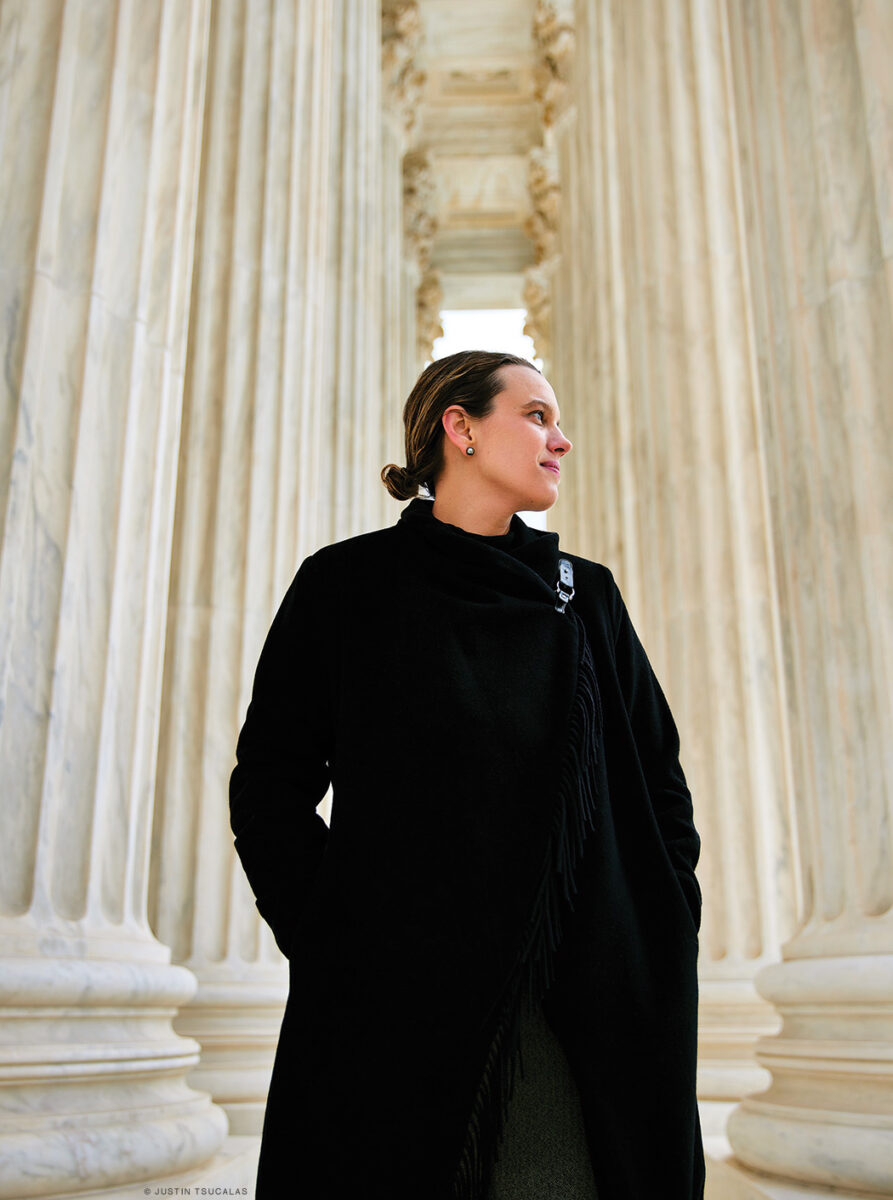 Running communications for "one of the most transformative politicians in the country."
---
Lauren Hitt C'13 has one of the most powerful voices in American politics, but it's not her own.
Hitt is Alexandria Ocasio-Cortez's communications director, meaning she is the primary spokeswoman, speechwriter, and media strategist for the US representative whose charismatic way with words has Washington insiders predicting she could be New York's next senator or maybe even president one day.
Yet AOC's aggressively progressive politics means that as adored as she is on the left, she's abhorred by the right, while moderate Democrats worry her headline-making statements could scare away swing voters.
"It's super challenging," Hitt says. "But I like the challenge."
Ocasio-Cortez has a social media megaphone most politicians can only dream about: 13.4 million followers on Twitter, 8.6 million on Instagram, and 1.8 million on Facebook. Nominally a backbencher with little formal power in the House of Representatives, Ocasio-Cortez often dominates Washington's news cycle.
Hitt's job, she says, is making sure a "totally brilliant communicator" gets heard by the right people—whether that's the powers that be in Washington, progressive activists across the nation, or her constituents in Queens, New York.
"How do we talk to our base? How do we motivate them? Who even is our base? What is the right path forward? How do we talk about that?" Hitt says. "All of these are very big questions that I get to go into work and ideate around. And that's really rewarding."
It's a big job, but Hitt's colleagues say she stays grounded. "You're working with one of the most transformative politicians in the country," says Aya Saed C'13, Ocasio-Cortez's legislative director and Hitt's former classmate at Penn. "And Lauren still is able to do the work and advise members of Congress, with complete humility and thoughtfulness."
Unlike some Type A personalities in Washington—where there are stories of aides who started plotting their path to the White House in middle school, usually right after watching The West Wing for the first time—Hitt didn't know what she wanted to do with her life when she got to Penn, "except that it should have nothing to do with math."
She thought about journalism, but the industry's instability unnerved her—ironic, as she'd soon work on political campaigns "in which you are inherently laid off at the end of the cycle," she says. An advisor suggested taking Kathleen Hall Jamieson's Intro to Political Communications course, which immediately hooked her on the field's mix of creative wordsmithing and data analytics.
Hitt grew up in a quietly conservative household outside Baltimore, where her parents leaned right but never really talked about it. "There was definitely an ethos of: You make your own luck in this world, you pull yourself up by your own bootstraps," she says. So when a TA in Jamieson's class suggested an internship at her old employer—the American Enterprise Institute, a neoconservative thinktank—Hitt went for it. And, in a way, it was a formative experience. "You sit through enough of these guest lectures, who included the likes of Paul Ryan and Newt Gingrich, and you're like, Oh, I'm probably not a Republican," she says.
An internship the next summer in then vice president Joe Biden's communications shop confirmed Hitt's leftward leanings while, back at Penn, she devoured nearly every politics course the Annenberg School for Communication had to offer.
She later worked on President Barack Obama's reelection campaign, and then on Bill de Blasio's successful run for mayor of New York. Hitt returned to Philly in 2015 to run comms for attorney Ken Trujillo's mayoral campaign. The campaign manager, Jane Slusser, said she recruited Hitt hard, calling her "one of the smartest people I know." After Trujillo dropped out, Jim Kenney hired Slusser to run his campaign for Philadelphia mayor and Hitt to do his comms. And when Kenney won a crowded Democratic primary and cruised in the general, Hitt stayed on as the city's director of communications as Philadelphia hosted the 2016 Democratic National Convention and Kenney pushed through a soda tax to pay for a new pre-kindergarten program, the first major city to pass such a levy.
"One of the interesting things about her is that she came from a campaign to administration, which is a sometimes difficult transition, from being in war mode to then transitioning into government," says Kenney. Sometimes, she remained in war mode when dealing with reporters. "She has this ability to rip you up with a sword," the Philadelphia mayor adds. "When I say these things to her, she's like, 'Oh, stop.' I don't think she revels in that reputation, but it's very effective."
Hitt left the mayor's office to head back to the campaign trail in 2018, saying she felt compelled to work on elections again after Donald Trump W'68 won the White House. But Hitt found herself in the leadup to the 2020 elections working for moderate Democrats she liked personally but didn't fully align with ideologically. She felt a shift occur after a white nationalist, anti-immigrant gunman killed 23 people at a Walmart in El Paso, Texas, in August 2019. "I had seen the cost up close of taking a more moderate approach to gun reform, to fighting back on racism, immigration—all of those forces had collided at once to cost the lives of children and parents," she says. "When that happened, I distinctly remember some politicians in the aftermath of that saying, 'Well, we have to be careful how we respond to this as a party, because we don't want to write an ad for the NRA. And I just was like, 'I can't get my head there, how that is your reaction to this?' And I hope I never understand."
Tired of compromising on her principles, Hitt leapt at the opportunity when the job in AOC's office opened up. "I said to her, 'If you don't hire me, I really don't know what else I'm going to do,'" Hitt says.
Hitt quickly developed a reputation among Capitol Hill's newly emboldened progressive community. When Rep. Cori Bush led a sit-in protest on the Capitol steps, it was Hitt who helped the group communicate the message, says Saed, who worked for the Missouri Democrat at the time. "I think that was one of the moments that really solidified her not just as a leader within the office, but frankly a leader within the entire movement," Saed says.
Three years in, Hitt's stretch on Capitol Hill is the longest of her career. She has no plans on leaving anytime soon, she says. But when, or if, she does, her friends expect she'll go far.
"I will 100 percent not be surprised when Lauren Hitt ends up as a press secretary for the president," Slusser says. "Like, I really look forward to seeing her behind that podium one day."
—Jim Saksa C'08