Quakers in Tokyo
---
Across several sports and countries, these Penn alums and students carried the Olympic torch.
---
Fresh out of college, Sam Mattis W'16 set his sights on the 2016 Summer Olympics in Rio de Janeiro, Brazil.
"It will be tough," he told the Gazette after winning the 2015 NCAA championship in the discus throw. "It will definitely take a ton of work and maybe a little bit of luck. … But I think with a plan and enough hard work and dedication, I can get there."
He didn't get there then—and neither did anyone else from Penn, ending a streak of 25 straight Olympics in which the University had been represented ["Penn in the Olympics," Jul|Aug 2012]. But that didn't stop his Olympic flame from burning. And five years later, it was a much different story.
At this summer's Tokyo Games, pushed back a year because of the COVID-19 pandemic, Mattis led the largest collection of current and former Quakers at an Olympics in more than 30 years.
The discus thrower was joined on Team USA by Regina Salmons C'18, who rowed on the women's eight boat which came in fourth place, just off the medal stand. "Had I gone to any other school, I don't know if I would have made it," Salmons told the Daily Pennsylvanian after she was named to the team. Another former Penn rower, Dara Alizadeh C'15, represented Bermuda in the men's single sculls and was the flagbearer for the tiny island at the Opening Ceremonies.
Other Penn Olympians included Shaul Gordon C'16, a fencer representing Canada who fell in the Round of 32 of the men's individual sabre competition; Connie Hsu C'14, a tennis player representing Chinese Taipei who lost to the eventual gold medalists in the opening round of the women's doubles bracket; and Jasmine Chen C'11, also representing Chinese Taipei, in individual equestrian jumping.
Current students who traveled to Tokyo were freshman Katina Proestakis, a fencer representing Chile who lost her opening match in the women's foil tournament; sophomore Blake Broszus, who fenced for the Canadian men's foil team; and Keanan Dols, who swam for Jamaica.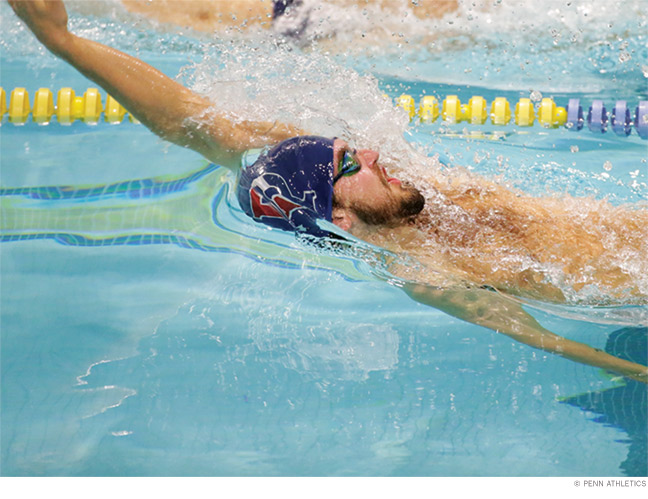 Dols swam two seasons at Penn from 2017 to 2019, qualifying for the Ivy League Championships in three events both years, before taking a gap year in 2019–20 to position himself for the Olympics. The pandemic complicated his plans and led to an extended leave of absence—but made his trip this summer to Tokyo even sweeter.
"It's been a dream come true," Dols told the Gazette from the Tokyo Aquatics Centre, after competing in the men's 200-meter butterfly. Dols made history as the first Penn swimmer to compete in the Olympics since 1972, when American Ellie Daniel CW'74 won bronze in the women's 200 butterfly. The last Penn aquatics Olympian was diver—and current Penn diving coach—Rob Cragg C'75 in 1976.
Dols, who moved from Jamaica to Sarasota, Florida, when he was three, prepped for the Olympics by joining the elite postgrad training group at the University of Florida that includes American star Caeleb Dressel, who won five gold medals in Tokyo, and 12-time Olympic medalist Ryan Lochte. "I got my ass kicked every day by Caeleb and Ryan and all of them," Dols said. "They've had such an impact on me the last two years, and it's been a pleasure. … It's a super fun training environment."
The training proved vital to get him to Tokyo. As a nation that lacked an automatic qualifying time, Jamaica was allotted one men's spot to the Olympics. Dols earned his place in April by lowering his national record in the men's 200-meter individual medley to 2:02.15. (He also holds the Jamaican record in the men's 200-meter backstroke.)
Dols turned in a strong swim in the men's 200 fly in Tokyo, coming within 0.22 seconds of his best time at 2:02.25 to finish 34th. He was more than two seconds slower than his IM record in finishing 43rd in 2:04.29.
He also got to walk in Jamaica's colors at the Opening Ceremonies, which though pared down because of COVID, was still "an incredible experience," he said. "I tried to soak it all in and just enjoy the moment."
The upside of the five-year wait for Tokyo is the condensed cycle before the 2024 Olympics in Paris, which Dols can bridge with two years of college eligibility remaining. "It's just been awesome to get to experience all this," he said. "Being a part of Team Jamaica is incredible."
Mattis, too, looks like he wants to return to the Olympics, writing on his Instagram page that it's time to "set our sights on Paris." In Tokyo, he was the only American to advance to the discus final, finishing eighth overall after two season-best throws. "Sheesh. 8th place at the Olympics," he wrote on Instagram. "Obviously wish I could have thrown farther, but it's been a crazy year—for track, for training, and for everyone, and I'm glad I could manage a season's best when it mattered." (For more on his Olympic journey and future plans, see "Mattis's Mettle.").
Mattis made headlines after passing up a lucrative offer from JPMorgan Chase to spend the last few years training in Fleetwood, Pennsylvania, while working odd jobs and relying on online gambling to make ends meet. "You only get a chance like this once," Mattis told the Philadelphia Inquirer before leaving for Tokyo. "There was just no way I was going to work for a bank instead of trying to make the Olympics. That seemed crazy to me."
The first Penn alum to compete for the US Olympic track and field team since Fred Samara W'73 in the 1976 decathlon, Mattis also made headlines by raising his fist in the air with the camera on him before the discus final, telling the Washington Post, "I'm hoping that sparks a conversation" about issues of social justice on which he has been vocal. Mattis, who is Black, later explained on Instagram that he marked his arm with an X inside a circle, with the X representing "the intersection of the injustices all oppressed people face."
"The stated values of the Olympics are to place sport at the service of humankind and build a better world through sport," he wrote. "That is exactly what we are trying to do."
—Matthew De George and Dave Zeitlin C'03