Big Man at the Big Ten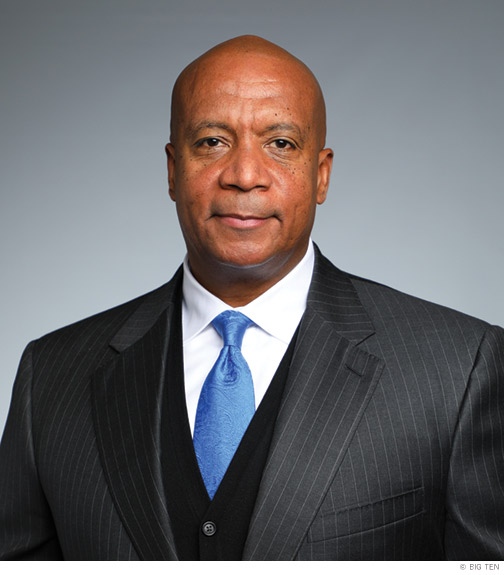 The first Black commissioner of a major college conference has had to navigate turbulence at the helm.
---
In his old office at Minnesota Vikings headquarters, Kevin Warren W'85 hung reminders of people who cleared the path for him. In more than a decade with the NFL franchise, including the last four years as its chief operating officer, Warren decorated the walls with photos of trailblazers in sports and American life: Martin Luther King Jr., Jackie Robinson, and the 1966 Texas Western men's basketball team—the first with an all-Black starting lineup to win a national title.
Upon his move to Chicago to take over as commissioner of the Big Ten, becoming the first Black man to run a Power Five conference, he added a set of portraits of the five men, dating to 1922, who had previously run college athletics' most prestigious league. They provide a constant reminder of both the history Warren is the steward of and the history his presence in that office is making.
"I recognize that these are five white men and I'm a Black man here," Warren says. "And so I need to do everything I possibly can to continually elevate the conference, to represent the conference with class and grace and style, to work hard and continually build bridges between various communities and provide opportunities for individuals who have been marginalized."
Warren's ascent to the helm of the Big Ten joins two threads of his professional life. He comes from a family of pioneers, particularly in the business of sports. And he is guided by values he first learned as a student-athlete for two seasons at Penn in the early 1980s—from emphasizing hard work to accepting people from diverse backgrounds to focusing on athlete well-being.
Warren has needed that fortitude to navigate a unique first year-and-a-half on the job. He took office in January 2020, mere weeks before COVID-19 ground the world to a halt. The cancellation of the Big Ten basketball tournament on March 12 was one of the first American sports dominoes to fall, and the cancellation of the spring season followed soon after.
During the tumultuous summer of 2020, Warren was equal parts commissioner and conciliator, impaneling groups to help meet student-athletes' changing needs. That included creating a Big Ten Mental Health and Wellness Cabinet in May and the Big Ten Conference Anti-Hate and Anti-Racism Coalition in June after the death of George Floyd. (That event hit particularly close to home for Warren, who lived in the Twin Cities for 15 years and operates the Warren Family Foundation there.) In the fall, he launched a voter registration initiative for Big Ten student-athletes.
The Big Ten was also thrust into the election-year spotlight when it became the first major conference to cancel its fall season on August 11. Though Warren based the decision on an "overwhelming" vote of league presidents and chancellors, it drew the ire of many football fans, parents, and politicians, eventually leading to a call between Warren and President Donald Trump W'68, who exhorted the Big Ten to change course.
Ultimately, Warren took in new sources of information, established a Return to Competition Task Force, and the Big Ten returned to the gridiron in late October—later than most leagues but with still enough time for Ohio State to qualify for the four-team College Football Playoff.
That ability to adapt is a trait Fran McCaffery W'82, Warren's friend and former teammate, has recognized in him since college. Warren was a reserve guard as a freshman on Penn's 1981–82 Ivy League men's basketball championship team, but he saw his playing time dry up under new head coach Craig Littlepage W'73 the following season. He transferred to Arizona State—where the coach who originally recruited him to Penn, Bob Weinhauer, had gone—and then to Grand Canyon University, where he became a 1,000-point scorer and an NAIA All-American. But Warren still has fond memories of Penn, which he says "exposed him to a new world" when he arrived on campus as a 17-year-old from Tempe, Arizona.
"I was forced to grow up very quickly," he says. "But I had not only incredible teammates but incredible friends, some of whom I've stayed in touch with. … And that set the cornerstone for my academic and athletic career."
McCaffery, the senior point guard and leader on the 1981–82 squad, is now the head coach at the University of Iowa ["Alumni Profiles," Jan|Feb 2011], one of four Big Ten men's basketball teams to finish in the top eight of the final Associated Press poll of the 2020–21 season. He reconnected with Warren in the late 1980s at Notre Dame, where McCaffery was an assistant coach and Warren studied law. When Warren was floated for the commissioner's job, McCaffery had no doubt his former teammate was the right man. The way Warren has navigated the last year by finding consensus among radically opposed stakeholders has only reinforced that belief.
"He's somebody that I just thought had the special qualities that would inevitably make him incredibly successful," McCaffery says. "So when he carved his path into the NFL, I wasn't surprised at all. And when the Big Ten hired him, I wasn't surprised at all. I was thrilled for our league, for all of our members."
Warren has also grown close to Littlepage—who served 16 years as the athletic director at the University of Virginia until 2017—even though he didn't play much for him in college. "He has always offered words of wisdom," Warren says. "I spoke with him on occasion to seek advice, and he's incredibly bright and insightful and wise. He guided me with great wisdom during the pandemic and I'm incredibly grateful."
Warren long ago proved his managerial prowess. After practicing sports law, he won a Super Bowl ring as a vice president for the St. Louis Rams. He was hired by the Detroit Lions as a vice president, then moved to the Vikings in 2005. He helped the team build a new stadium and host a Super Bowl, and he won a slew of awards for his emphasis on diversity and community.
Warren comes from a family of trailblazers. Kevin's father, Morrison Warren Sr., played football at Arizona State in the 1940s and briefly in the NFL before becoming chairman of the 1982 Fiesta Bowl, the first Black man to hold such a position. Warren's older brother, Morrison Jr., was the first Black football player recruited to Stanford in the 1960s. Kevin's children, Peri (volleyball at Occidental) and Powers (football at Mississippi State and now Michigan State), are NCAA athletes.
He was raised in a "melting pot" family with Native American and Mexican grandparents. His father, a soldier who liberated concentration camps in World War II, emphasized generosity, duty, and faith, envisioning college sports as a vehicle for success. Warren's mission is to replicate for Big Ten student-athletes the opportunities he's had.
"It's been a pleasure to serve them and work side by side with them and to make sure I listen to what's important to them," Warren says. "We seek to build an environment here at the Big Ten to make sure we do everything to empower them."
—Matthew De George