The "Big Greek"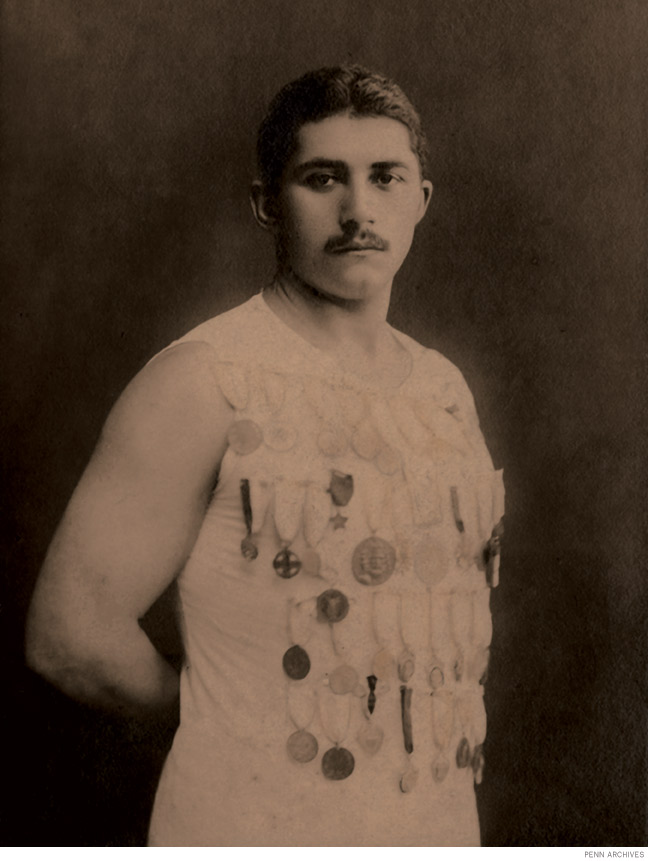 ---
Beginning in 1900 in Paris and continuing through this summer in Tokyo, Penn has had strong representation at the Summer Olympics.
Few if any of the University's Olympians, however, have been as colorful of a character—or as strong—as Michail "Mike" Dorizas G1915 Gr1924.
Born in 1890 in Turkey to Greek parents, Dorizas represented Greece at the Olympics in 1908, winning a silver medal in the javelin, and again in 1912. The next year, he decided to matriculate at Penn, where he studied philosophy and continued to compete in track and field as well as football and wrestling.
A member of the Penn Athletics Hall of Fame's second class, Dorizas was described by Penn Athletics as a competitor of "mythical proportion." The writeup of the man known as the "Big Greek" continues: "One newspaper ran a story saying that 'his thigh is 29 inches, equal to the girth of an average freshman.' … Another story tells of a grudge match between a Penn State wrestler and Dorizas, which filled Weightman Gym with spectators, where Dorizas took three minutes, 50 seconds to pin his opponent—the longest bout of his career." Most of his bouts were far shorter as he dusted off his competitors to win three straight US intercollegiate heavyweight wrestling championships, never losing a single match. He also broke the collegiate javelin record with a throw of 169 feet, 6 1/4 inches to become a track and field All-American while playing guard for the Quakers' football team.
According to Penn Archives, "for a long time Dorizas was known as possibly the strongest man to ever attend Penn and actually broke a strength-testing machine during a physical examination when he first enrolled to earn his master's degree."
Dorizas remained at Penn to earn his doctorate and teach geography at the University—a subject well suited to the native of Turkey who served in the US Army in France during World War I and later made three trips around the world.
A popular professor until his death in 1957, Dorizas not only showcased photos of his exploits across Europe but also his feats of strength. According to a Gazette writeup in 1943, Dorizas told his students that while traveling in the Gobi Desert, he was attacked by a band of Mongolian bandits before winning them over by lifting one up with one hand. "On hearing this the students gave Mike an ovation that rocked the foundations of Logan Hall," the Gazette reported. But that wasn't all. When asked for an encore performance, Dorizas selected "an innocent victim" from the crowd and lifted him up with one hand, "over eight feet in the air." —DZ