Back on His Throne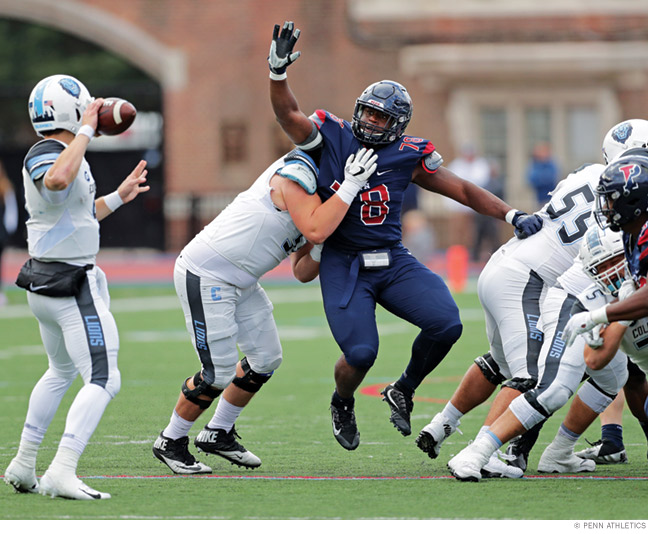 ---
The only remaining member of his Penn football class, Prince Emili is ready for a long-delayed swan song.
---
When the Ivy League canceled fall sports in July 2020, student-athletes throughout the conference had a decision to make.
Some decided to transfer to another school. Others chose to remain on their graduation path rather than trying to extend their athletic career.
For Prince Emili, a standout defensive lineman for the Penn football team, the choice was easy. He'd do what was necessary to make sure he'd finish his college football career exactly where he started it. "I really like the staff and I didn't really want to switch anything up," Emili says. "I decided to stick it out and finish everything up here."
Emili, who first got to Penn in 2016, was eligible to return for a fifth year in 2020 when the pandemic delayed his plans. He considered graduating last December and then trying to make it in the NFL, but instead took a two-semester leave of absence from Penn, going to his home in New City, New York to work out in his garage or nearby fields, "trying to stay ready and stay sane," he says.
"My goal is to go to the next level and I've seen people do that from the Ivy League," notes Emili, adding that he didn't feel the need to put his name into the transfer portal, where he undoubtedly would have drawn interest from NCAA programs that did have a football season last year. "I didn't really want to muddy the picture," he says. "I just wanted to lock in on my own plan."
Emili, who only has one half-credit class left to finish his degree in healthcare management, is now one of the few veteran leaders on a Quakers' football team that looks a lot different from the last time he stepped on the field. Even head coach Ray Priore has a hard time gauging the 2021 Quakers, who open their season against Bucknell on September 18. Their first home contest is slated for October 1 versus Dartmouth—more than 22 months since their last game at Franklin Field. Because the 2020 season was wiped out, no current freshmen and sophomores have ever taken a real snap and most juniors haven't played much either. "There's not a lot of experience," Priore says. "But everyone's in the same boat in our league."
Although Emili is the only remaining member of the class that came to Penn in 2016—"It's lonely," he laughs—there's a handful of fifth-year returners who first arrived in 2017, led by linebacker Brian O'Neill and running back Isaiah Malcome, who Emili believes is primed for a big season. But other members of that class opted to move on from Penn. Ryan Glover, who was poised to be Penn's starting quarterback had there been a season last fall ["Sports," Sep|Oct 2020], decided to graduate early and transfer, leaving Penn without a QB that's ever taken a varsity snap. "Teams that have quarterbacks coming back would obviously have a little leg up," the coach says.
Finding a new player to run the offense might seem like a quaint problem for Priore, who notes that this past fall was the "first time in 50 years" he didn't do anything with football. But he still had a lot to do, from recruiting a whole class without being able to see them in person—"We were one big infomercial," he says—to managing a few COVID infections on the roster early in the spring semester when the vast majority of players returned to campus. ("No one got anything serious," he says.) The highlight of last semester, undoubtedly, was the 12 days of spring ball, which culminated with an intrasquad spring game that was broadcast live on YouTube. "That was different and interesting," Priore says. "But I think we learned a lot about ourselves." The graduating seniors who opted not to return for the 2021 season were honored before the game by "running through the tunnel one last time," Priore says.
Aside from learning more about his team heading into the 2021 season, the Penn coach sensed a stronger-than-usual feeling of enjoyment from the players who were able to get into pads and tackle for the first time in roughly 500 days. "The kids had fun at practice," Priore says. "Not a lot of people have fun at practice."
Emili, who missed out on those spring practices while on his leave of absence, is planning to have fun playing college football at Franklin Field one last season. He'll also be striving for the program's first Ivy championship since 2016—his freshman campaign, which he missed with injury—while building his own resume for NFL scouts and helping out his younger teammates.
It's a different kind of role for Emili, who didn't start playing football until he was a sophomore in high school because his parents—Nigerian immigrants—were afraid of the sport's violent collisions. His parents have since mostly come around on Emili's football dreams and were supportive of his plans to take a leave of absence before he graduates from Penn this December. (If the NFL doesn't work out, he might go to medical school and follow his mom, a nurse, and his dad, an internist, into medicine.)
"I'm just kind of embracing my role, trying to lead people, trying to show people the way," says Emili, a first team All-Ivy player in 2019. "I feel strong. I feel fast. I still know the plays, so that's good.
"I still really like the guys that I know. It'll be interesting to see how it all comes together on the field." —DZ