His Olympic Torch Still Burns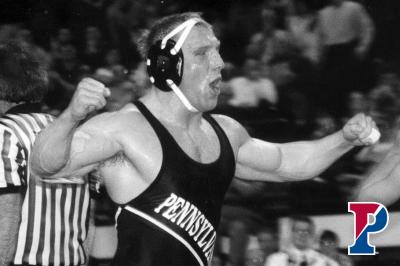 When it comes to sending students, alumni, faculty members or coaches to the Olympics, few universities can match Penn's history — a history we chronicled leading up to the London Games four years ago and culminated with rower Susan Francia C'04 W'04 winning her second gold medal.
As you watch the 2016 Olympics, you might notice that Penn doesn't have the same kind of presence as usual, as no athletes from the University are competing. (Meanwhile,all other Ivy League schools sent several competitors.)
But the Quakers will have at least one representative in Rio: Brandon Slay W'98.
Remarkably, Slay is participating in the Olympics for the third time in his life. He won a wrestling gold medal in 2000 before becoming an assistant coach for USA Wrestling, a role that took him to the 2012 Olympics in London and now the 2016 Games.
"I feel very honored to represent the University of Pennsylvania at the Olympic Games," Slay told the Gazette shortly before departing for Rio. "I feel like college wrestling started at the University of Pennsylvania over 116 years ago. And it's an honor to keep that tradition going as a Penn grad."
The Olympic wrestling schedule begins Sunday with Team USA star Jordan Burroughs headlining the group and going for his second straight gold.
Winning Olympic gold in freestyle wrestling is a bond that Slay and Burroughs share, but Slay said he doesn't often discuss his 2000 championship (he actually lost to Germany's Alexander Leipold in the finals of the 167 ½ point weight class but later earned gold when Leipold failed a drug test) with his current pupils. And when he does, he tries to frame it into a different context, telling them how winning gold was a thrilling accomplishment but it "ultimately did not fulfill me," and that putting everything in your life on one singular goal, while forgetting your other values, can be counter-productive.
"If you get too focused on winning, winning, winning, gold medal, gold medal, then I think you miss the whole point," he said, echoing an idea he richly conveyed in an article he wrote for The Players' Tribune this week. "You start fearing failure and then you get tight and then you don't wrestle to your full potential."
Instilling those lessons in Team USA's current crop of wrestlers is part of what has made Slay such a successful coach. He admits he still gets the same kind of butterflies he got as a competitor, but his job now is to tell his athletes to "make sure your butterflies are flying in formation." And that means reminding them to stick to their plan, even amidst all the hype and hoopla of the Olympics.
Just like he did 16 years ago.
"I think as a competitor, you definitely feel like things are more in your control," Slay said. "It's a little tricker as a coach because I'm not the one out there wrestling. You give them the tools, the guidance from your experience, and then it's ultimately up to them. You have to trust you prepared them to shine."
Slay will take his coaching acumen to his next job as he recently returned to Philly to run the Pennsylvania Regional Training Center. He'll officially leave Team USA in September to begin at the PRTC, hoping to take more wrestlers to the Olympics in his new role.
Before then, though, he's excited to show the world what the Americans can do in Rio.
"I feel like Team USA is prepared to prove itself to be one of the best teams in the world in wrestling," he said.
— Dave Zeitlin C'03