Gold, Again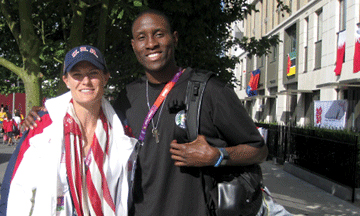 Susan Francia C'04 G'04 had two main objectives at the 2012 Summer Olympics: to win her second gold medal and not look like a mess after doing so. 

She only accomplished one of them.

Fresh off leading the women's eight boat to a repeat Olympic championship on August 2, the Penn graduate focused all of her attention on not crying in front of the cameras. In the end, that proved more difficult than becoming the first Penn alum in 80 years to capture two Olympic golds.

"After the first one, I remember looking back at pictures and I had been crying because I was so overwhelmed," Francia said by phone from the Olympic Village, just a few days after winning her medal. "So this time, I thought to myself, 'OK, if I win a medal, I will not make that awful face.' And I was doing great, smiling, was really happy—and as soon as they put that medal around my neck, I just burst into tears and made the most awful, crying face I've ever seen.

"I guess that's the power of all of those years and moments that went into it."

It was evident from the start just how hard Francia and the rest of her teammates worked on their strength and technique. In the finals, the Americans were never threatened, leading from start to finish in the 2,000-meter race to hold off rival Canada and the Netherlands and cross the finish line first with a time of 6 minutes, 10.59 seconds. With that thrilling victory, the US women's eight boat has won every major race since 2006, prompting Francia to proclaim to reporters on the scene, "This is an American dynasty, baby!"

"The race was awesome," said Francia, adding she was pleasantly surprised how early her boat pulled ahead. "We executed our race plan perfectly. It was great because we jumped ahead at the start and there was no looking back. We just kept moving. And to hear the crowd, oh my gosh, it was like a deafening roar. It was amazing."

The excitement didn't cool too much for Francia in the days following her gold medal-winning race. She did interviews with NBC, CNN, and other major media outlets. She cheered on Team USA in beach volleyball, track and field, and water polo. She hung out with swimming sensation Michael Phelps and joked around with NBA superstar Kobe Bryant, who remembered Francia from the 2008 Olympics and even asked her questions about her sport. 

"We're all there for the same goal and that's to win the gold medal," Francia said. "It's cool to have that little bit of respect from NBA guys."

Around the same time she chatted with Kobe, Francia met another, less acclaimed basketball player. Well, maybe less acclaimed to some people; for Francia, fellow Penn Olympian and former Penn basketball standout Koko Archibong C'03 was a big deal back when she used to watch him light up the Palestra on many winter weekends. 

Archibong, who played for Team Nigeria, became the first Penn alum to make the Olympics for basketball and, along with Francia, kept the University's streak alive of sending an athlete to every summer games the US has participated in since 1900 ["Penn in the Olympics," July|Aug]. 

Archibong, who is of Nigerian descent, played in all five Olympic games for Nigeria, which finished in fifth place in their six-team group and did not advance to the quarterfinal round. 

Francia, meanwhile, had much higher goals and expectations—and she certainly delivered. According to an online exhibition compiled by the University Archives and Records Center, the last Penn alumnus to win two Olympic gold medals was sprinter William Arthur Carr C'33 at the 1932 Games. And nobody from Penn had ever before struck gold at two separate Olympics.

Because of all of the excitement, camaraderie, and support, Francia admits the Olympics are "really fun and very addictive." But does that mean she'll go for a third gold medal at the 2016 Olympics in Rio de Janeiro? The 29-year-old hasn't made that decision yet and probably won't for a while.

"Right now," she said, "I'm just enjoying the moment."
—Dave Zeitlin C'03