On the Dreaded Day, an Elusive Burd Visits the Electricity Room
The time: April 28, 1765. The place: somewhere in or near the College of Philadelphia. A young student named Edward Burd is writing an overdue
letter to his sister Sarah …
---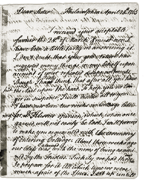 I have now been two weeks in College laboring for Dr. Alison's opinion, which when once granted, will not easily be lost. I will proceed to make you acquainted with the ceremony of entering College. About three weeks ago, our Class was alarmed with the News of being examined by the Trustees. Luckily, we had three days to prepare for it. All which time we were much afraid of the Issue. I sat up until eleven o'clock & rose before five studying very hard. At length, the much dreaded day arrived. We are conducted into the Electricity room; where the Rev'd Mr. Duchee, Mr. Stedman, Dr. Alison, & Mr. Beveridge were assembled.
You may inform Grandpa that we were first desired to translate a piece out of English into Latin, then we were examined in Horace & lastly in Homer. The public Examination of the Senior Class was next day; when we were again desired to attend at the Electricity Room. Mr. Stedman spoke as follows viz: "On account of your Yesterday's extraordinary performance Ye are admitted into College."
---
Neddie Burd, just 14 when he wrote that letter, cut an elusive figure at the College of Philadelphia, the Colonial-era avatar of the University. As the letter indicates, he appears to have taken—and passed—an entrance examination, whereupon he spent at least two weeks in the College. Yet he apparently never matriculated.
"I guess they had problems with the 'yield' even back then," says Mark Lloyd, director of the University Archives and Records Center, after an extensive search of tuition payments made between 1755 and 1775 failed to turn up any references to Burd. "No person with the surname of Burd appears as having enrolled as a student at Penn, much less graduated."
Burd, a major during the Revolutionary War who was captured by the British in the Battle of Long Island, did serve as a trustee of the University from 1790 until 1831, two years before his death.
Burd came to our attention two years ago courtesy of Jonas Raab C'02, then a work-study student at the Gazette. The letter was purchased at auction by his father, Steven Raab C'71 of Havertown, Pa., who recently closed down his legal-franchising business in order to devote himself full-time to his historical-document business, Steven S. Raab Autographs. (The letter was also reprinted in Selections from Letters Written by Edward Burd, 1763-1828, which was published in 1899 by one of Burd's descendants.)
"We are always looking for interesting historical manuscripts; I comb the world for them, actually," the elder Raab relates. "I found the Burd letter at auction a few years ago, and was attracted to it because I was a Penn alum and had two sons attending Penn at that time. It was the earliest student letter I had ever seen offered for sale relating to any college, not just Penn. I thought its content, describing the exams to get into Penn then, was amazing. I thought it might possibly be the earliest known Penn student letter in private hands, and if not, certainly the earliest available now."
The scholars mentioned by young Neddie Burd are Dr. Francis Alison, vice-provost of the College and "the greatest classical Scholar in America, especially in Greek," according to one contemporary assessment; Rev. Jacob Duché C1757, professor of oratory and a trustee; John Beveridge, professor of languages; and Alexander Stedman, a "sound lawyer and profound mathematician."
As for the Electricity Room—the name almost seems too good to be true, given the interests of Penn's founder—Lloyd says that he had never heard of it before. But, he adds, he has seen references to an Apparatus Room in the original College building at Fourth and Arch Streets, and since it probably contained various electricity-related instruments, it may well have been called the Electricity Room by some.