An Apple a Day Keeps the Writers Block Away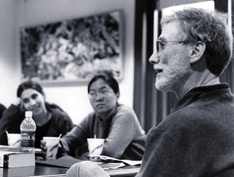 Max Apple is the author of six books, including The Oranging of America and Other Stories (1976), I Love Gootie: My Grandmother's Story (1998) and Roommates: My Grandfather's Story (1994), as well as the screenplay for the 1995 film Roommates. He also taught creative writing at Rice University for 29 years. Then, just a year after retiring, he went back to work—this time at Penn. Since last fall, Apple has been teaching fiction and nonfiction creative-writing courses at the Kelly Writers House, and he intends to continue as long as he's "having fun and the students don't complain."
Last spring, as he was finishing up his first academic year at the University, Liz Rahaim C'02 —then a senior majoring in English with a creative prose concentration who was working as a development intern and planning-committee member at Writers House—talked with Apple about his career, his writing, and his new place at Penn.
---
How did your interest in writing come about?
My grandmother was a great storyteller, so I grew up hearing the real thing—stuff in action. I knew that a good story was the best thing in the world. I grew up in a poor neighborhood in the Midwest, and the idea of being a writer, or of being anything other than a factory worker, didn't occur to most people, nor did it occur to me. I didn't know what a writer was. Then I just fell in love with stories, and novels when I was in college.
I still didn't know what it was to be a writer, and I still don't.
I just daydream and I write it down. In a few years, if I'm lucky, a book comes out, a few other people read it, and then I go back to my room and write another one.
When you were in college [the University of Michigan], did you ever think that you would be a writer, or did you not think in those strict terms?
I didn't think in those terms. And yet, deep down, I knew that I was going to be a writer. I don't think I ever articulated that to anyone. I just knew I loved stories, and I wanted to be close to that.
After I graduated I entered a writing program at Stanford. My father died when I was there, so I dropped out of school and came home to Michigan. I worked for a while, and then I went back to graduate school at the University of Michigan, and I took my grandpa with me. That's how Roommates started. I was there during all the anti-war years living with a 95-year-old man. There were some very active graduate students; it was a very exciting time to be a student. 
How did you come to write the screenplay for the film, Roommates? Did you write the book first?
It's quite an interesting phenomenon; the screenplay was written before the book. I wrote an essay that was published in The New York Times magazine, and a number of producers made offers for it, which is strikingly funny, because two months earlier I had finished a novel that I had spent nine years on, and it got almost no interest. So I worked on the screenplay for a while, among other things. I was living in New York, and I had written screenplays a number of times just to earn money. You never think that what you're writing is actually going to be made into a movie. When I realized the film really was going to be made, I thought it would be a good idea for me to write the real story. You see, the producer who bought the rights to this story about my grandpa didn't really want our story. He wanted a story about a grandfather and a grandson. So I wrote the screenplay, and I think it came out to be a pretty good movie, even though it's not the book. Then I wrote the book, which came out before the movie. They had very separate lives.
Roommates and I Love Gootie, your book about your grandmother, are memoir-esque works. Where do you go from there—are you planning on writing an autobiographical work?
Well, I've pretty much exhausted my grandparents. I am now in the midst of a novel.
Do you want to talk about it at all?
I'm still busy dreaming it, so I can't talk about it. Once you say it, it makes it seem like this is really it, when everything can change all the time. A lot of the material is always plastic in a writer's imagination. You meet this wonderful stuff while it's still alive. But then again, the nice thing about publishing is that then you can't change it anymore.
How do you go about teaching fiction and nonfiction writing—do you come up with exercises for your students to do?
I occasionally give them exercises. I'll make them write without using adverbs and adjectives, and they get very angry with me. But the real thing is to get them relaxed. It's much easier to teach nonfiction, because fiction-writing—when it works—for certain students is like breathing; it's a life. They are able to create imaginative worlds and enter them.Others struggle—although it's something that can be learned, by learning to relax and daydream.
Do you prefer teaching one genre over the other, fiction or nonfiction? What's important in teaching each?
Both are wonderful to teach. When I teach, I think it's important to be a friend, an ally to the students. So the best way that I can be their friend is to help them clean up their style, get rid of what they don't need, and show them, in as kindly a way as possible, a straight path through all this confusion that is in our lives and in our narratives. And once they get it, they often get it very well. Getting it is a hard thing, and getting it in an academic context in a semester, when students are being judged all the time, is really difficult. I judge harshly often, and I don't mince my criticism. I don't think I'm helping anyone by saying "Oh, this is wonderful." At its best, being a writer or trying to be a writer is a difficult thing, and at its best it requires an honest reader. I want to be that honest reader.
Do you encourage your students to read your work at all?
No, I never have encouraged students to read my work. They don't have to read my work; they don't have to like my work. The best is if they read my work and criticize it!
Does teaching in a nontraditional setting like the Writers House help you create that more relaxed, comfortable atmosphere?
Yes, I think that being able to come downstairs and have coffee in the kitchen with my students during a break from class helps people relax even while they're being judged. You can't write imaginatively in any way unless you can relax and put your guard down. So you do it in an atmosphere where if you're being judged it feels like you're at home, like you're in a living room or a bedroom.
I'm pleased just walking into the Writers House. I love making coffee for the class. I don't know if they know how much I like being there. I hope I'll be able to teach at the Writers House all the time that I'm at Penn. It's the one place on campus where I can really feel at home. It's my house, too.