More Quaker Magic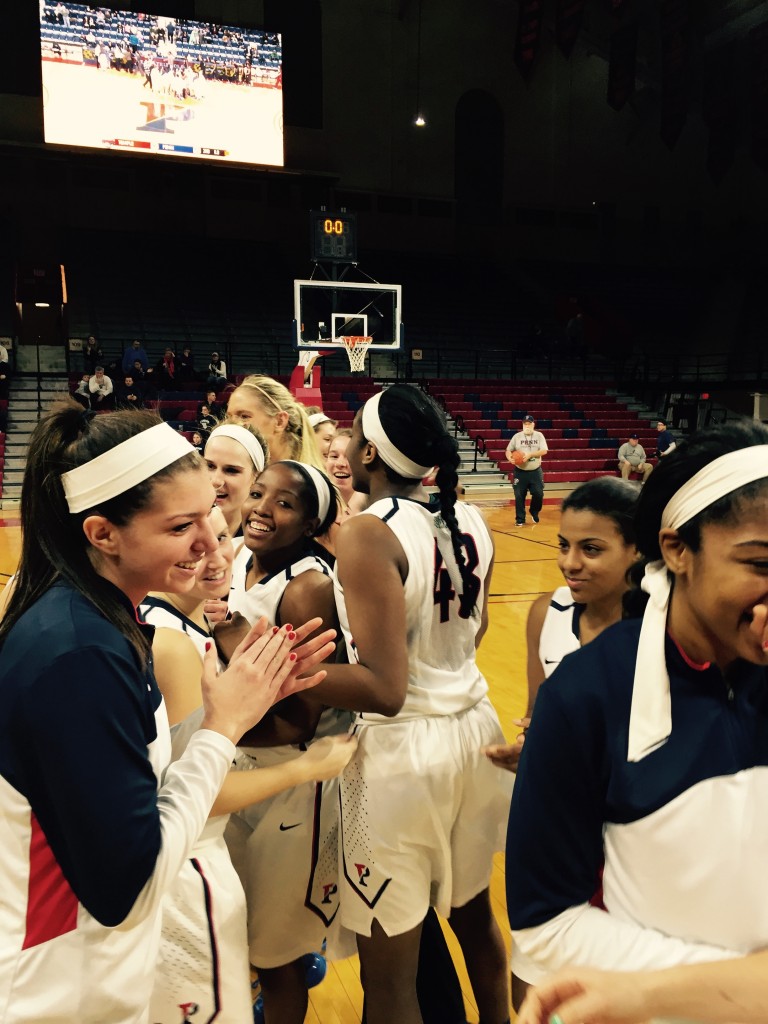 Remember back in March when the Penn women's basketball team stunned a seemingly unbeatable Princeton team to win its first Ivy League championship in 10 years? Well, the Quakers are back to their old tricks. In yet another historic moment for the upstart program, Penn defeated Temple on Monday to capture at least a share of its first-ever Big 5 championship.
Two days after the huge win, and three days before the Quakers return to Princeton for the first time since stunning the Tigers on their home floor last March, I caught up with head coach Mike McLaughlin to discuss the continued rise of Penn women's basketball:
What kind of feedback has there been from alumni and other people associated with the program since Monday?
There's been a lot of outreach from alums and friends and ex-players. That's pretty exciting. The players are just excited for what they've accomplished to this point. They believed they could do something and they put their mind to it and they did it. As a coach, I'm super proud of that. It was very satisfying for everyone involved.
What was the moment like when Renee Busch hit the game-winning three-pointer? Did you know at that point you'd make some history that night?
It was interesting because we went up by three and then they came back and hit a three. And she just got some separation. We were able to get the ball inside and it got back out to her with some separation. You know, she can really shoot the ball. And she knocked it down and it was pretty exciting.
For seniors like Renee Busch, Kathleen Roche and Kara Boneberger, what does it mean to go out with a Big 5 title?
They're really driven kids. They're going to get the most out of their bodies. They're going to be satisfied they did everything they can. That's not coach-speak; it's just the reality. They thought they could do it and they did it. It's pretty cool for them and very rewarding for them and the rest of the group.
You had said some of them didn't know much about the Big 5 before they got to Penn. Did you tell them about it throughout their careers and did you sense it began to mean more to them as their careers went along?
No doubt. With a lot of kids outside the area, the first couple of years I would take them around the Palestra and walk along the outskirts and show them the history of the Big 5. And now we have the tradition that our seniors will take the freshmen around right before our first Big 5 game. So we just try to add a little more to it to try to educate them a little more. It's been a pretty nice tradition we've done and we're obviously going to continue that.
Before you got here, Penn hardly won any Big 5 games. When did you first realize you could become the top team in the city?
I guess the last three years – every game we've been in has been a battle. My first three years, I think we may have won one and got handled pretty good in the others. I think the confidence level grew once we increased our talent level we were capable of making it competitive. And once we became competitive, we had to find ways to win. Last year we won two and lost the other two – one on a last-shot opportunity against Villanova and we lost a really tight one in the last minute against St. Joe's. So we were right there last year. We have a different group this year and we're not as experienced or maybe skilled on the offensive end, but we found a way to hold all three teams under 53 points. That's pretty good against that level of opponent.
How does this historic championship compare to the one you won at Princeton last season?
It's a little bit different obviously. The pinnacle for the group last year was the Ivy League championship, and over 14 games it's a long haul. It's obviously right up there but it's a little bit different.
Speaking of Princeton, the Tigers are off to an incredible start and you go out there this weekend. What kind of preparation goes into playing a team that's as good as Princeton is right now?
Yeah, this is the best Princeton team I've seen since they've been here. They're very talented. They can play 1 through 10 and not miss a beat. They all can score the ball. We have our work cut out for us. We have three days of preparation. For us, the key against them is: Are we going to be able to score against them? They're very big and fundamentally solid on the defensive end. They're going to score. They're a team that shoots close to 50 percent from the field. They're going to score even if we defend great. Will we score enough to give ourselves a chance?
You have to be worried that they have that whole revenge mentality because the last time you guys were there you beat them for the title. Do you think that's going to be a pretty big motivating factor for them?
We're up against it. I think each coach looks at each year separately but obviously that was the last game they played last year and one of the last games we played. We're not hiding from the fact that this is going to be an incredible challenge. They're a top 20 team, which is pretty amazing. But we're going to prep our butts off and hopefully we'll find a way to score to give ourselves an opportunity. Holding them down is going to be a challenge.
Do you like starting conference play with your toughest game of the season?
I guess if I had my choice, I don't know if this would be my choice. But the Princeton-Penn rivalry at any time at any place is a good thing.
I'm sure you're eager to play Villanova in a couple of weeks to try to nail down that perfect Big 5 record, right?
Yeah, no doubt. Any time playing Villanova, you know what you're getting. Can you stop what they do? It's exciting playing them. They're coming to us this year. We lost a tight one there last year. Villanova is very good. They had three starters out and they're all back and they just beat DePaul, a Top 25 team. After the Princeton game, we've got Richmond in between and then it's all Villanova from that point.
– Dave Zeitlin C'03