A Winter Without Basketball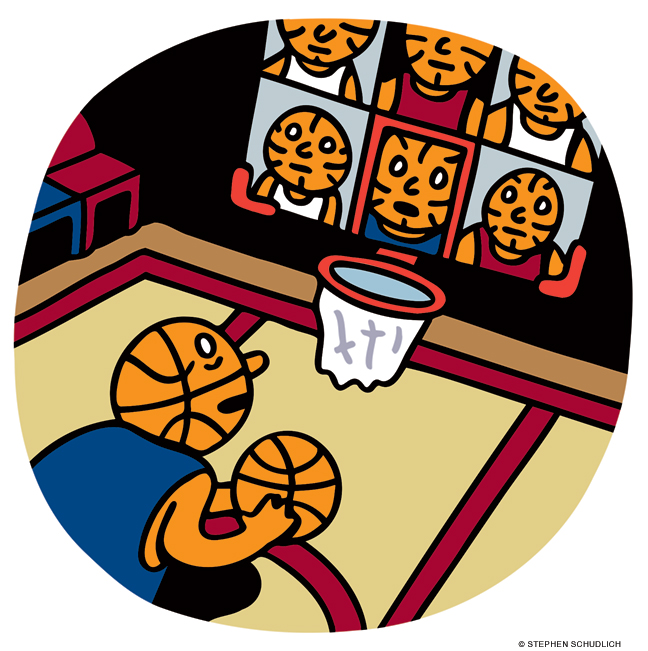 More Penn athletes see their seasons and college careers come to a sad and premature end.
---
Eddie Scott C'21 can only laugh when he talks about being named a Penn men's basketball captain for the 2020–21 season. "I'm really thankful to be given that title," the senior guard says, citing the great players who served as captains before him. "But," he adds with a bemused chuckle, "it's obviously a little weird given I can't really embody that role on the court."
The honor was indeed bittersweet for Scott and fellow seniors Jarrod Simmons C'21 and Mark Jackson W'21, who were named captains during a team meeting over Zoom for a season that will never happen. Just a few days earlier, they'd sat through another virtual meeting when it was announced that the Ivy League would cancel intercollegiate competition for the 2020–21 winter sports season. For Penn, that means it'll be a winter without basketball, wrestling, fencing, squash, swimming, and gymnastics.
In its mid-November announcement, the Ivy League Council of Presidents also announced that fall sports, which had previously been postponed, would not be moved to the spring semester, ending any hope of a football game at Franklin Field until September at the earliest. And Penn's spring sport athletes, who already had one season cut short last March, won't be allowed to compete through at least the end of February. (The council will determine at a later date if it will be safe to resume after that.)
For Penn men's basketball head coach Steve Donahue, who had been hopeful the Ivy League would find a way to at least hold a conference slate of hoops games, the decision was understandable given the dangerous COVID-19 trends. Yet "being the only league in Division I not playing, and to see our peers playing, it's been hard," he admits. "But like everything else, we're going to figure it out and make the best of it and come out better for it."
The first step was making sure to honor the team's three seniors, all of whom he thinks could have played important roles had there been a season. Jackson, the Ivy League's tallest player at 7-foot-3, and Simmons, who backed up AJ Brodeur W'20 for much of his first three years, would have filled a void in the middle now that Brodeur, the all-time leading scorer in program history ["Sports," May|Jun 2020], has graduated and is playing professionally in Germany. And Scott, a 6-foot-6 swingman who showed glimmers of scintillating athleticism as an underclassmen and was a reliable starter for part of his junior season, was ready to lead a team that he thought was poised for a "very exciting season."
"I don't want them to lose everything their senior year," Donahue says. "They should know they're the captains of this program. And even though there are no games, I think it's important they know how much the team cares about and appreciates their leadership."
Donahue further lamented the "small window of college basketball" players get, compared to coaches like him. "For that to be taken away is really hard," he says, especially since the 2019–20 postseason was also cancelled at the beginning of the pandemic.
But the solace is that the student-athletes who lost a season due to COVID-19 will not lose a season of Ivy League or NCAA eligibility because of it. They can either play for Penn during a fifth year of undergraduate education—if they withdraw for a semester or slow down their coursework toward graduation—or transfer to another program where they can use their extra year of eligibility as a graduate student. All three men's basketball seniors plan to graduate from Penn in May, and Scott and Simmons hope to continue their college basketball careers as graduate students elsewhere.
Wherever he ends up next season, though, "I'll always be a part of the Penn family," Scott says. "I wish them the most success—unless we see each other on the court."
One of Scott's biggest regrets is not being able to play with Jelani Williams, whom he knew well even before they both arrived together at Penn in 2017. Williams, the most heralded recruit in their class, has missed three straight seasons due to three separate ACL tears and now, once finally healthy, a fourth season due to the pandemic. But because he'd already withdrawn from Penn for a semester, he'll be able to make his (very) long-awaited debut for the Quakers next season, before then potentially playing at least one more year for another program. "I can't imagine anyone else that has had this kind of college experience," Donahue says.
Speaking in early December, the coach wasn't sure if other players might choose to take a leave from Penn and then stay a fifth year. But he's ready to keep moving the program forward regardless of the uncertainty around the roster, or his inability to coach practices at the Palestra (which has remained closed for the time being). And he's also been watching his peers' games on TV despite the pain of not being a part of it. "I love college basketball," Donahue says. "I'm trying to use this as a year that I can get better."
Penn women's basketball head coach Mike McLaughlin has the same sympathy for his players, some of whom found out their college careers were over on Zoom and haven't been able to even see their teammates in person. "I think what players have missed the most is that interaction—being coached, being challenged, having a schedule, being organized, being high-fived after a good play, perhaps being yelled at if they didn't execute the right way," he says. "That's been the biggest void."
Another void he's been trying to address is how his team can improve when a handful of seniors will graduate without being able to pass down lessons to a new batch of freshmen. "There's nothing more powerful than young players coming in and looking up at experienced kids," McLaughlin says. "For me, that's what I've been consumed with." —DZ