The Top Ten Games of 2014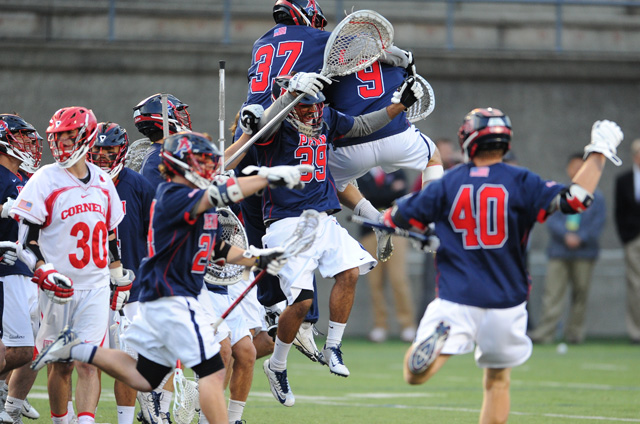 In what's become an annual tradition here at the Gazette's sports blog, we're proud to present our countdown of the top ten games of the year. As always, the following are the most dramatic, memorable and important games played by Penn teams (skewed, of course, toward the ones Penn won). For reference, here are the lists for 2013, 2012, 2011, and 2010. Enjoy!
10) April 13: Softball – Penn 9, Cornell 8; Penn 9, Cornell 8
What's the only thing better than nipping an Ivy League rival by one run in a slugfest? Doing it twice in the same day, of course. En route to their third straight Ivy League South Division title, the Quakers edged Cornell, 9-8, in both ends of a Penn Park doubleheader, overcoming a 7-2 deficit in the opener to prevail in extra innings on a walk-off RBI single from Leah Allen. The nightcap was equally exciting with Penn rallying for two runs in the bottom of the sixth on back-to-back ground rule doubles from Sydney Turchin and Kanani Datan and a go-ahead RBI single from Alexis Sargent.
9) March 1: Men's Lacrosse – Penn 12, Denver 10
The 2014 Penn men's lacrosse team came to be known as the "Cardiac Quakers," and games like this one was a big reason why. Trailing the nation's sixth-ranked team by four goals at two different points in the first half, Penn ended up scoring four of the game's last five goals (and five of the last seven) to score the impressive non-conference victory at Franklin Field. Kevin Brown scored three goals to lead the way for the Quakers, who would emerge as a national powerhouse thanks in large part to their propensity for late-game rallies.
8) Nov. 8: Women's Soccer – Penn 3, Princeton 2
It says a lot about a team how it responds when already having been eliminated from title contention. In the final game of the 2014 women's soccer season, the Quakers showed how much character they had, earning a historic win over rival Princeton, beating the rival Tigers on the road for the first time since 1998. Fittingly, it was a senior – Clara Midgley – who scored a pair of goals, including the game-winner with less than two minutes remaining, to set off a raucous Quaker celebration in Penn's season finale.
7) Sept. 30: Men's Soccer – Penn 2, Saint Joseph's 1, 20T
The Quakers weren't able to repeat as Ivy champs as they had hoped, but they were still able to capture the Philadelphia Soccer Six Championship thanks to this thrilling double-overtime victory over St. Joe's. After Penn's Duke Lacroix and the Hawks' Emmanuel Temeh traded goals in regulation, Philly-area native Alec Neumann scored the golden goal in the 103rd minute to secure the Quakers' ninth city title and sixth under head coach Rudy Fuller.
6) Jan. 11: Men's basketball – Penn 77, Princeton 74
This game was special for many reasons. Not only did the Quakers beat their biggest rival in college basketball's most historic gym, they also pulled off a relative shocker as the teams came into the contest with nearly opposite records (Penn was 2-10 and Princeton 11-2). It also seemed like a possible precursor to Ivy League success since the Quakers had everyone healthy for the first time to win their conference opener – though sadly they couldn't keep it going through the final three months of the season. Oh, and it was also special since it was my son's first time at the Palestra!
5) Jan. 1: Women's Basketball – Penn 67, Miami 66
The Quakers didn't waste any time making their mark on 2014, beating an ACC opponent for the first time in program history on the first day of the year. Making the road win even more impressive was how they did it, overcoming a four-point deficit in the final 90 seconds and riding a game-winning layup from Katy Allen with 5.6 seconds left. Miami native Alyssa Baron finished with 14 points and eight assists in what was a homecoming for the star senior.
4) May 2: Women's Lacrosse – Penn 10, Harvard 9, 20T
After winning its record eighth regular-season Ivy League championship, Penn's dominant women's lacrosse team stormed into the conference tournament at Princeton on a high. But the Quakers got everything they could handle from Harvard in the semifinals, before Tory Bensen made her fourth goal of the game the sudden-death winner to send Penn into the tourney finals, where it knocked off host Princeton to earn the automatic bid into the NCAA tourney. Penn went on to win its first NCAA game over Canisius before falling to No. 1 Maryland in the next round.
3) Nov. 22: Football – Penn 34, Cornell 26
Unlike so many other games in Al Bagnoli's illustrious tenure, there wasn't a championship on the line for this season finale. But after the Quakers survived a back-and-forth affair in Ithaca, Bagnoli still had a bucket of Gatorade dumped on his head – a fitting way for the iconic coach to end his career. Senior Spencer Kulcsar led the way with three receiving touchdowns, 182 receiving yards and 10 receptions, while sophomore quarterback had Alek Torgersen threw for 331 yards to send Bagnoli off with a win in that was an otherwise disappointing season for the Quakers.
2) March 11: Women's Basketball – Penn 80, Princeton 64
This game may have lacked the drama as others on the list as the Quakers were in control from start to finish in their regular-season finale at Jadwin Gym. But that's also why it was such an incredible game for the Quakers – who, before this Ivy League championship-clinching victory, had lost their last 11 games to Princeton by an average of about 30 points per game (including a 31-point thumping earlier in the season at the Palestra). And yet, on this night, everything went right for Penn, which clinched its first trip to the NCAA tournament in 10 years and absolutely shocked the four-time defending champion Tigers.
1) May 2: Men's Lacrosse – Penn 11, Cornell 10
Trailing 10-7 heading into the fourth quarter of this Ivy League tournament semifinal game, it looked like the Quakers' season could be over. But "The Cardiac Quakers" somehow managed to do it again, scoring four unanswered goals – all from Zack Losco – to stun Cornell and advance to the Ivy tourney finals, where they then beat Harvard to earn the program's first NCAA tournament home game since 1988. "That was one of the most unbelievable games I've ever played in," junior defender Matt McMahon told the Gazette of the win over Cornell, which also earned the Quakers a measure of revenge after they were blown out by the Big Red in March. Seems like a good one to top this list.
– Dave Zeitlin C'03