Letters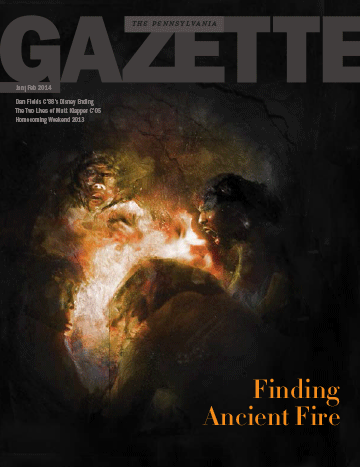 Insulting Nonsense
The first issue of 2014 starts us off with more insulting nonsense. "The funny thing is, Michael Chazan C'85 wasn't even looking for fire that April day in 2011. Yet there it was: ancient, ashy sediment coming into focus through the lens of an Israeli microscope …" ["Finding an Old Flame," Jan|Feb]. And there on the ghastly Gazette cover are three grubby slobs called hominids with "big brains," trying to start a fire somewhere between 2 million years, 1.8 million years, 800,000 years, 500,000 years, 400,000 years, 200,000 years, or 150,000 years ago.
Chazan is a scientist; he has a track record, and he has convinced his colleagues, and the editors of the Gazette, to believe that the common ash of a 150,000 or 2 million-year-old fire could survive all those years in an unaltered form! Ridiculous. This article is just another way for the University eggheads to tell the Christians, "We have had it with your Christmas, your Moses, and your Christ, now eat this cave filled bat dung because we make our own reality!"
So here is my message to the Gazette editors: eat your own dung and stop sending me your slick garbage, which is not worth being recycled.
Erik Thorp C'63 GAr'70 Warwick, RI
We'll pass on the first part of your message, thanks, but will comply with the second.—Ed.
They Probably Think Your Business Sounds Funny, Too
While attending the Wharton School in 1965, a friend (now a respected federal judge) and I chose Anthropology 514 as an elective. At our first class, the professor spoke of Dr. "John Doe" as the world's foremost authority on rice. My friend and I guffawed, but soon realized we were the only ones laughing.
I was reminded of this incident while reading about Michael Chazan, "an expert in stone tools," who "teams with fire, fauna, flora, and micromorphology (microscopic soil) experts, among others."
It is nice they found each other!
Paul W. Zerbst W'65 WG'66 Teaneck, NJ
Best in an Age
I think the Gazette's Jan|Feb 2014 issue is the best one in an age.
Where to start, where to start? (I'll skip Amy Gutmann, who I haven't agreed with in years.) You had a bit from the autobiography of Oscar Goodman L'64, once the very successful mayor of Las Vegas ["Arts"]. Hell, his early clients, the Mob, coined the expression "sin city," because they were delivering sin all over the US and knew what for.
Then you had the excellent article on Matt Klapper C'05 ["Putting Out Fires"]. If he were working for a Republican rather then Senator Cory Booker (D-NJ), the Left would be screaming that Matt's story was a complete fiction.
You also had an article on the marvelous Dan Fields C'88 and his great success at Disney ["Magic Man"]. I think every Penn undergraduate should read this article, as it epitomizes the necessity of working hard from the bottom to great success at the top. Too many young people think after-college jobs are an entitlement. Sorry gang, you must work hard and start at the bottom!
But my very favorite was "Paper Girl," by Rachel Del Valle ["Notes From the Undergrad"]. Briefly, Rachel learned more about people and work and success and life handing out copies of the DP than Oscar, Matt, and Dan ever learned. She actually came in personal contact with the "public," that large group of malcontents who actually keep our economy going. Great on you, Rachel. I promise you will be far more successful in life than Oscar, Matt, and Dan combined.
Robert M. Rosenthal W'60 Burbank, CA

Hillside Hallucination?
Carl Hoffman's fascinating story, "The Visitation" ["Elsewhere," Jan|Feb] had exotic and magical qualities: going native in the Philippines as a young PhD in cultural anthropology, chewing betel nut; wearing a loincloth; discovering a mysterious, dilapidated, burnt-out house far up on a hillside; then never seeing it again. On returning to his hamlet below, he learns from the terrified villagers that he had met and talked to "ghosts" from their own past.
What struck me was Carl's sense of the absolute reality of his experience, hearing conversations and oral poetry sung in a different cadence and word usage than he was accustomed to, as well as seeing ornaments and artifacts that looked like they belonged in a museum. Nonetheless, the "ghosts" had told him their names; he shared betel nut with them after being given a drink of water. Learning later that this small group had been dead for a generation shocked him and left the reader wondering exactly what had happened.
Having just read Oliver Sacks's book, Hallucinations, with its extraordinary accounts of his own and others' extremely complex hallucinations, looking and sounding completely real, I would suggest that Carl may have been experiencing one himself, never to occur again, probably induced by his isolation and alienation, a sun-stoked upward glance, and possibly the betel nut's amphetamine-like effect.
The stories Carl had heard from his own villagers of people living in hidden hamlets to escape marauding pirates probably supplied the material. He had also seen pictures of their ornaments and artifacts in old books and museums. Carl's dismissal of "unhappy spirits with unresolved issues" haunting the place is probably valid. Yet those traumatized minds from the past were still felt in the villagers of the present. Perhaps it was they who enhanced the experience in his altered state of consciousness with details he might not have otherwise known.
Carole Brooks Platt CW'69 Houston
Scent of Scant Respect
I enjoyed the article on the William H. Johnson show at the Arthur Ross Gallery ["Arts," Jan|Feb]. However I was flabbergasted by the last sentence, which in my view cast a different light on the whole piece: "'We are thrilled to have his work coming to Penn," says [ARG associate director] Duckett convincingly.'"
Why add the word convincingly to the sentence? Such an ending suggests that the author of the article [senior editor Samuel Hughes] was initially skeptical of the worth of the exhibition, but was "convinced" by his interview—at least this interpretation can be legitimately intuited from the sentence as written. The art may not be to Hughes's taste, but such an inflection by the addition of a word that could have been omitted is negative.
I would have given him the benefit of the doubt (and held my peace ) but the previous sentence—"Some sort of Jazz age event is being planned"—also leaves a bad taste in my mouth. Some sort also carries the scent of scant respect, which I find troubling coming from any institution such as Penn which prides itself on its diversity.
Marie Stuart GM'72 Philadelphia
Samuel Hughes responds: The Ross Gallery had not decided on the nature of the event when I wrote the piece. Convincingly refers to Ms. Duckett's enthusiasm; I already loved the work.
Distinctive Voices from Penn
As I read "Singing Lorca Back to Life" ["Arts," Jan|Feb] about Osvaldo Golijov's opera Ainadamar, I couldn't help but reflect on the Jan|Feb 2011 Gazette feature on Pulitzer-prize winning composer Jennifer Higdon. Through my association with the Cincinnati Symphony Orchestra, our orchestra performed Osvaldo's extraordinary opera Ainadamar with the Cincinnati Opera. In more recent years, Jennifer was one of our Creative Directors and we have performed, recorded, and broadcast many of her exceptional works. It is quite notable that two of the most distinctive voices among contemporary classical composers are Penn alumni.
Trey Devey WG'05 Cincinnati
The writer is president of the Cincinnati Sym phony and Pops Orchestra and May Festival.—Ed.
Consider the Alternative
Some of your readers don't like reading about weddings ["Letters," Jan|Feb]. It cheapens the Gazette, they say, but I'll vote for weddings every day over Obits.
I really enjoy your fine quality magazine.
John T. Fallon W'48 Avalon, NJ
"Friendly Question" Answered?
With regard to Daniel Nussbaum's [Jan|Feb] letter about the name of Penn's teams, I have always found it slightly hilarious to watch the "Quakers" battering their opponents on a football field. However, in the odd tradition of teams called "Redskins" being founded by men with white skins, it is not so surprising that a school founded by a lapsed Calvinist, Benjamin Franklin, who picked an Episcopal minister, William Smith, to be its provost, should choose to call its athletes the "Quakers," a religious group that both men generally disliked.
Steven Glogger G'65 Palm Springs, CA
Change That Order, Please
"Whiskey Men" ["Alumni Profiles," Jan|Feb] gave an excellent account of an exciting business project initiated by Penn graduates John Cooper and Herman Mihalich. However, they were incorrectly identified as members of Phi Kappa Sigma fraternity when they are actually brothers of Phi Sigma Kappa.
Their fellow Mu Chapter friends are very proud of their accomplishments and are additionally excited about the current re-colonization of the fraternity founded in 1900 on the campus that will give a new generation of Quaker undergraduates the opportunity to add their future successes to a chapter that has produced many outstanding Penn graduates in various fields of endeavor.
Frederick M. Herrmann C'69 Lawrenceville, NJ
Apologies for the error, and welcome back to campus.—Ed.

Back to the Future
I read with interest your plans for building a "stunning new college house on the corner of Chestnut and 34th streets" with its "flexible dining venue, media center, seminar rooms, and music practice rooms—around a sustainable central courtyard" ["From College Hall," Jan|Feb]. What you are describing is our beloved old Sergeant Hall of the 1950s.
The "intellectual vibrancy" would bubble out into the three-story utilitarian courtyard from all the windows and fire escapes on Friday nights as "The Hall," atwitter with expectations, jitters, and peers primping, would prepare to stun the swains presenting themselves to the front desk for "Friday Night Live." For the Balls, gowns were exchanged, new makeup and 'do's tried out.
The multimedia "parlor" produced my "in-house"-created wedding dress for a lifelong military wedding (D. Wintz Ar'52).
Your hoped-for "lasting standard for undergraduate life" has already been set.
Thank you for your great articles that keep us in step with our pasts as well as our futures.
Mildred M. Wintz FA'55 Florence, CO

Happy Memories
I am delighted, of course, that the Gazette heralds all that is new and exciting about our beloved Penn, but at the same time I regret that little attention seems to be paid to the Penn that was, the University that was the life-formative experience for so many of us older alumni (and alumnae). If I may reminisce…
As a coed of the '50s, much of life centered on Bennett Hall. I remember Dr. Brownlee, dean of women, and the day her assistant, Sally Landers, summoned me to her office. I was sitting on the hill next to College Hall, with Al Ettore C'55 (he went on to become a doctor). I was cutting a class, so I thought the summons meant trouble. When Dr. Brownlee told me I had been elected to Phi Beta Kappa, I was so elated I threw my textbooks and notepad in the air! (Fortunately, they didn't hit her.) I went on to earn a BA in English, a master's in education, and learned to roll my r's from my French professor—all happy memories.
Mary Price Lee CW'56 GEd'65 Flourtown, PA
To Boost Attendance at Franklin Field, Free Tickets for High Schoolers
In reply to the excellent article by Dave Zeitlin regarding the imminent retirement of long-term athletic director Steve Bilsky ["Gazetteer," Jan|Feb], I wish to share some observations and concerns about Penn athletics, not necessarily addressed to Mr. Bilsky but rather his successor, with particular reference to football.
As observed by many, Penn (unlike during the 1930s and 1940s) is not centered around football and presently, alas, few students or fans bother to attend the games. Such apathy is enough to sap the morale of even the lowest sub. Playing in the grandest stadium in the Ivy League, with a capacity of 60,000, it must be hurtfully demeaning for these supreme student-athlete football players to perform, with few exceptions, before comparatively minuscule crowds of 5,000-6,000. This despite the remarkable successes of coaches Berndt, Zubrow, and Bagnoli.
Perhaps this is a consequence of Penn's commitment to diversity within the student body, maybe not a bad thing if our president is solely intent on building and endowing a leading world-class research-oriented institution. But there is more to college than that, as exemplified by peer institutions such as Duke, Stanford, Michigan, or Northwestern.
But how, may I ask, may one buoy the attendance at football games? It has long been my conjecture that it may actually be quite simple, with expected proficient outcome, if only the following idea is entertained and implemented.
I vividly recall in the late 1970s, before the current football dynasty began, a totally meaningless end-of-season game against Dartmouth. Believe it or not, it was elected to invite, gratis, all Philadelphia-area Boy and Girl Scouts. This resulted in a crowd of 50,000! I didn't go to the Wharton School, but what a triumph in marketing this was. Surprisingly, this has never been reprised.
Therefore, why not invite, gratis, all local high-school scholar-athletes, and other exceptional students, with their parents, to all games at Franklin Field? And the Scouts. What a thrill they will have in throwing the toast!
So what would the cost be? I would contend quite negligible except for additional security people. I would think concession receipts would defray extra costs. Such a large crowd would buoy the morale of the dedicated athlete (as indeed is seen every year at the Penn Relays). But such largesse by the University would serve as a beacon to attract the best and brightest of students, and of course faculty, to Penn.
Carl C. Hoyler C'59 GM'69 Malvern, PA
Learning to Live a Richer Life, With a Teacher's Help
Last September, I returned to Philadelphia to speak at a memorial service for one of my mentors, History and Sociology of Science Professor Henrika Kuklick ["Obituaries," Sept|Oct 2013].
Thirty Septembers earlier, I stepped into my first class with Riki, on the sociology of knowledge. It was the beginning of a relationship that would shape the next eight years of my life as an undergraduate and grad student at Penn. I worked with Riki intending to become an academic. While that didn't work out—after a couple of postdocs and several fruitless years on the academic job market, I became a futurist and technology forecaster—her influence on me has been greater since my life went in this different direction.
I'm still asking exactly the same questions I did as a student, and even using some of the same tools; I just point them in different directions. But Riki's legacy is more than a matter of craft. She gave me the means to see the life of the mind as a devotion rather than just a profession, as an internal discipline as well as an academic one, and to create a life that combined the worlds of business and ideas.
By sharing her own passion for books and scholarship, she helped me see that we should push back against the distinction between academic life or digital life on one hand, and real life on the other. We shouldn't think in terms of a "real life" versus a "digital life" any more than we should think of lives in the library or laboratory as unreal. We should think of the quest for IRL (in real life) as a search for a richer life, one that emerges when we're willing to cross these artificial boundaries, do things that matter with our lives, and use technologies mindfully to build and extend our selves.
By showing her students how to live with ideas, by giving me the means to ask why the world looks the way it does, and challenging me to see how we can act to change it, Riki taught me how to live a richer life, rather than simply a more real one. That was her most valuable lesson of all.
Alex Soojung-Kim Pang C'86 G'88 Gr'91 Menlo Park, CA