Singing Lorca Back to Life
Osvaldo Golijov's opera about the killing of the celebrated Spanish poet lives on.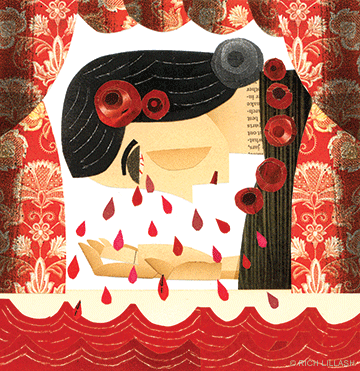 By Lesley Valdes | It wasn't until the first Spanish production of Ainadamar in Granada three years ago that Osvaldo Golijov Gr'91 ["Retiring Ringmaster," Sep|Oct 2006] fully understood the conflicts expressed in his own opera.
The title,which means "fountain of tears" in the old Moorish tongue, comes from the rural site where, during the Spanish Civil War, Falangists executed the poet and playwright Federico García Lorca. When the troupe visited Fuente Grande, as the site is called in Spanish, Golijov was struck by the raw emotions it stirred.
"I was with the flamenco singer who would take the role of the assassin," he recalls. "When the director took everyone to the fountain, the singer vomited. His grandfather had been killed at the same spot. I could feel then—and during and after the performances—that there were people who had been on one side, and on the other.
"For me this was history, and my love of Lorca," he adds. "For them it was memory, it was their own family. It wasn't just an opera." Had he known just how much those conflicts were still churning, he says, "I don't think I would have had the courage to compose it."
From February 7 to 16 Ainadamar will be performed at Philadelphia's Academy of Music, as a co-production of Opera Philadelphia and the Fundación Ópera de Oviedo, Festival Internacional de Música y Danza de Granada, and Festival de Música de Santander.
The opera, played without intermission, is set in three flashbacks or "images" from the vantage of Margerita Xirgu, the friend and leading tragedian of Lorca who had urged him to flee Spain. It opens with Xirgu onstage in Uruguay in 1969, moves through her memories of Lorca in Spain in 1927 and 1936, and ends with her death in 1969.
Ainadamar made its debut at the Tanglewood Music Center in 2003. Two summers later, a major revision directed by Peter Sellars was unveiled at Santa Fe Opera. A production by Opera Philadelphia and Curtis Opera had its Philadelphia premiere in 2008.
"It took two tries to get it, and it was thanks to Peter Sellars," says Golijov, the Loyola Professor of Music at the College of the Holy Cross in Worcester, Massachusetts. "I knew it was flawed. Too Sunset Boulevard for Margerita, not enough wrenching density for the civil war." The revamped version went on to win a pair of Grammys.
Ainadamar 'sastonishing sounds suggest images in Lorca's poems: wind and water. Horses' hooves. A fountain gurgling.
"I had a very specific image in mind: a floating pomegranate bleeding melodies," says Golijov. "In Spanish a pomegranate is a granada. I wanted an absolutely lyrical poem with that density of blood and that color. My last vocal piece had been The Passion [La Pasión según San Marcos]: very primary colors. Now I wanted carmine, more blood. In The Passion rhythm was intensified, explored; here I wanted melody: an investigation of line from the deep sound into the rapturous. One piece that at that moment was obsessing me was the transfiguration in Strauss's Daphne, which is more chromatic than my trio; I was taken by the way that the colors gradually shift."
"The best pieces are obsessive investigations on an image," he adds, citing
Beethoven's Pastoral symphony and Les Adieux sonata, Stravinsky's Rite of Spring—and Black Angels, the string quartet by George Crumb Hon'09, the Annenberg Professor Emeritus in the Humanities at Penn. Golijov studied under Crumb, as well as music professor Jay Reise G'75 and Richard Wernick (the Magnin Professor Emeritus of Music), while pursuing his PhD in music composition.
Crumb was, among other things, the senior master of the spirit of Lorca. Golijov, who grew up in La Plata, Argentina, had long known and loved Lorca's work.
"Lorca is a phenomenon in the Latin countries, part of growing up," he explains. "Spanish rockers set Lorca to music, and he was so, so successful in Argentina."
And so the younger and senior composer often discussed their favorite lines by the Spanish poet. One was Lorca's Me he perdido muchas veces por el mar (Many times I have lost myself in the sea), which Crumb used in his Ancient Voices of Children, Golijov notes. "Great line!"
Corrado Rovaris, the music director of Opera Philadelphia, introduced Ainadamar to Spain, thus setting in motion the Iberian-Philadelphia co-production. He would conduct the performance at the Alhambra as well as two more Spanish productions, one of which was last month's version in Oviedo.
"It was very, very moving to be in the Alhambra, under that sky, in the garden of the Palacio de la Generalife," Rovaris recalls. "When you play this opera in Spain you feel how much the political problem, the civil war, is still present … it felt dangerous to talk about these things. But this is still very much the mission of the art."
Rovaris fell under the spell of Ainadamar when he conducted the Philadelphia premiere at the Perelman Theater in 2008. At the time he didn't know Golijov personally. But he did know his music.
"It's a very personal language," he says of Golijov's melding of Latin and Jewish roots, the vibrant folk and classical influences. And Ainadamar blew him away.
"One of the most beautiful artistic journeys I had had in many years," says Rovaris. "Always in opera we talk about stories, but Osvaldo made a different choice: he goes directly to the poet's essence. And I like very much that it is 80 minutes of music!"
Rovaris couldn't understand how an opera "so caught up in the art and history of Spain hadn't been to Spain," so he called his friend Javier Menendez, the artistic director of Oviedo Opera, who flew to Philadelphia to see Ainadamar. Menendez loved it and called friends at Granada Opera, who, in turn, called colleagues at the Granada festival.
Unlike the Spanish co-production, the version that will premiere in Philadelphia will have the renowned Antonio Gades flamenco troupe from Madrid dancing and singing onstage.
"The flamenco sensibility is so important from the beginning of the opera, which opens with the sound of water and the horses," Rovaris notes. Flamenco guitars also improvise (as do percussion and some horns) within the score. One of his biggest challenges with this opera is keeping the "pattern and flavor of the Spanish colors, giving liberty to the percussion, the guitar."
While flamenco is by no means the only musical style in Ainadamar, it's crucial to Lorca's death scene in the second act. The first choice to play Lorca's assassin would be a cantaor (Andalusian dialect for a male flamenco singer), but if one is unavailable (as was the case at the 2008 Philadelphia premiere), an operatic tenor is employed. The difference is dramatic.
"The cantaor is not a lyric," Rovaris explains. "It's a completely different sound: like a body singing. Alfredo Tejado [who sings the role] told me in order to get that sound he has to drink a lot and smoke a lot."
Maria Montenegro sings Xirgu in the upcoming Academy production, while mezzo-soprano Marina Pardo takes the role of Lorca. The backstory behind the trousers role for Lorca, Golijov explains, is that his original 2003 Tanglewood commission was a package deal: all-woman cast, director, subject. The subject fell through but the cast and creativeremained. At one point he considered a Lorca opera "without a Lorca," he says. "Then I heard Kelly O'Connor's voice and thought: Wow. And I saw her picture. Her mother was Portuguese. She has Lorca's eyes and eyebrows."
The original Xirgu was sung by Dawn Upshaw, who can be heard on the Grammy-winning 2006 Deutsche Grammophon recording by the Atlanta Symphony Orchestra & Chorus. "Working with Dawn Upshaw was a second education for me, and not just a vocal education," Golijov says. "Upshaw's voice, the range (two-plus octaves), the emotional beauty—it's just wrenching, not a peacock."
There are many types of song and dance in Ainadamar: a low-voiced Cuban rumba, staccato fugue of gunfire composed from digital sampling, operatic aria so rhapsodic it approaches—especially in the third-act trio—Richard Strauss.
"I sing every line I write," says Golijov. "I started singing very young, even in the synagogue. I remember when my children were young they would tell me not to sing. They'd say, 'Oh, no, just play the piano!'"
---
Lesley Valdes is a freelance writer and critic.