Whiskey Men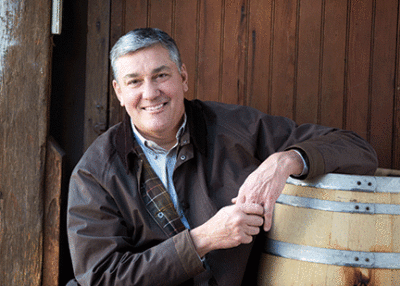 Class of '78 and '80 | "You're gonna start to smell things," John Cooper W'78 says, gesturing toward the glass of Dad's Hat Pennsylvania Rye Whiskey in front of him. "You'll get malt, some flowers, grain, a little bit of vanilla, a little bit of caramel. As you taste it, put a little on your tongue and see if you can hold it there. Swirl it around, chew it like you do with wine, then swallow it."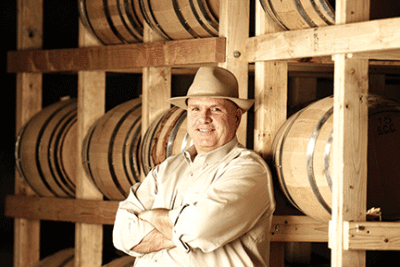 He waits a few seconds. "Does it burn?" he asks. "See, I told you: our whiskeys are incredibly smooth. They don't burn, which blows people's minds. We've converted a lot of people."
Cooper is standing behind a large wooden bar in his Bristol, Pennsylvania distillery. Though he's currently playing barkeep, he spent part of the morning sticking Dad's Hat labels on empty bottles, and he may later make some sales calls.
The small-batch distillery is a purely two-man operation. Cooper and his business partner Herman Mihalich CHE'80 WG'84 perform every task themselves, from distilling and tasting to labeling, bottling, and marketing. They've been selling whiskey for a little over a year now and have been getting extra notice as the only rye distillery in Pennsylvania.
"By the way," Cooper turns to Mihalich, who is now beside him at the bar, "we just got written up in Wine Enthusiast. They wrote a big article on the resurgence of rye whiskey. With that and the [Philadelphia] Inquirer review, we had a double hit today."
"Oh, really?" Mihalich says, raising his eyebrows and smiling. "And we had Cigar Aficionado last week."
Cooper won't give out numbers, but he says the distillery's growth has been "steady." As of October, Dad's Hat was available in more than a dozen states, most of them in the Northeast but also as far as California. "And we're beginning to show up in the right places," Cooper says, including behind the bar at the Philadelphia Four Seasons and inside the 21 Club in Manhattan. "Upscale and trendy is where we show up."
Mihalich and Cooper decided to toss their hat into the ring back in 2006. They'd read a New York Times article that held up rye whiskey as the next big spirits craze, and "thought it would be a nice way to marry an avocation with a vocation," as Mihalich says.
Neither of them had actually made whiskey before, but they'd both been drinking it for decades. Mihalich grew up in an apartment above his family's bar in Monessen, Pennsylvania, and remembers his father and grandfather as big rye fans. "John has a much broader palate," he adds of his co-founder. "I dabbled in some Scotch, but I'm kind of a one-trick pony with rye whiskey."
The two met as Phi Sigma Kappa fraternity brothers at Penn in the late 1970s. "When you sit in a fraternity house, you look around the room at the talent that's there and say, 'Wow, wouldn't it be great if we could pool all this talent at some point and actually do something together?'" Cooper says. "But it's rare that anything ever actually comes of it."
For several decades nothing did. Both men got married and started families. They worked in sales (Cooper) and building chemical plants around the world (Mihalich). But once they saw that article in the Times, it felt like they finally had permission to start a company.
They began researching rye and discovered its deep roots in the United States, particularly Pennsylvania. Made with more than 51 percent rye mash (as opposed to Bourbon's corn or Scotch's barley), rye was a popular spirit as far back as the 1770s. After the new government imposed a whiskey tax in 1791, the farmers making it threatened to secede from the union—only to back down when President George Washington sent in a large federal force to quell what became known as the Whiskey Rebellion.
Until the Volstead Act was passed, Pennsylvania was the largest producer of rye whiskey in the nation, with no fewer than 163 distilleries, notes Cooper. "Then Prohibition killed rye whiskey," since the shoddy version produced by bootleggers ruined the spirit's reputation. "The last one of those Pennsylvania distilleries went bankrupt in 1989," he adds, "so ours is the first rye whiskey that's been distilled, barrel-aged, and bottled in the state since then."
As they continued to uncover rye's place in history, Mihalich and Cooper drew up a business plan. Then they spent the next two years flying out to a series of two-day workshops with Michigan State University's artisan distilling program. Mihalich and Cooper would send over rye from Pennsylvania farms, then arrive at MSU to learn the craft and refine their recipe.
They also found investors: a group of 18 people, about half of whom are fellow Penn alumni.
"A lot of these are guys who, back in the late '70s, used to sit around saying, 'Wouldn't it be cool if we all got in business together?'" Mihalich says. "So John and I went back to them and said, 'Okay guys, are you ready to write some checks?' A lot of these guys have done well and they said yes."
A full seven years after stumbling across that Times trend story, and several years into the distilling business, Mihalich and Cooper agree that the article's forecast had proved true.
"Craft distilling is about where micro-brewing was in 1984," Cooper says. "It's going through that type of renaissance. A lot of distilleries are opening up. Some are going to make it; some aren't. The ones that make it will be the ones that have their acts together from a business standpoint and that make good-quality product that people are interested in."
The two place Dad's Hat in that category. Having started parent company Mountain Laurel Spirits LLC as a business, not a hobby, they're now making and selling rye, white rye, and a whiskey finished in vermouth barrels. The latter is quite likely the only one of its kind in the world, Mihalich says. Larger wooden barrels toward the back of the concrete warehouse space hold an upcoming straight whiskey, which is about halfway through the two-to-four-year aging process that defines that style.
"Most craft distilleries are much smaller than this," Cooper says, nodding toward the German brewing and mashing and cooling equipment in front of him—not unlike the copper pipes and towering kettles found in a microbrewery. "We have the ability to expand production and to add on to the equipment we have, and that's the plan. This was set up as a long-term business venture with long-term goals."
As a Wharton alumnus who majored in marketing, Cooper acknowledges how useful those skills have been in his new career. Meanwhile Mihalich, an engineering grad who returned to Penn for an MBA, recently told a favorite professor all about his new venture.
"My son graduated from Penn last spring, and I saw [Engineering Dean] Eduardo Glandt [GCh'75 Gr'77] at the graduation," Mihalich says. "It was pretty cool to be able to go up to him and say, 'I'm using my engineering degree, but not in the way you might think.' He was pretty tickled."
—Molly Petrilla C'06