End of an Athletic Era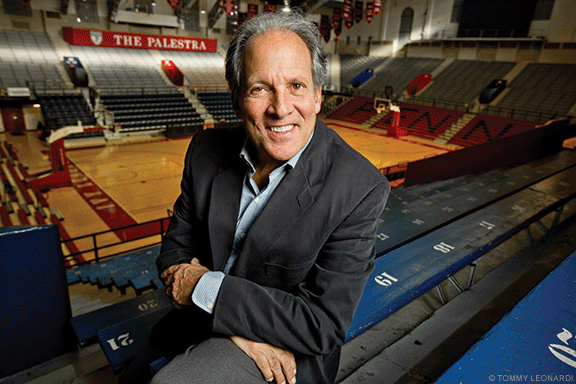 From his time pounding the Palestra hardwood as a crafty point guard to his long stint as the University's ambitious athletic director, Steve Bilsky W'71's contributions to Penn have spanned many decades. But on June 30, an era in Quaker sports will come to an end, as Bilsky will retire from a post he's held for 20 years.
The mid-November announcement of Bilsky's retirement came on the heels of an unprecedented fundraising campaign that brought in $125 million for Penn Athletics—money that's helped the University develop state-of-the-art athletic and recreational facilities and will allow for more facility upgrades in the future.
Many of Penn's athletic programs have also seen a lot of success during Bilsky's tenure, with 21 different teams winning a total of 71 Ivy League championships, including more titles than any other Ivy school in men's basketball (nine) and football (eight). The men's basketball team, however, has not won a championship in seven seasons, and part of Bilsky's legacy will be his ill-starred 2006 hire of Glen Miller, who was fired by Bilsky and replaced by Jerome Allen W'09 in the middle of the 2009-10 season.
Recently Bilsky spoke with frequent Gazette contributor Dave Zeitlin about the highs (and the lows) of his 20-year tenure, and what's next for him and for Penn Athletics.
---
When we spoke in April, you said you hadn't yet thought about retiring because of how consuming the recent $125 million fundraising campaign had been. Once that was over, did you just feel like it was the right time?
I definitely think it was the right time. If I didn't believe it then, I'm certain of it now. There were a certain number of numerical landmarks. It will be 20 years being the AD, which I think is a very sufficient time to do something like this. I'll be 65 years old. But the predominant factor is when you finish the campaign, you've put so much energy and time into that, that you want to kind of finish anything you're doing on a high note.
How were you able to raise so much money and how important was that campaign to the future of Penn Athletics?
We had a really good plan. That was the first thing. Athletics had never been part of a University capital campaign before, so we knew there was going to be some skepticism going into it, and the way to overcome that was to come up with a plan that captured everyone's excitement and imagination. And then it was a lot of work from a lot of people—both people who worked here at Penn and volunteers who helped us raise the money. It was very much a collaborative effort with a lot of enthusiasm, and it kind of built momentum.
You've mentioned before that upgrading Penn's facilities was your top priority. Looking back on all of the upgrades, especially recent projects like Penn Park and Weiss Pavilion, is that what you're most proud of during your 20-year tenure?
My top priority was definitely facility upgrades. If you would have asked me 15 or 20 years ago what they might have been, I would have never said what they turned out to be. And that was part of the excitement. This was very fluid. We took advantage of some of the newest technology to upgrade old buildings like the Palestra, Franklin Field, and Hutchinson Gym—and then create new situations like we did at Penn Park. We said that every year we should create something new, and then in the end we'll have something to really be proud about. That's definitely my proudest achievement, for sure.
In the past few months, there have been renovations to Hutchinson Gym and Rhodes Field, as well as the construction of a new field-hockey stadium. What's next on the docket?
We're going to be building an addition to Levy Tennis Pavilion, hopefully this summer. We're looking at the squash facility to see if there are ways of upgrading that. We're looking at some augmentation to the baseball facility, whether it is locker rooms or batting cages or amenities like bathrooms and so forth. We're looking at a major project, which is redoing the track at Franklin Field, which hasn't been done in many, many years. And at some point we have to figure out what to do with the [Hollenback] Annex. There's some thought about converting it to an indoor track facility. But all of these things are going to be on the new person's docket.
You've talked a lot about trying to create a broad-based athletic program where every team has an equal chance of success. Do you feel like you accomplished that?
Over 20 years, at any place in time, you're going to have some teams doing really great and some teams you think need to do better. So whether you look at it today or look at it five years ago or look at it 10 years ago, you'll always say that. Part of it is we want to do better, but part of it is recognition that Ivy athletics is very competitive. And you have schools in this league that have great traditions in swimming and squash and fencing and tennis, and it's not like everyone is sitting back and waiting for Penn to win. When you have some sports that are down a little bit, you want to make sure you're doing the kinds of things necessary to bring that up.
A great example of that right now is our track & field program. We've had a good tradition in track & field but we've been down the last five, 10 years. I think we have an outstanding staff in place. I already see significant improvement in terms of performance and recruiting. It really wouldn't surprise me in the next couple of years if our track & field program is near the top of the league again. And that's the definition of what a broad-based program is.
You once told me that hiring Glen Miller to run the men's basketball program in 2006 was "a good decision with a bad outcome." Looking back on it, is that your biggest regret as athletic director?
You know, I saw him on the bench last night sitting there, looking happy at Connecticut! [Miller is currently an assistant coach at the University of Connecticut.] Glen is an outstanding coach. He really knows basketball. For a lot of different reasons—some of which you can look back and say maybe Glen could have done this differently, and some where things weren't his fault—it just didn't work out for him. But if you look at his record at the time he was hired, he had mentored under Jim Calhoun, a Hall of Fame coach, and he took two programs that were down at the bottom—one a Division III school [Connecticut College] that he took to the Final Four—and at Brown, he took a program that was down at the bottom and brought them up to the second or third best team in the league. So I think he was a good hire and I think it was a bad outcome.
I know you believe Penn can get back to the point where it's an Ivy League—and perhaps even a national—men's basketball powerhouse. What do you think it needs to do to get there, and is Jerome Allen the right man to get them to that point?
There are stages to rebuilding a basketball program, which the impatient people wish would happen all within a year or two. If you look at some of the greatest coaches—Mike Krzyzewski, Digger Phelps when he was at Notre Dame, and on and on—they struggled through some really horrendous win-loss records until they were able to establish the program. So the first thing we wanted Jerome to do is really regain the pride of playing basketball for Penn, and he did that almost immediately. The second stage is I think what we're in right now, and that's rebuilding the talent level. You can't win—I don't care how good of a coach you are—if you don't have talent. And I think, especially in our younger group, we have the makings of some really good players. The key part, which we don't know yet, is can you mold that individual talent into a winning basketball program? That's the hardest part of the three because that's what distinguishes really good coaches from just good coaches. As much as we'd all like to see that start, like, tomorrow—and we'd be happy if it happens sooner rather than later—it just takes time for that to happen. So I think he's accomplished the first two ingredients and we'll see whether he can do the third part.
You obviously made a lot of other coaching hires in recent years, including Mike McLaughlin for women's basketball, Colleen Fink for field hockey, Steve Dolan for track & field, and, most recently, John Yurkow for baseball. Are you comfortable with the coaches that are at Penn right now and are you happy with all of the moves you made?
We have a really good coaching staff. And you have to give the coaching staff tools to win. That's the job of the administration. If your facilities are not up to par, if your recruiting processes are not good, if your budgets are not competitive, you're handcuffing a coach. All of those things now are probably in as good shape or in better shape than they've ever been. So you'll see coaches who are very, very good all of a sudden begin to blossom. Look at, for example, softball and field hockey—two sports that hadn't been doing well. You give them new facilities, and the softball team won its first championship since 1981 and the field hockey team competed against the [defending] national champions—Princeton—in the last game of the season. So with these dramatic turnarounds, what's the wild card? Well, the wild card is they have state-of-the-art facilities.
Is there any kind of concern about the attendance at football and basketball games? And is there more Penn can do in terms of marketing to improve upon that?
It's one of my biggest concerns going forward. I think that people look for an easy answer—i.e. you have to do better marketing. There's more marketing and promotional stuff that goes on in Ivy athletics and Penn athletics than there ever has been since I've been associated with the school. The real issues of attendance go much, much deeper than that. They have to do with the demographics of the student body. They have to do with the missions and philosophies of the Ivy League. To what degree does not playing in the postseason for football impact attendance? There's so much more competition for people's entertainment dollars. But the reason why I'm very concerned about it is some of the most passionate people who support the University are people that have some kind of athletic tie—whether they played on teams or whether they were passionate fans. And if those things continue to dissipate, I think that Penn and the other Ivy schools will have a totally different character. And I'm concerned about that.
You had a big role in the creation of the Ivy League Digital Network [the conference-wide online streaming platform that launched at the beginning of this school year]. What kind of impact do you think that will have on Penn sports in the future?
I think it's really the most dramatic change in terms of external things we've done. Being on national television is fun, but there's going to be a limit to how much the Ivy League is going to get exposure on national television. So how do you reach your population, which is your fans, your alumni, your parents, recruits, et cetera? A really quality digital network does that all over the world, so I'm very happy with the launching of it in terms of the quality of production. I think like any other enterprise, you've got to get more and more people to buy into it and to see it and make sure that you keep that up at a high level. We're very fortunate at Penn that we're not just doing football and basketball … and that we really have high-quality picture and graphics and announcers. And so if we're concerned about future fans, one of the ways to do that is reach out to them and try to excite them about our product so they'll come here and see it firsthand.
What did it mean for you to work at your alma mater for so long?
I don't think I would have been here for 20 years if it wasn't my alma mater. It's a challenging job. It's a demanding job. At any type of high-level position where you're running an organization, you have to be nimble and fend off some things along the way. And it's always easier to do it when you're working at a place that you care about. When I took the job, one of the things I said very early on is that Penn had been so good to me—not only was I a student-athlete here, but it was the springboard to my athletic career as an assistant AD here in the early '80s, and that led to me being the AD at George Washington. So I was in the position to pay back, and I wouldn't have that feeling if it was one of the 300 other Division I schools. You only have one undergraduate alma mater. When things get a little hairy or tough, that's always been the driving force—that you're giving back. And I feel very fortunate I was able to do that.