Designs on Nakashima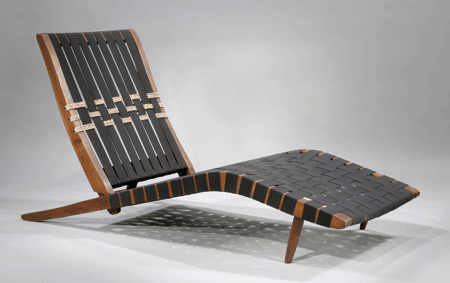 Robert Aibel C'72 ASC'76 Gr'84 is navigating his way through a labyrinth of precious artworks and furniture on the fifth floor of his building in Old City, Philadelphia. The four upper floors of the former tobacco factory are storage for French Art Deco pieces and works by George Nakashima. Over the past 25 years, Aibel has become the world's leading Nakashima dealer, selling the Japanese-American designer's creations to everyone from dabblers to serious collectors ["Alumni Profiles," Mar|Apr 2004]. He's written hundreds of appraisals for museums and even for the Nakashima family.
Aibel has also curated a handful of museum-worthy shows at his gallery, Moderne, that plumb specific aspects of Nakashima's oeuvre, from Asian influences to the connection between George's designs and his daughter's.
"My criteria for each show," Aibel explains, "is that it has to explore something about his work that's never been explored."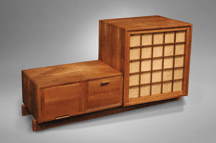 His latest is Early Furniture by George Nakashima, 1936-1956: The Architect Designs, which runs from October 9 through the end of December at the Moderne, and delves far into the past, before the free-form, organic pieces for which the designer is known began to take shape.
"I began to feel it was important," says Aibel, "for people to see where he came from in order to understand his later work. I wanted people to see where his design aesthetic originated."
Aibel's interest in design grew in a roundabout way from his career as a filmmaker. At Penn he studied sociology as an undergraduate, then visual anthropology as a graduate student at Annenberg. The antiques bug bit him while he was working on A Country Auction, a documentary about a small town in Central Pennsylvania's Juniata County. His filmmaking methods demanded that he immerse himself in the community, so he moved there with his family and began to amuse himself by making the rounds of antique stores.
Sarah Aibel C'03, remembers being dragged around on these jaunts as a very young girl. Her father would give her candy as a reward for making it through a day of looking at old furniture.
Those experiences turned out to be formative. Now 27, Sarah is the curator of the Sender Collection, a private, prestigious New York-based collection of contemporary and emerging artists. She recalls the antiquing and also going to plenty of museums with her dad.
"That definitely rubbed off on me, but more than anything what I learned from him was to have an insatiable curiosity," she says. "When something interests him, he approaches it like a scholar."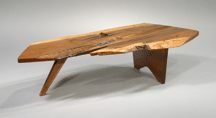 Once Aibel's interest was piqued, he dug in deeply, researching Nakashima's life and work. By 1990 when the designer died at age 85, Aibel had developed a reputation for being the top Nakashima dealer and he'd become good friends with Mira Nakashima, who continued to sell her father's designs after he passed away. When her business flailed, Aibel helped her bring it back to life, in part by putting on a show in 1998 that introduced her to the world as a talented designer in her own right.
Aibel sells Mira's work alongside her father's at his gallery in Old City. She's helping with the October show by facilitating a loan of one of her father's first chairs from a church in Japan. Many rarely or never-before seen early works that have ended up at points around the globe are on loan for the exhibit. There's Nakashima's first private furniture commission, for Andre Ligne in 1940; furniture he designed for a 1938 dormitory in Golconda, India, while he was working with architect Antonin Raymond; and a grass-seat chair he created as a special commission for Rene d'Harnoncourt, former director of the MOMA and father of Anne d'Harnoncourt Hon'88, the late director and CEO of the Philadelphia Museum of Art.
Walking through the crowded rooms, Aibel points to a simple bench made in the 1940s. Its joinery in a contrasting wood stands out as a decorative element—a device Nakashima later famously employed via butterfly joints fusing the large-scale, free-form boards of his dining tables. Two chests of drawers have handles made of bitterbrush, which the designer collected at an internment camp in the 1940s and used on many early pieces, explains Aibel. True to Nakashima's training as an architect, one hi-fi cabinet from 1951 looks like a waist-high skyscraper; the square partitions in its speaker cabinet resemble the exterior view of a wall of offices. A low table from 1952 with raw edges shows Nakashima beginning to play with the idea of unfinished wood.
In the 1950s, the idea of using raw slabs of wood replete with burls, knots, and unfinished edges to make furniture was unheard of.
"You threw that stuff away," says Aibel. "You cut that up into small pieces and made it into fire wood. You didn't design around it." Nakashima's work changed the paradigm and opened people's eyes to the richness and potential of working with the raw wood.
By working on a show that reveals the evolution of that now-iconic design vocabulary, Aibel has had the chance to reflect on his own evolution. Pulling this together has been akin to a "This Is Your Life" episode, bringing the dealer in touch with collectors he's met over the past 25 years. Along with requiring him to thoroughly mine his Rolodex, curating The Architect Designs allowed him to exercise all the skills he's been honing since his filmmaking days as a grad student at Annenberg. "I used to do research, write, teach, and make films," he explains. "To put on a show, I have to do research, and it's a little like teaching and putting on a film. It's a spectacle that's meant to be educational."  
—Caroline Tiger C'96