A Taste of Chile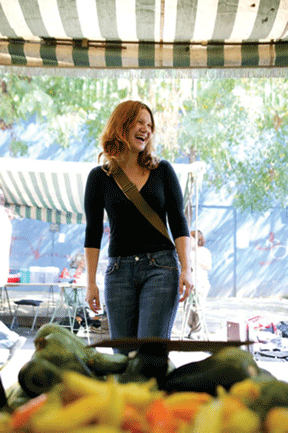 For a Penn alumna to make her living in the culinary world is not all that unusual. To do so in a foreign country—especially one that's somewhat off the beaten culinary path—takes a singular set of interests and abilities.
For the last six years Liz Caskey C'99 has immersed herself in the piquant flavors of Chile, her adopted home, and those of neighboring Argentina. Having written about food, wine, and travel for a broad range of local and international publications, and having worked as a television chef on Chilean national TV, she founded Liz Caskey Culinary & Wine Tours (www.lizcaskey.com). The former investment-banking analyst recently answered some questions about life and business from senior editor Samuel Hughes.
---
Talk about some of the food and wine tours you offer.
The fundamental concept and vision behind all our tours is for our clients to leave Chile or Argentina with an insider's view of the local culture—through the food and wine lenses—like they have been in the company of friends while being wined and dined in uttermost comfort. The itineraries really vary depending on the specific valley or area: Wineries can range from garage/boutique attended by the owners to top wineries [owned by] French chateaux, and from crisp Sauvignon Blanc to silky, sexy Malbecs.
Similarly, culinary activities within these tours also range from cooking lessons, market tours, organic farms, olive-oil and cheese producers to some great "dives" and restaurants. Every year we do a rigorous selection of wineries and culinary experiences that focuses on their uniqueness and excellent quality so clients get a well-rounded picture of the food and wine "universe" in both countries.
What are some of the challenges you've had to cope with in such a different culture?
Being a gringa in South America is mostly a huge asset, but can be a liability on occasion. While Chileans highly value a foreigner's perspective, at the same time one must constantly be cautious to avoid being taken. As Chileans themselves have explained to me, this stems from a society based on desconfianza, or distrust.
Another challenge has been to communicate effectively with Chileans; I have found that people here tend to beat around the bush if they have something to tell you. This means interpreting what they would like to say, not the actual words. My Chilean business partner, who joined the business in 2005, has been very helpful in resolving many of these cultural hiccups.
What are the people like who take your tours?
The most interesting part of this job is personalities. Since most of our clients are from the United States, at times it seems like a cross section of U.S. culture and walks of life. I have found that most are very open, curious, and really want to have a great time.
The funniest guys I had on a tour were these serious wine collectors from the Midwest. When I picked them up, I was expecting a couple of older, conservative "buddies," but they were more 40-ish and came out of customs looking like they had rolled out of bed, with nappy hair, faded Grateful Dead T-shirts, holey Levis, and ripped-up Birkenstocks listening to their iPods. They were very successful dental surgeons. They said, "We like the Dead and we like fine wine." They ended up being some of the coolest clients we had.
How do Chileans enjoy themselves, and how does that manifest itself in food and drink?
Chileans are somewhat more reserved than other South Americans, such as Brazilians, but they are still very friendly and accommodating people. Family and friends are an important part of their lives and they celebrate all major life events and holidays with food and drink in good company. The big time of the year is Chilean Independence Day, September 18 and 19. Many people take the whole week off and head out of town, businesses give workers special bonuses for the holiday, and what ensues is at least three to five days of partying and celebrating their Chilean heritage, which is mainly linked to the countryside. This translates to lots of asados, BBQs, with enormous cuts of grilled steak and pork; empanadas (savory turnovers stuffed with aromatic beef filling with hard-boiled egg and raisins); chicha (fermented grape cider); and cheap wine flowing like rivers everywhere. The hard-core partiers head at dawn for the central fish market where they can have a steaming mariscal (shellfish stew in tomato broth and wine) to offset the future hangover, pass out in the central park in the sun, and then carry on at lunch time with festivities again. This all coincides in early spring with lovely weather and the country in full bloom and people's animo (spirits) ready to emerge from winter hibernation.
Any observations on the Chilean (and Argentine) wine industry?
Chile and Argentina grew up very differently as wine-drinking cultures. For example, Chile is not a wine-drinking country and the average person only consumes around 13 liters per year—they down more ice cream than wine—while Argentina's consumption levels are on par with those in Italy or France.
Chile has a climate that is heavily influenced by the Pacific Ocean, with its cool breezes, fog, and range of soils. Cooler coastal valleys produce outstanding varieties like Sauvignon Blanc and Pinot Noir, and the warmer inland valleys are home to Cabernet Sauvignon, Bordeaux-style red blends, and the flagship Carmenere grape.
Argentina has a continental climate and is influenced by the presence of the Andes, vineyards planted at high altitudes of 1,000 meters above sea level, and desert-like conditions with a lot of sunlight and cold nights. Malbec, in its million expressions, has thrived here, as have the traditional table grapes Torrontes and Bonarda, which are getting makeovers. Argentina also produces delicious sparkling wines, with many wineries making a house Brut in the traditional champenoise method.
What's next?
We are adding a couple of new adventure itineraries to lesser-known wine regions. A cooking school in a colonial hacienda in the Chilean wine country is a personal dream and goal. I continue to write both for Chilean and international publications as a food and wine writer, and hopefully will have a cookbook to my name in the near future!