Social Movement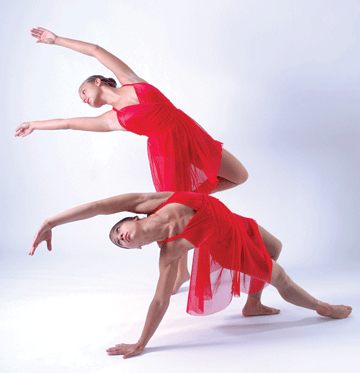 In the center of a local mall, Music & Motion dancers take to their stage—a shiny white floor framed by palm trees. As "Shake" begins, pulsing Middle Eastern music gets the attention of passing shoppers, who pause to watch the energetic 14-to-20-year-old dancers. Wearing silky red tunics over black leggings, three ensemble members snake their lithe bodies around each other. Their shoulders shimmy freely and hips pop rhythmically to jazz, modern, funk, and hip-hop moves. Then they slap the floor like a bongo drum, slithering down and rolling over each other with fluidity, using every level of the open space.
As this group exits, seven more dancers glide gracefully across the open floor. In "Bhangra Fever"(another of the 20 pieces in Music & Motion's To a Different Beat, which explores the commonality of global rhythms), sheer panels of the dancers' aqua costumes swirl, and spiraling arms set off a wave of movement in the interconnected group. As each ballet step propels another forward, the pre-professional dancers visibly come into possession of themselves, chins held high and hair flowing freely.
Watching attentively from the periphery is artistic director Steven Weisz C'78 GEd '79, who founded the Drexel Hill—based nonprofit dance company (www.music-and-motion.com) in 2000 and collaborates with the dancers on details ranging from programming to marketing. Together they own and operate the nonprofit corporation, with mentoring from outside corporations and individuals.
"I advise the dancers and get involved in creative development, but all the choreography is a group process—so I'm basically the moderator," says Weisz, who serves in the same capacity for PhiladelphiaDANCE.org, which he created in 2006. That electronic message board and dance calendar posts local performances, workshops, discussions, auditions, and funding opportunities. This service is now a joint venture with Dance/USA Philadelphia—the newest regional branch of a national dance-advocacy organization.
Weisz also applies his technological savvy as president of Delaware Valley On-Line (www.dvol.com), a national Internet Service provider. When launching this company in 1994, Weisz wanted to contribute to the community by promoting local businesses, and he has offered discounts in web hosting and provided website design services to the dance community.
He describes Music & Motion's rehearsals as "giant play sessions, where we listen to music and play with movement and start piecing things together."
The group—currently 14 young women with extensive dance training at area studios—performed a new work, Red, at the Free Library of Philadelphia last summer as part of the Sunoco Welcome America Celebration. Using the color red, the group explored relationships through the emotional terrain of seduction, passion, anger, romance, joy, and empowerment.
A portion of the proceeds from Red will support the Global Fund to Fight AIDS, Tuberculosis, and Malaria in 2007. But that's only the outward manifestation of its mission.
"Allowing oneself to be vulnerable enough to just put your feelings out there made the development of Red more difficult than previous dance works this group has created," says Weisz. "But the end results are something that touched all of us with a greater self-awareness."
—Andrea K. Hammer